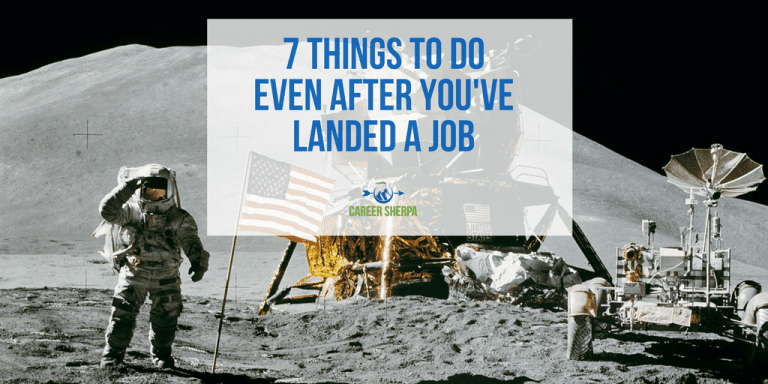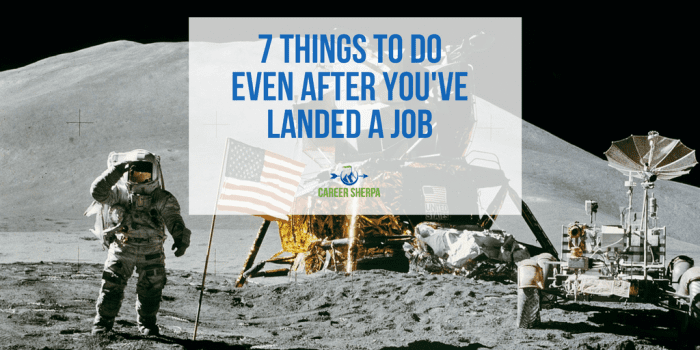 Congratulations, you've landed a job! But don't relax just yet. There are some things you're going to want to do to help your future job searching efforts because, yes, you will have to look for a job again. 
There is a lot to do once you've started a new job to ensure you are getting off on the right foot. It takes a time and effort to get accustomed to your new job responsibilities, figure out the lay of the land, new technology, and new procedures.
On top of mastering all this, I want to remind you to continue to keep yourself in the job market! You never want to be caught unprepared, therefore, it is essential you continue to work on these things all the time!
Join a Professional Association
Your new employer may be able to sponsor your membership. Ask! But remember to clearly state the benefits to them of your joining. And, if you do join, take advantage of everything the association has to offer. Attended workshops, networking events, and maybe even take on a leadership role.
Sign Up for a Class or Workshop
Keeping your skills current is your responsibility. Not your employer's. Be on the look out for skills and new technology to help you stay up to date, perhaps even ahead of the curve. Again, your employer may be willing to sponsor you, but be sure to let them know how these new skills will benefit the company, improve your performance or otherwise be of value. You may even volunteer to take on a special project using your new skills.
Stay In Touch
Do not stop networking. Continue to make an effort to meet new people and stay connected. This is not just an activity you do when you are looking for a job. It is a lifetime career strategy. I know there is a lot going on in your life. But when you stop networking, it is like stopping a workout routine and then expecting to be able to pick up where you left off (one, two or three years later)!
Hopefully, you're using LinkedIn and will continue to do so. LinkedIn makes it easier for your to see status updates and news about your network. Remember, not everyone uses the site regularly or may not be a primary source for their communication. Don't forget to use regular email and the telephone.
Get Involved In Your Community
With the pressure to find a job gone, you now have time to focus on giving back to your community, either locally or globally. Become involved as a volunteer or perhaps a board member. Be sure the organization is one which you are proud to support, makes you feel good, and one you don't mind giving up your free time to help. Don't forget about colleges or universities, they need your help too. Host an alumni event, offer to mentor new graduates or help support an event.
Seek Out Mentors
Identify people inside and outside of your company who can serve as formal or informal mentors. Chose people who you can turn to for advice or whom you can learn from. Mentors are not just for those new to the workplace, even seasoned professionals can benefit from learning something new and getting fresh perspectives. If this is something you decide to pursue, respect the time your mentor carves out for you and show your appreciation.
Monitor Job Postings
The easiest way to monitor job postings is to create alerts on various job boards. Before you invest time applying for a job, contact someone you know inside the company and ask for an update on the job's status. Find out the inside scoop on why the job is available and be sure it is an opportunity worth your time to apply for.
Build Your Personal Reputation
Update your LinkedIn profile and other social network profiles with your new information. Begin tracking your accomplishments from day one in your new job and look for ways you can highlight these accomplishments among your networks. When you receive an email from a manager, client, or colleague thanking you for a job well-done, definitely save the recommendation in a personal file which you keep at home. You may also consider asking for a recommendation on LinkedIn as well. Other ways to build your reputation outside of your current organization might include:
Contributing to an industry newsletter.
Giving presentations or sitting on a panel of experts.
Attending professional conferences and/or trade shows.
Go Above and Beyond Every Day
You want to create a well-respected and well-known reputation and have opportunities come to you. Get your name out there. There is no greater ego-boost than an unexpected job offer. Remember, it is unlikely your next job will last forever, so taking some of these steps will help you hit the ground running faster, when, not if, there is a next time.
This post originally appeared on US News & World Report On Careers

Hannah Morgan speaks and writes about job search and career strategies. She founded CareerSherpa.net to educate professionals on how to maneuver through today's job search process. Hannah was nominated as a LinkedIn Top Voice in Job Search and Careers and is a regular contributor to US News & World Report. She has been quoted by media outlets, including Forbes, USA Today, Money Magazine, Huffington Post, as well as many other publications. She is also author of The Infographic Resume and co-author of Social Networking for Business Success.