These are sure-fire ways to boost your job search to get better results!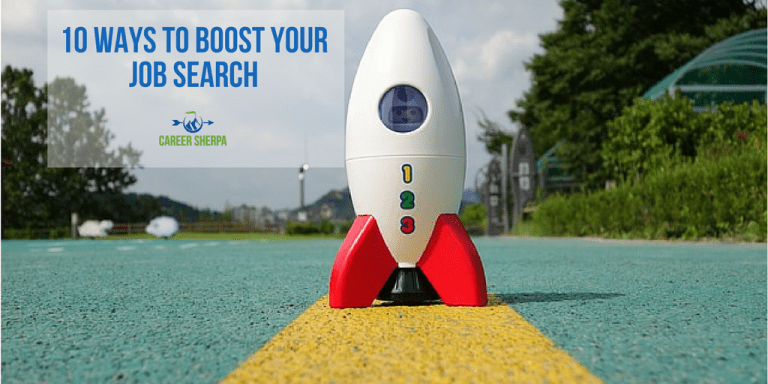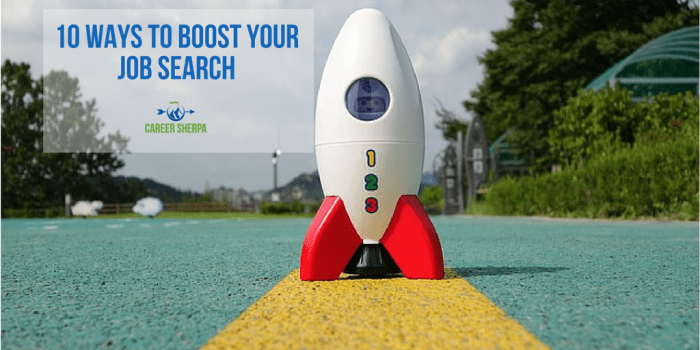 10 Ways to Boost Your Job Search!
If you are frustrated by your job search, then it's time to make some serious changes!
First, stop spending so much time on the job boards. These are strategies that you should take instead!
1. Use A Proactive Approach
Don't wait for a company to post a job, identify potential employers and pursue them.
Leave no stone unturned. Create a list of at least 50 companies that are likely to need someone who does what you do.  Now you can follow these employers on LinkedIn, (and other social media platforms), and in the news to see what they are up to. You might even be able to connect with people who work inside the organization (isn't the whole idea to meet company insiders BEFORE a job is posted anyway?)
2. Research Your Industry & Occupation
Know what skills are in demand, understand new trends in your industry and keep up with what those 50 companies are up to! You have to know what technology is being required, what the challenges are, and what the direction your occupation is headed in as well as your industry. Your goal is to be a walking encyclopedia on the topics facing your field. This will allow you to speak intelligently about what's going on and makes you look like your in-the-know!
3. Sell Yourself
No, not in a slimy way, but in a convincing way.
When you introduce yourself, use language that everyone can understand and make it interesting. Yes, remove cliche taglines, trite language, overused, meaningless keywords.  Tell mini-stories instead. It's called a Micro-Pitch! And be sure your resume speaks to your accomplishments, not your job duties. Finally, build an online portfolio! This is one thing you can easily do to ensure you're name will show up in search results. But if you're not up to that task, at least convert your resume into a multi-media online sales tool!
4. Maximize LinkedIn
You don't need to take a class but you do need to know how to really use the tool. Watch a video or read online articles so you fully understand the best practices. This tool will be around for awhile and you'll want to use it once you are employed too! FYI, recruiters and hiring professionals are using LinkedIn to find candidates.
Your profile should be complete, that means it's at "All-Star" status. Also, make sure you are using the right skills and keywords in your profile. Finally, yet most importantly, use the tool! Update your status daily with industry news, updates about events you attend or congratulate people in your network!
5. Create A Campaign
Apply marketing logic to your job search! Create awareness of who you are and the value you add. All marketing starts by identifying the needs and wants of your ideal employer. Use social media to build awareness. There are lots of creative ways to promote your talents! And don't forget to use email marketing to stay in touch with your network. You'll need these people for to you your informants, allies and advocates!
6. Improve Your Visibility
You don't want to be a well-kept secret. You want to attract recruiters based on the value you deliver! It's called pull marketing! You can do this by writing articles – either on your own website, on LinkedIn or guest post. Tap into professional associations and groups and get involved! If you're up for it, deliver a presentation or sit on a panel. Heck, you may even be a guest on a podcast!
7. Have More Conversations
Most external hiring comes through referrals. So spend more time meeting people and less time applying for jobs online. Your chances of landing a job because you know someone inside the hiring company are many times greater! This means you'll need to be strategic – know who you want to meet and why. And don't forget to touch base with past colleagues, vendors, suppliers and clients! They all have a finger on the pulse! Social media is great for building new online relationships, but the magic happens when you actually meet IRL. Schedule coffee or a video call!
8. Be A Giver – Not A Taker
An overriding principle of networking and strong interpersonal communication is to be a good listener. Are you developing your listening skills? Are you making sure conversations focus more on the other person? Are you volunteering? What else can you do to help others?
9.  Stop Saying You're Looking For a Job
When you confess that you are looking for a job, you sound desperate. This can be a turnoff. Even if they did have a job, they probably wouldn't offer it to you unless they first knew what value you could provide. Be clear in your messaging about the problems you solve and where you've been successful. And remember, networking is about seeking information! Really, you NEED to learn about other companies and perhaps industries to see what they are doing and how they work.
10. Be Positive
Complaining, bad-mouthing, lack of self-esteem all work against a candidate. Fix this. This is especially difficult if you are out of work, I understand. But you can and must control your attitude! Employers hire for attitude over skills!
Yes, you do need a darn good resume, but…
Now, having said all this, I know that having a strong, accomplishment-based resume is always a good thing. The resume must be customized for every job you apply to. It must convey your unique strengths in these terms- how will a company benefit from hiring you, what problems will you solve for them?! It should be error-proof and truthful. Yes, you have to have a good one, but do these other 10 things first!
This was originally posted on the JobMob, 10 Sure-Fire Ways to Boost Your Job Search as part of their blogging contest and received quite a bit of traffic.

Hannah Morgan speaks and writes about job search and career strategies. She founded CareerSherpa.net to educate professionals on how to maneuver through today's job search process. Hannah was nominated as a LinkedIn Top Voice in Job Search and Careers and is a regular contributor to US News & World Report. She has been quoted by media outlets, including Forbes, USA Today, Money Magazine, Huffington Post, as well as many other publications. She is also author of The Infographic Resume and co-author of Social Networking for Business Success.