Applying for a new job? Well, then you need to know the 10 things employers love to see! Showcase them in your resume, cover letter, social media updates, and interview. Strategically highlight your strengths, and the right employer could find you irresistible!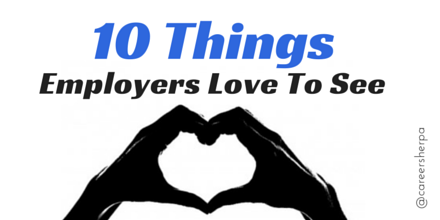 Perhaps one of the biggest challenges to your job search is figuring out what to put on your resume. And then, how do you word it appropriately.
Stories sell! You can learn more about telling your career story here Learn How To Tell Your Career Story
Thinking beyond your resume, these are the skills and qualities you want to make sure come across in everything you share on social media, during each networking conversation you have and during every job interview.
10 Things Employers Love To See
1. Samples of work
In the old days, the only way you could show off your work was to carry a portfolio into the interview. Today, you can upload your work samples on LinkedIn or build your own website, which serves as an online portfolio.
2. 

Measurable results
It isn't enough to list job duties on your resume. There is more competition for jobs today and that has raised the bar on what candidates are delivering and what companies are looking for. You MUST use accomplishments to demonstrate your success. Here is an example of what an accomplishment looks like on a resume:
Negotiated with meeting facilities coordinators and monitored expenses to reduce seminar costs by 15%.
 3. Online presence
Recruiters, human resources, and hiring managers are searching online for talent. Some use LinkedIn, some search the Internet, and some do both. Employers are also checking you out online. They'll search for your name using Google or LinkedIn. The information you share online, or lack thereof, will determine whether or not you get called! Build links to your name and skills using keywords and reference your name consistently. You can do this with popular online social networks, tools like About.me and others.
4. Testimonials
Nothing speaks louder about your capabilities than endorsements from managers, clients, and colleagues. These words of support back up your claims. Make sure you have several recommendations on LinkedIn from a variety of people who have positive things to say about the quality work you do as well as your positive personal characteristics.
5. 
Focus/Drive
Setting goals is one way to achieve success. Sharing them is another. Show you have focus and drive by knowing what type of work you are looking for next. A descriptive LinkedIn headline and summary are visible proof you know where you're going. In other words, you can tie your qualifications to your future target role. When you pursue a specific job, and know why you want it, how you fit and why you'll do well, you show your drive. During networking meetings, help your contacts understand how they can help you by clearly communicating your specific goals. Explain your logic. In other words, why pursuing the path you are will help you reach your goals.
6. 
You're looking for more than a paycheck
When you are writing a cover letter, you must put some effort into researching the company you're applying to. Explain why you want to work for the company. Is it their culture, projects, customers, clients? Scour the website and news for something that will connect you to the employer, and don't fake it.
During the interview, ask questions that go beyond pay, benefits, training, and vacation. Ask how your performance will be evaluated and what you can do to succeed in your role. You may even ask your future manager what keeps them up at night. These types of questions show you are interested in more than collecting a paycheck.
7. You know how to solve problems
Every job requires you to fix something – an irate customer, a broken widget, or an inefficient process. Tell the story of a time you resolved an issue. This story will go on your resume, LinkedIn profile, and you'll tell it in greater detail during your interview. Often, these success stories can be told in multiple forms: a visual before and after diagram, a testimonial from a delighted customer, or maybe even a case study. Your job is to make sure these stories are told and seen!
8. Strong communication skills
I haven't seen a job description that doesn't ask for strong communication skills. But what exactly are communication skills? Are you a great presenter, strong writer, or consummate listener? Most of us are not strong in all these areas. When describing your communication skills be sure to describe the specific communication skills you want to highlight such as facilitating meetings, providing feedback, negotiating/persuading, or resolving difficult situations. Provide a visual of you giving a presentation or samples of your writing. Even testimonials can support your communication skills.
9. Easy to work with/likable
Finding the right skills match is only part of the complex hiring puzzle. Employers interview candidates to evaluate many things, including likability or how easy it will be to work with you. We've all worked alongside that difficult colleague; don't be that person. Instead, add teamwork awards to prove you were not a loner. Even jobs that involve working independently require you to follow instructions from managers and others. Ask past managers for a recommendation on LinkedIn, and be sure you provide suggestions to help them zoom in on the right stuff. Create a list of projects and personal attributes to jog their memory.
10. Motivation/Can-Do attitude
Demonstrating the intangible can be difficult but not impossible. Think about the actions of people who are motivated. What types of things do they do? Do they:
Volunteer for new projects, even the tough ones?
Work without stopping until the problem or issue is solved?
Stay late or work all weekend to meet a team deadline, even if their part is done?
Motivated employees take the initiative to make things happen.
Remember, Seeing is Believing
One of the most difficult challenges for employers is finding the right candidate. The above are ways you can shed more light on who you are, what motivates you, and specific examples of your success. Remember to emphasize the things employers love to see!
There's a saying that past performance is an indicator of future behavior. Show them what you can and will do!
I'm compensated by University of Phoenix for this blog and as always, all thoughts and opinions are my own.

Hannah Morgan speaks and writes about job search and career strategies. She founded CareerSherpa.net to educate professionals on how to maneuver through today's job search process. Hannah was nominated as a LinkedIn Top Voice in Job Search and Careers and is a regular contributor to US News & World Report. She has been quoted by media outlets, including Forbes, USA Today, Money Magazine, Huffington Post, as well as many other publications. She is also author of The Infographic Resume and co-author of Social Networking for Business Success.