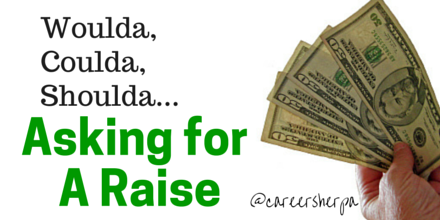 Asking for a raise is certainly not something most of us are comfortable with.  You don't want to come across as pushy or maybe you're just not comfortable with the idea. You may even be afraid that asking for more money may cost you your job.
Today, PayScale released their Salary Negotiation Guide  which includes more than 15 articles, including in-depth analysis of PayScale's recent Salary Negotiation study. 31,000 people who took the PayScale Salary Survey between 10/1/14 and 11/24/14 were polled to find out if they had ever negotiated their salary, how successful they were, and if they hadn't, what was holding them back.
Who's Asking For More Money?
By Income
According to the PayScale Salary Survey, the less you make, the less-likely you are to ask for and get a raise. Crazy, isn't it. Only 31 percent of people earning $10-20K annually asked for a raise. Even more disappointing is that when they did ask, 51 percent were denied the raise.
Now let's look at those making over $150k annually. 51 percent of the people in this income range asked for a raise, yet only 8 percent were denied.
By Job
The study provides a full breakdown by job title. These are the top, least-likely to ask for a raise, occupations. Interesting mix of jobs.
Combined Food Preparation and Serving Workers, Including Fast Food (83 percent)
Logisticians (82 percent)
Waiters and Waitresses (82 percent)
Operations Research Analysts (83 percent)
By Generation
Experience in the workplace seems to play a role in asking for a raise. However, it doesn't seem to impact the success rate by very much.
Baby Boomer:  48 percent asked for raise and 45 percent received what they asked for.
Gen X:  46 percent asked for raise and 46 percent received what they asked for.
Gen Y:  37 percent asked for raise and 43 percent received what they asked for.
By Sex
Men ask for raises more often than women. And even when they don't ask, they get a raise more than women do.
Men: 44 percent asked for a raise. 40 percent didn't ask for a raise because employer gave one before they needed to ask.
Women: 42 percent asked for a raise. 36 percent didn't ask for a raise because employer gave one before they needed to ask
Why Not Ask?
It seems that raises often come before people need to ask. That's great! But could you have gotten a bigger raise if you had initiated the conversation? The next reason most people don't ask is because they aren't comfortable negotiating. The solution is as simple as learning to use the right language and approaching the conversation the right way.
My employer gave me a raise before I needed to ask for one: 38 percent
I'm worried about losing my job: 8 percent
I'm uncomfortable negotiating salary: 28 percent
I didn't want to be perceived as pushy: 19 percent
I've always been happy with my salary: 8 percent
The Fix
If there is one thing this survey points out, it is that we all must advocate for ourselves. It is clear that women just aren't as comfortable with the concept of negotiating salary. Neither are lower income earners.
Asking for a raise is just part of what you can do to improve your career. Let's get comfortable with the language of negotiation! I hope you'll take advantage of the Salary Negotiation Guide PayScale has assembled.

Hannah Morgan speaks and writes about job search and career strategies. She founded CareerSherpa.net to educate professionals on how to maneuver through today's job search process. Hannah was nominated as a LinkedIn Top Voice in Job Search and Careers and is a regular contributor to US News & World Report. She has been quoted by media outlets, including Forbes, USA Today, Money Magazine, Huffington Post, as well as many other publications. She is also author of The Infographic Resume and co-author of Social Networking for Business Success.