You've been told to network your way to a new job, but do you know why networking works?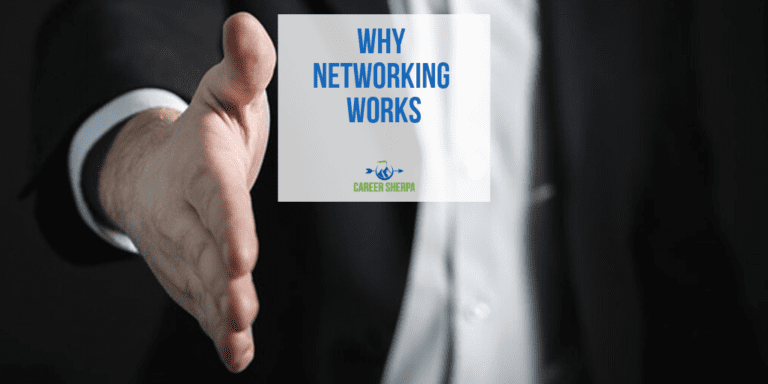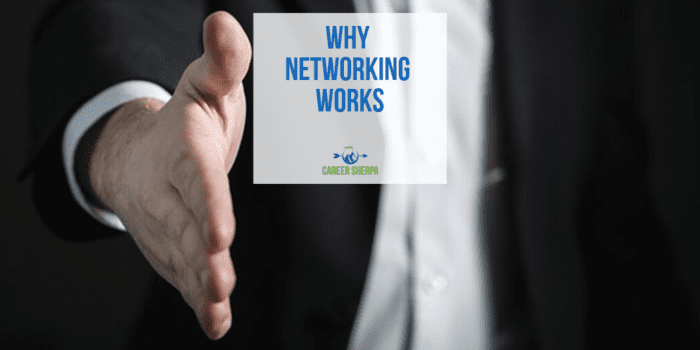 If you don't like networking, you're not alone.
However, it is an indisputable fact that more people secure a new job through networking than any other means.
Put Yourself In The Employer's Shoes
It is a painful process to hire someone.
If you owned your own business and needed to fill a position, what would the first steps you take to fill this opening?
Nope, you aren't going to put an ad on a job board as the first step. You realize if you do this, you will receive too many resumes and you won't be able to process them all.
Yet, as job seekers, the first place we look for a new job is the job boards.
How Jobs Get Filled
Here's how jobs get filled and why networking works.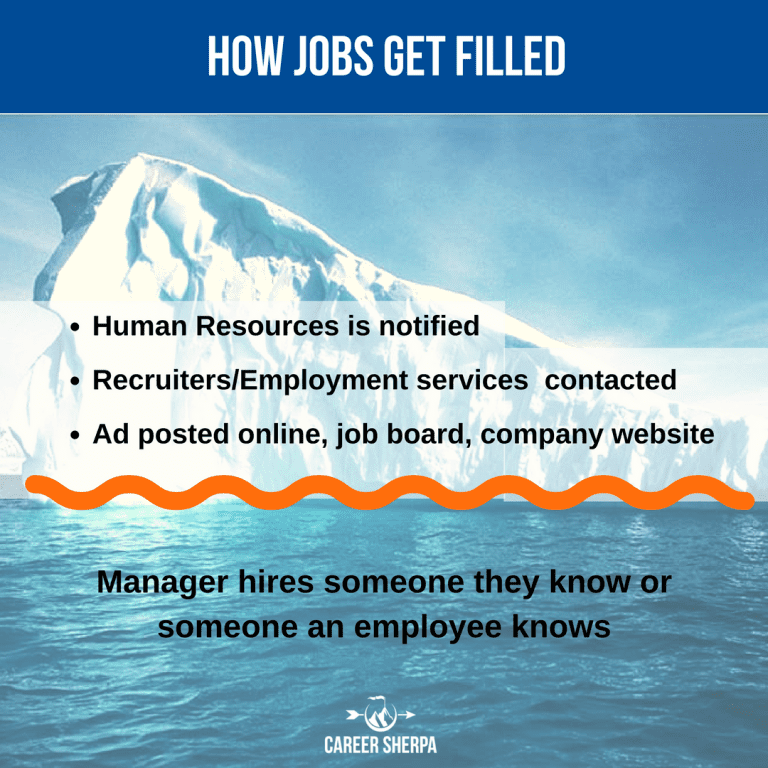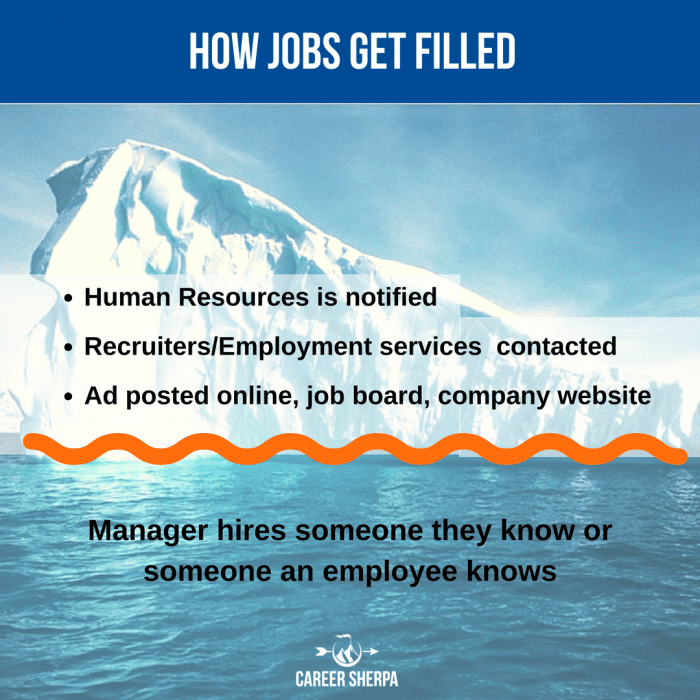 The iceberg above represents employers fill jobs.  There are the advertised jobs above the waterline and the unadvertised jobs below the waterline.
Approximately 80% of new hires come from the activities below the orange line. The invisible part of the iceberg equals word of mouth (aka networking). This means that you only see about 20% of the available jobs when you look online.  (No wonder you don't see any good jobs.)
They only way you will hear about the good jobs is by…networking.
I've written a lot about networking and you can find some articles listed here:
5 Networking Tips To Help You Do It Better
Networking or Whatever You Want to Call It
Start with A Plan to Grow Your Network
Be First In Line For Job Opportunities
When you network, you get early access to job opportunities, you become a known entity and there are fewer people competing for un-posted opportunities.
There's another reason hiring managers like referrals. Candidates who know employees make "safer" hires.  They know more about the person and it makes hiring them less risky.
And finally, referred candidates are more likely to be interviewed and hired!
Network Strategically
But how do you network if you don't know who is hiring?
Every company has jobs to fill at some point. Your goal is to identify companies you would like to work for and meet people who work there. You do this in advance of a publicized opening when people have more time and are more likely to meet with you. If you wait until a job has been posted, asking for a networking meeting comes across as asking for a job interview rather than an information gathering.
This is precisely why you need to target specific companies. And, if you don't focus on companies, how can you effectively uncover the upcoming opportunities? Read Strategically Grow Your Network
Create A Personal Marketing Plan
To help drive your networking and job search forward, create a personal marketing plan. Learn how here.

Hannah Morgan speaks and writes about job search and career strategies. She founded CareerSherpa.net to educate professionals on how to maneuver through today's job search process. Hannah was nominated as a LinkedIn Top Voice in Job Search and Careers and is a regular contributor to US News & World Report. She has been quoted by media outlets, including Forbes, USA Today, Money Magazine, Huffington Post, as well as many other publications. She is also author of The Infographic Resume and co-author of Social Networking for Business Success.