We may not all be great writers.  That's OK.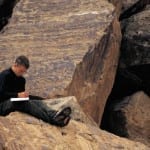 If I had allowed the negative feedback to get in my way, I wouldn't be blogging today.  I know I am not a strong writer. I make spelling and grammatical mistakes a lot.  But I have things to say and messages to pass along to those in job search, which override my concern/fear that I am not a great writer.
When I was entering my senior year of college, I went to the registration desk to get my class assignments.  Instead, there was a note which required me to get remedial writing help through the college's writing center before they would give me my classes.  Let me just say, I was M A D.  Here I was, three years into college, and NOW the school thinks I need help? (By the way, my major was Humanities.  I had written hundreds of papers and reports by this time and had a GPA somewhere in the 3 range on a 4 point scale).  I dragged myself into the Writing Resource Center and explained my situation.  I had to make several pre-scheduled appointments in order to get my class assignments and off I went.
Then, in my first job after college, I worked for a law firm.  I worked on a tax litigation case and had to write summaries for the junior partner.  One day she called me into her office and said something along the lines of "your writing stinks". I guess I chose not to remember her exact words.  Then she handed over a copy of Strunk and White's "Elements of Style" and encouraged me to use it!
If I had let these events prevent me from writing, I wouldn't be doing this.  We all have a voice and something to say…a message to share.  Writing is just one way to share this message. You can chose to avoid writing, develop your writing skills or like me, just plunge forward.
You have the choice to do anything you want with these voices… continue to believe what they are saying,work really hard to overcome a weakness, or ignore them!
What feedback have you received which prevents you from doing something you really want to do? What voices do you hear in your head as you think about doing something new or different?

Hannah Morgan speaks and writes about job search and career strategies. She founded CareerSherpa.net to educate professionals on how to maneuver through today's job search process. Hannah was nominated as a LinkedIn Top Voice in Job Search and Careers and is a regular contributor to US News & World Report. She has been quoted by media outlets, including Forbes, USA Today, Money Magazine, Huffington Post, as well as many other publications. She is also author of The Infographic Resume and co-author of Social Networking for Business Success.