If I told you your chances of securing a new job were greater if you found and used connections inside the hiring company to refer you, would you believe me?
If I told you that social networking tools should be a major component of your job search, would you embrace them?
If you just apply online and hope you get called, what are your chances?
These and many other job search questions are raised and answered in this year's CareerXroads Source of Hire report.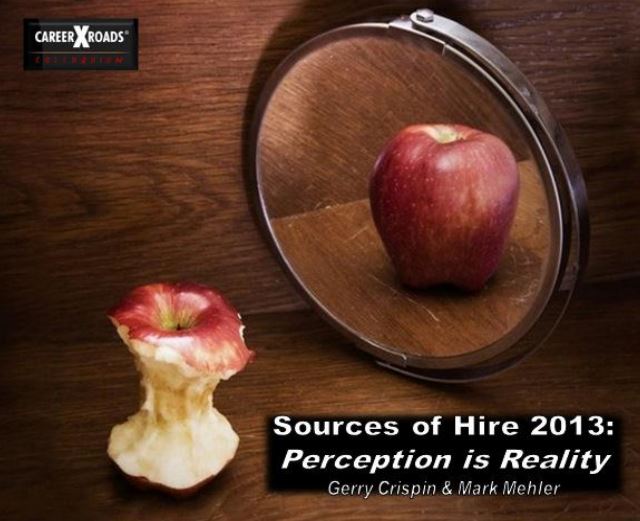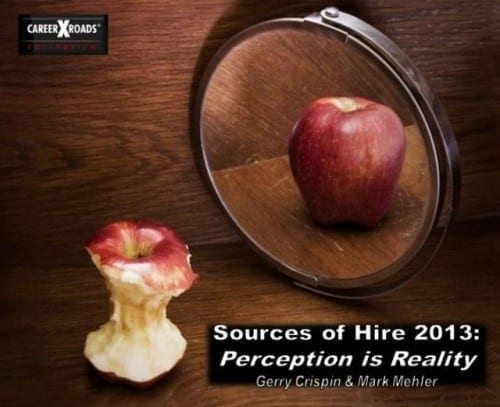 What Is The #1 Source of Hire?
According to the study
The #1 Source of Hire is right under our nose. Not employee referrals but current employees who fill 42% of all the openings.
What this means is that if you are tired of banging your head against the wall or just can't land that job with your "dream company" see if you can position yourself as "the perfect fit" for another role inside the company.
But here's the thing, you can't blatantly admit that you just want to get your foot in the door. You have to prove that you will succeed in the job you are applying for and commit to staying awhile in that role. The employer doesn't want to have to fill it again too soon. Think about the time and effort they invest in acclimating you to the role. (I don't dare say training, because that might give you the wrong impression. Training technically comes in many different forms besides a formal learning environment.)
Cultural fit is going to go a long way here. Being the "right fit" will mean you match the culture of the group hiring which is hopefully the same as the company overall. You will have to do your research and by this I mean talking with department and company insiders. You want to understand what types of people are successful and who gets promoted and WHY. Simply reading the company website will not give you these details.
The Most Meaningful Data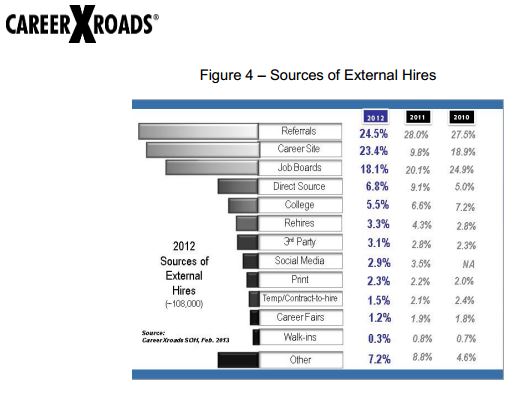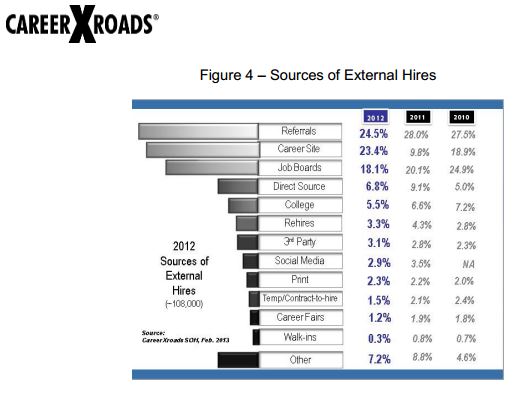 Referrals 24.5%
Career Site 23.4%
Jobboards 18.1%
Direct Source 6.8%
College 5.5%
Rehires 3.3%
3rd Party (recruiters) 3.1%
Social Media 2.9%
Print 2.3%
Temp/Contract-to-hire 1.5%
Career Fairs 1.2%
Walk-ins 0.3%
Other 7.2%
Get referred!
We estimate that a candidate who has acquired a referral is 3-4 times more likely to be hired
-Key Findings, 2013 Source of Hire, CareerXroads
But if you can't get referred…
Use the company's career portal or the careers board on their website. Bookmark these pages and check in regularly or set alerts if it will allow you to. Just know this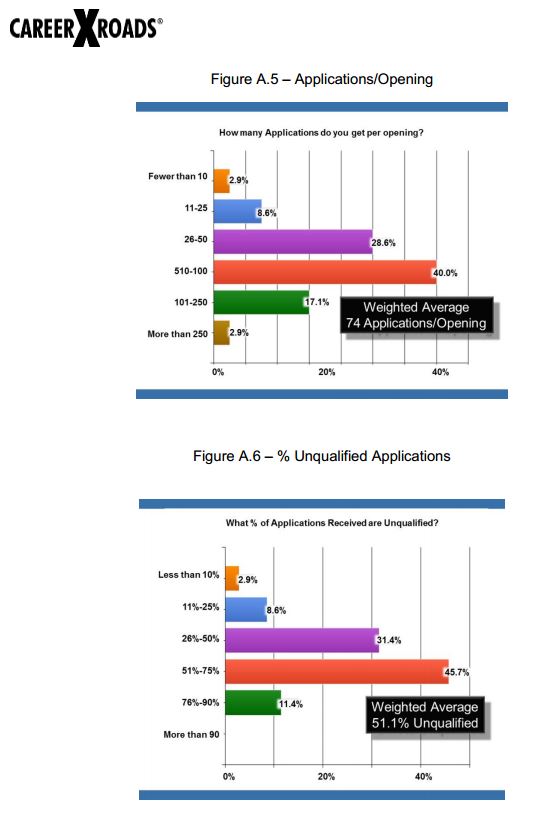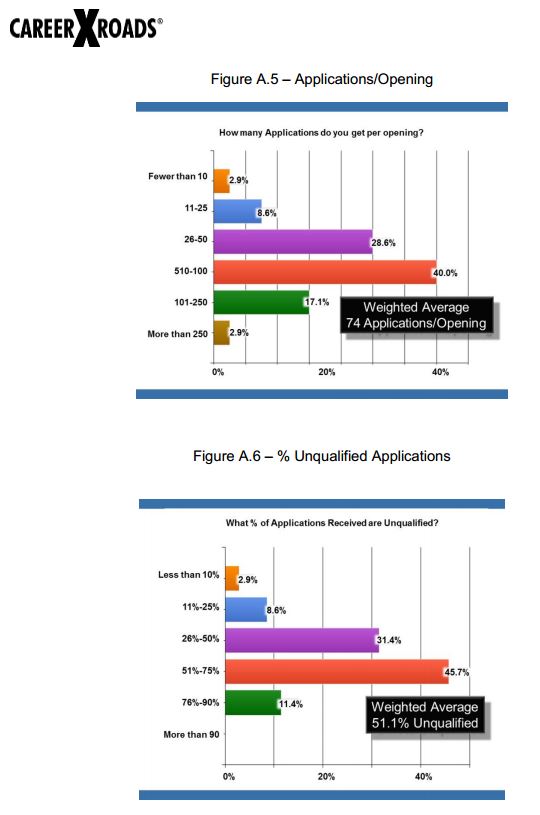 Most companies receive between 51-100 applications per job. Companies also state that 51-75% are NOT qualified.  My interpretation for the "not qualified" percent being so high due to:
1) It is so easy and free to apply for jobs online (applicants may not understand the job requirements or take the time to learn) AND
2) Applicants fail to prove they are qualified (they do not customize their applications/resumes for each job).
Use All Methods!
Rather than excluding one source because of its low percentage, use them all- just allocate your time appropriately. What I mean is, spend more of your time using the sources that are more likely to translate into a hire.
Social Media May be An Under Represented Source
It is unlikely that a single source of hire can be credited today. How many of you have emailed a job posting you found on a job site or shared it on social media? So, how would someone report they learned about the job opening? It gets complicated and the authors state this is one of the difficulties with the study.
[R]espondents also believe that Social Media influences, drives or combines with 7 out of 11 other sources: Referrals, Company Career Site, Job Boards, Direct Source, College, Temp-to-Hire and Career Fairs.
Don't discount the importance of social!
The Flaws, IMO
This is one of the better studies around, but, it does have its limitations. CareerXroads only surveyed large companies who have recruiting staff to manage the 185,000 openings they filled last year. Take a look around your city and you will find the majority of companies have under 1,000 employees. Where do their new hires come from? They may not be able to tell you with great data or certainty, but due to smaller budgets and less staff, their source of hire data are different!
We Stink At Big Data
Gerry Crispin and Mark Mehler, co-founders of CareerXroads, note that one of the biggest take-aways from this study is the lack of good data. The technology is there but companies are just not doing a great job of managing it and analyzing it.
FYI, one of the faster growing occupations is Big Data Analysis. Why? We are gathering data at an unprecedented rate due to technology and mediums. How will we use all this information we're gathering?

 by Indeed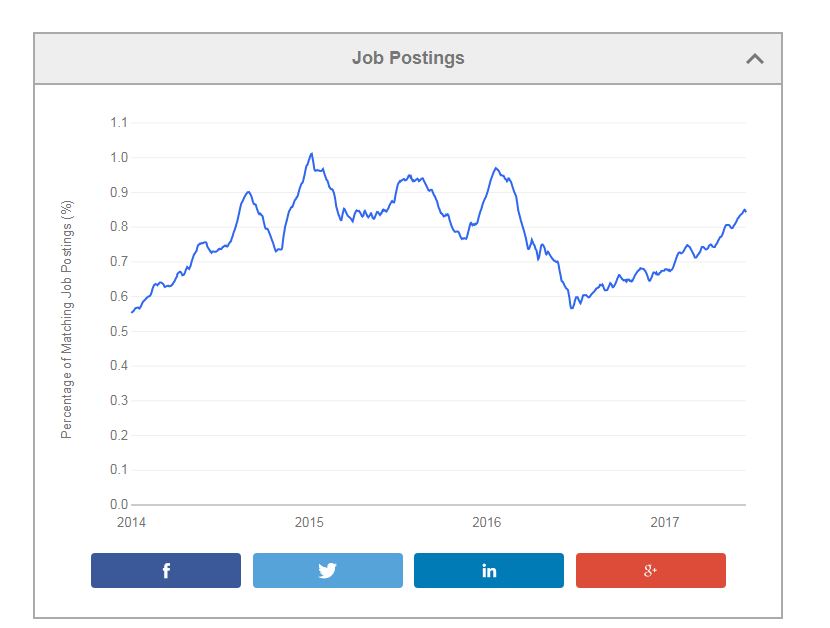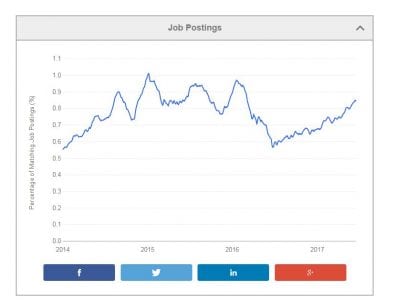 This data has been replaced by this: Job Category Trends: Information Design & Documentation
What's Next?
2013 Expected to be a big year for hiring…
Respondents stated they filled 8.6% fewer openings in 2012 than in 2011. In stark contrast, if respondent's predictions for 2013 are realized this will be a banner year for US hires – staffing leaders are predicting F/T hiring will increase by 17.5% in in the US in 2013.
Well, one can hope! Cheers to your success in 2013!
If you are still with me here, what take-aways do you have from this year's study? Leave a comment!
Others who have written/interpreted this study (recruiters and HR):
Source of Hire Report: Referrals, Career Sites, Job Boards Dominate by Lance Haun on ERE.net
Sources of Hire: Is Perception Reality? by China Gorman

Hannah Morgan speaks and writes about job search and career strategies. She founded CareerSherpa.net to educate professionals on how to maneuver through today's job search process. Hannah was nominated as a LinkedIn Top Voice in Job Search and Careers and is a regular contributor to US News & World Report. She has been quoted by media outlets, including Forbes, USA Today, Money Magazine, Huffington Post, as well as many other publications. She is also author of The Infographic Resume and co-author of Social Networking for Business Success.