Whether we like it or not, everyone will be changing careers.  The world of work is changing so rapidly and the needs of businesses are very different from what they used to be.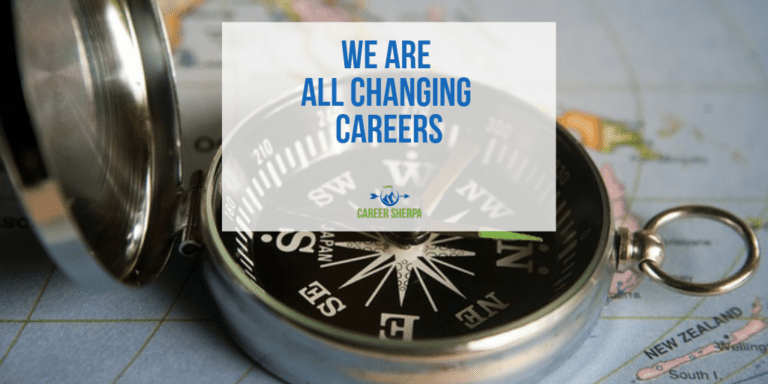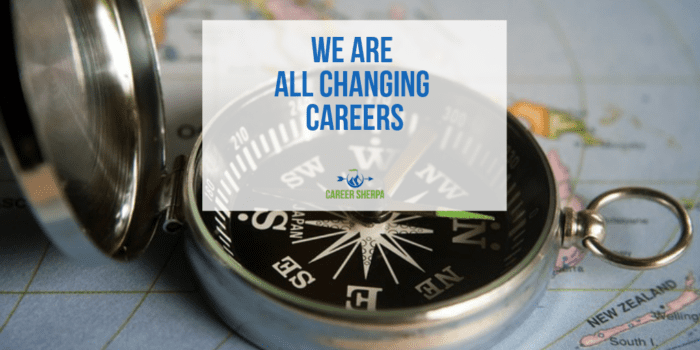 It doesn't matter if you are unemployed, employed, under-employed, just graduated, just retired…every one faces the same challenge- figuring out what you want to do next.
The job you used to do doesn't exist any longer.
If you've been in a role longer than a year, chances are that you use new technology, new procedures or your role has a different scope.
Not only is your job different from when you first started, it also probably called something completely different in other organizations. Sometimes your function is housed in a different department.
Researching a similar role outside your organization
If you want to stay in a similar role, the first thing you have to do is figure out what other companies call your function.
Use Indeed and LinkedIn's job board to search for jobs. But don't use job titles. Use keywords, skills, work processes, and technology to see which jobs match.
Next, talk to people who hold these jobs in other organizations to learn more about what the job and company are really like.
Want a totally new job?
If you want to do something completely different, it's going to take a lot of research, informational meetings and time. Let's break it down step by step.
Take Inventory of what you like to do
Changing jobs always takes some self-assessment and reflection. But before you make a major shift, you will need to determine exactly what skills you like to use, types of projects you like working on, what type of company culture is best suited for you, and where to find those types of opportunities. Sit down and assess what you liked doing best in last job.
When you were happiest, what were you doing?  And why were you happy?
When you were successful, what were you doing?  And how would you define successful?
If you want to use a self-assessment tool to evaluate your interests and match them to occupations, then try the ONet's My Next Move online assessment tool.
This is only the tip of the iceberg of self-assessment.
Create a list of what you want from a company
Identify what type of company culture feels best for you, what type of leadership you like…the list goes on and on.
Read this to help you determine which elements of company culture are more important to you.
If you haven't yet sat down with a copy of "What Color Is Your Parachute" you may want to.  There are tons of exercises to get you to the point of clarity or closer to it.
Research occupations and companies
You've had your head in the sand while you were working in your last job. It's time to discover what's happening outside your company.
Begin researching occupations using ONet, Indeed, and LinkedIn.
Take note of the reoccurring skills mentioned and the industries or types of companies with the most openings or openings that are of interest to you.
Find companies that inspire you or you would like to work for by checking out the top 100 companies in your city/area (google it).
Also check out Glassdoor's reviews.
Now go to LinkedIn and search for the company to see who you know who works there.
Talk to people who are in jobs that interest you
Once you know what roles and companies interest you, you can begin talking to people.
Ask people you know to provide advice, suggestions, and most importantly, for the names of people inside companies that interest you. This will take you one step closer to truly knowing some of the answers.
When you are changing industries or occupations, you need to be able to describe all the similar skills you have and how they match your new target role/companies.  You'll need to bridge the gap so that the employer will see the relationship between what they are looking for and what you can do.  How well you bridge this gap will determine your success.  That is why talking to people is so important.  It will help you understand how to present your skills convincingly.  Employers do not like to hear "…but I am willing to learn".  It frightens them.
It's up to you
When you enter into the search fairly certain about how your skills match the type of work you are looking for, you'll have much better luck and results.  This knowledge will help with your confidence level too.
One last word of advice
Don't let fear of the unknown paralyze you. Taking any action is better than not doing anything.
Even if you do find yourself in a job or company you don't like, think about what you have learned in the process.
It is quite possible that you will be in your next job three years (or less). Job hopping is less problematic than it used to be. You have to do what is right for you and your career.

Hannah Morgan speaks and writes about job search and career strategies. She founded CareerSherpa.net to educate professionals on how to maneuver through today's job search process. Hannah was nominated as a LinkedIn Top Voice in Job Search and Careers and is a regular contributor to US News & World Report. She has been quoted by media outlets, including Forbes, USA Today, Money Magazine, Huffington Post, as well as many other publications. She is also author of The Infographic Resume and co-author of Social Networking for Business Success.