Sure, we all make mistakes, that's how we learn! But making the same mistakes over and over again during job search- well that's just plain stupid!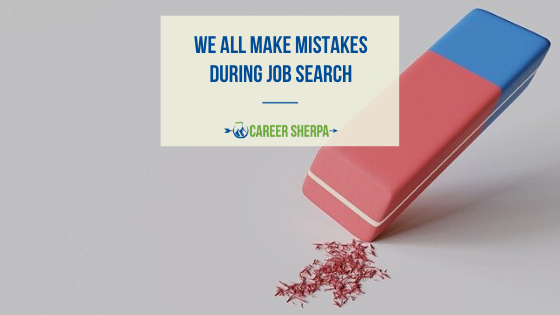 In job search (and in life) we have to take risks. We have to step outside our comfort zone and try new things, especially if we want results.
But fear is a powerful deterrent.
We don't like taking risks or feeling uncomfortable so we avoid the unknown or creative solution that might just do the trick. Maybe we should just call mistakes "learning opportunities" instead to make them seem less ominous.
We all make mistakes in job search so let's learn from them.
Reframe
I remember someone telling me once that it is better to tell children to "play in the yard" rather than "don't play in the street." When you tell them the latter, their brains can only process "play in the street." Supposedly, brains can't process the "don't" part.
So let's try this. Switch your thinking around and say
"I will succeed"
instead of saying/thinking
"I don't want to fail,"
and you may come out a winner!
How do you identify a mistake, learning opportunity?
If your aren't getting the results you want, it's either a problem with what you are doing or that your goal isn't appropriate. It could be either or both.
Here are some areas to evaluate.
How often do people send you leads for the right type of job?
Are people supplying you with names of good contacts to network with?
How many responses have you received from the applications you've submitted?
How many second interviews have you had?
Let's stop here. There are certainly many more questions to ask (and you can read them here).
These four questions should get you thinking, "Gee, gosh, you know, I could be doing something differently."
We can only learn from doing and if you are moving forward in your job search, then you aren't learning!
It is YOUR Search
While it is easy to blame employers for being too selective or discrimination, you can't control that.
This is your search- own it and take accountability! Stop playing the blame game!

Hannah Morgan speaks and writes about job search and career strategies. She founded CareerSherpa.net to educate professionals on how to maneuver through today's job search process. Hannah was nominated as a LinkedIn Top Voice in Job Search and Careers and is a regular contributor to US News & World Report. She has been quoted by media outlets, including Forbes, USA Today, Money Magazine, Huffington Post, as well as many other publications. She is also author of The Infographic Resume and co-author of Social Networking for Business Success.