Life throws us curve balls and we have choices for how we respond.  What happens when things go really bad? How do you respond and what do you do after the fact?
I am sharing my recent experience traveling from Chicago to Rochester for a couple of reasons. First, I am so hopping mad at the airline industry (specifically United and Delta) and I feel like calling them out on their lack of customer service. Second, I think there are some lessons that parallel your job search (and career) experience. And there's even some take-aways for the next time you travel by plane!
Starting My Trip Back Home
The airlines do a fairly good job posting rules and regulations about baggage size, TSA federal regulations on what you can pack in your suitcase, and new ticketing procedures. Quite frankly, it is enough to confuse and scare the pants off most not familiar or experienced traveling and I am surprise so many people go through the stuff.  After going through the baggage screening pretty quickly and arriving early to my gate, everything was off to  a good start.  I watched the people in the airport and pondered where they were going and why. (Ah, such is life as an introvert.)
The Unexpected
My flight was scheduled to leave O'Hare at 5:30 pm CT. They announced that our flight would be delayed and the new departure time was 6:00 pm CT. I knew my originally scheduled flight gave me plenty of time to make my connection in LaGuardia, but now I wasn't sure. Just before we boarded the flight (at 6:20) I went up to the gate agent and told her I was concerned about making my connection. She nonchalantly said I should be OK.  I felt somewhat assured.
Communicating Needs
As I boarded the plane, I talked to the two flight attendants to make sure they knew that I had a connecting flight to Rochester that was going to be close. It was scheduled to leave at 10:10 pm ET.  They wrote something down and said that there were plenty of delays due to weather at LaGuardia so hopefully my connection would be late too.  Again, I felt somewhat assured. Once in flight the pilot announced our arrival time of 9:50 pm ET, the exact same time my plane would be boarding. But once we were close to New York, the pilot announced landing delays and that we would be circling the airport until cleared to land.  We landed at 10:28 pm ET.  Luckily, I was able to exit the plane pretty quickly. I still had hope that I could make my connection.
Getting There…Quickly
I rushed past the gates looking for departure information on the boards, but I couldn't find information about my connecting flight on Delta. I rushed past all the United gates, not thinking I should stop and ask where my next gate was. I ended up near the baggage claim area and still, I couldn't see any boards listing other departing flights. The ticket area was closed up tight as a drum and I began to panic.  I asked several people where my Delta flight would be and no one could tell me. Finally, with fear in my voice and tears ready to well up in my eyes, I asked a man if he worked here and if he could help me find my gate.
A Savior or At Least Help
As luck would have it, this man worked for transportation at LaGuardia. He swooshed me through back security doors, across the tarmack and back around to the arrivals area for my flight which meant I had to go through security, but at this hour, no one else was there. Soon I was at my gate. 11:00 pm ET.
How You Treat People Matters
The gate agents were behind their podium and ignored me as I stood there.  "I'm here for the flight to Rochester".  They looked at me confused, all three of them. They said the flight had left. I could see the plane still connected to the ramp and I told them that I could see it. One gate agent said, "they didn't call to tell us you were coming."  I thought to myself…What? Who was supposed to call? Why hadn't they called? Why did anyone NEED to call with all the real-time information they have? I needed to get on that plane that I could see outside the window. They weren't helping. I began to cry and the travelers waiting for a nearby flight began watching.  But they did nothing, said nothing. I honestly don't remember hearing the words "we're sorry".  Resigned to the fact that I wasn't going to get on that plane, I asked about my options. The next flight to Rochester was 8:30 am the next morning. With difficulty, they supplied me with new tickets and then they were done. Literally, they walked away and left me standing there with my ticket.
Performing Under Emotional Distress
I was emotional and knew I had to figure some stuff out. Where would I spend the night or should I drive 6 hours back to Rochester. The airport was almost empty. It was a strange dark place. I called my husband and I found his voice mildly consoling. By now it was 11:00 pm and my options were few.  I wasn't going to spend hundreds of dollars for a flea bag hotel. So this is where I slept with my new best friend who had missed her flight back to Buffalo. Oh, let me say, that due to security reasons, the airport made us sleep in the unsecured part of the airport at the baggage claim area.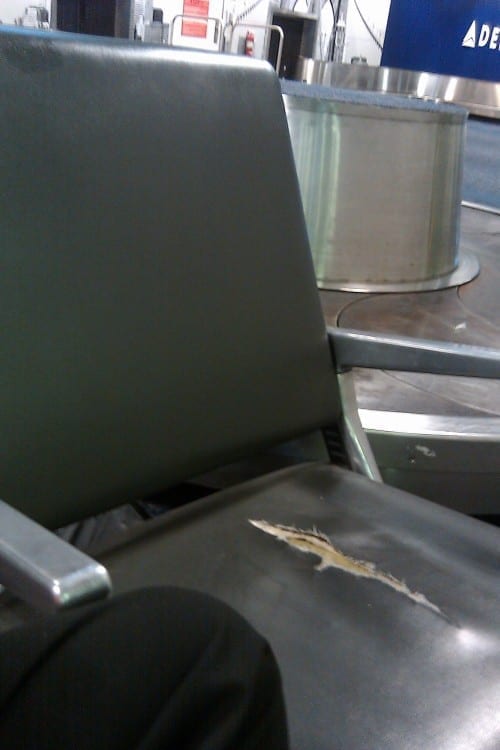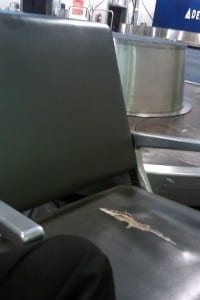 Lessons Learned
These are the lessons I learned and they apply to job seekers as well!
Be prepared for the unexepected and have a back up plan or options.
Clearly communicate your situation and your needs to as many people as possible.
The squeaky wheel get the grease. Be the squeaky wheel.
Stop and ask for help early.
Never take "no" for an answer.
Be confident, clear and ask for what you want.
Don't let emotions drive your decisions.
Evaluate what you've done and what you would do differently next time.
Learn from others more experienced than you.
What are the lessons you've learned from job search that you would pass along to others in the same predicament?

Hannah Morgan speaks and writes about job search and career strategies. She founded CareerSherpa.net to educate professionals on how to maneuver through today's job search process. Hannah was nominated as a LinkedIn Top Voice in Job Search and Careers and is a regular contributor to US News & World Report. She has been quoted by media outlets, including Forbes, USA Today, Money Magazine, Huffington Post, as well as many other publications. She is also author of The Infographic Resume and co-author of Social Networking for Business Success.