If you are a recent graduate you may know about some of these resources, then again, maybe you don't.  If you are a parent of a recent graduate, please, share this with your son or daughter.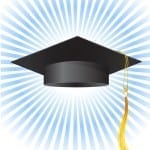 One of the biggest challenges for a recent graduate is their lack of on the job experience.  The other challenges are lack of experience, lack of experience and lack of experience.
Perhaps this is a good thing. Their expectations and assumptions may not be interfering with how they pursue a job.  In other words, they know they don't have work experience, they know that this will be tough and perhaps they realize that they'll have to work really hard to find the right employer who will offer them a chance.
What recent graduates don't understand (nor do others new to job search) is how hiring actually happens. From the application to the interview there are a series of steps in the process and no two companies do it quite the same way.  Learning from doing is the best teacher.  This isn't something anyone wants to hear, I know.  Who wants to apply to 100 jobs or more and interview with 10 or more companies to gain the knowledge of how this works?  The smart newbies bone up on their research and try to gain as much knowledge as possible.  They use these resources, or at least they should!
Alexandra Levitt helped build JobStart101, a 90 minute online course for twenty-somethings. Alexandra is a well-regarded expert in GenY and workforce trends. Her blog is Watercooler Wisdom.
Life After College, by Jenny Blake
Student Branding Blog (a spin off for new grads from Dan Schawbel)
Come Recommended (and don't miss Heather Huhman's new book, "Lies, Damned Lies and Internships"
Campus to Career by Kirk Baumann
One Day, One Internship Willy Franzen
Gradspot
Intern Queen
Some of my research indicates that recent graduates don't really use Twitter.  OK.  To help you jump right in and see the value, check out these Twitter chats
#InternChat (Every other Tuesday at 7 ET)
GenYChat (Follow or join the conversation on twitter #GenYChat held every Wed. 9pm ET)
Of course, there are so many other resources that would work, but I wanted to focus this post on the specific needs of new graduates…did I miss a favorite?  Add it to the comments!

Hannah Morgan speaks and writes about job search and career strategies. She founded CareerSherpa.net to educate professionals on how to maneuver through today's job search process. Hannah was nominated as a LinkedIn Top Voice in Job Search and Careers and is a regular contributor to US News & World Report. She has been quoted by media outlets, including Forbes, USA Today, Money Magazine, Huffington Post, as well as many other publications. She is also author of The Infographic Resume and co-author of Social Networking for Business Success.