It is Labor Day!  At its very roots, "[Labor Day] constitutes a yearly national tribute to the contributions workers have made to the strength, prosperity, and well-being of our country."  That's what the Department of Labor and other sources say.
Yes, we've made incredible contributions.  We've worked hard.  We've paid our dues.  So, is this how we are rewarded?
In honor of Labor Day, I wanted to share some points I think are definitive of today's hard workers.  We are on the cusp of a new way at looking how we work.
Seven Careers in a Lifetime? Think Twice, Researchers Say
This comes from the Wall Street Journal and was written by Carl Bialik.  Why is this important?  Because, it points out how difficult this number is to prove.  What is a career?  Perhaps this is even more difficult to define today when new jobs in new industries are being invented.  The main point is that there is great uncertainty and great instability today.  No one is really sure what's going to happen next.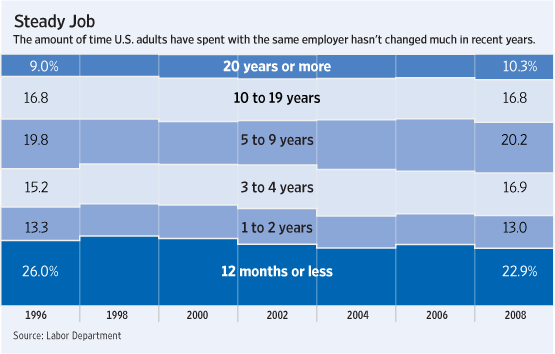 Dr. Ira S. Wolfe interviewed three small business owners to better understand this conundrum.  He concludes his article by saying:
"The frequency of these stories about employers reporting a lack of qualified workers despite high unemployment is increasing, making the situation much more the norm than an anomaly. The result is a growing sense of frustration among small employers about how out of work employees with less than optimum skills and a positive service attitude expect a level of compensation that feeds a lifestyle to which they've grown accustomed."
Retire at 65 and go back and do something you really love
Daniel Pink points out in his book "Drive" that retirement happens at a point in American workers lives when they are ready to re-evaluate the next 20+ years.  He writes:
"Every thirteen minutes another hundred people – members of the wealthiest and best-educated generation the world has ever known – begin reckoning with their mortality and asking deep questions about meaning, significance, and what they truly want."
What does all this mean?  Never before have we been living in such a time.  There are no historic similarities.  We are embarking on new territories and shifts.
To me this means that we need to manage our careers.  We need to pursue what we enjoy doing and we need to work harder than ever before.

Hannah Morgan speaks and writes about job search and career strategies. She founded CareerSherpa.net to educate professionals on how to maneuver through today's job search process. Hannah was nominated as a LinkedIn Top Voice in Job Search and Careers and is a regular contributor to US News & World Report. She has been quoted by media outlets, including Forbes, USA Today, Money Magazine, Huffington Post, as well as many other publications. She is also author of The Infographic Resume and co-author of Social Networking for Business Success.