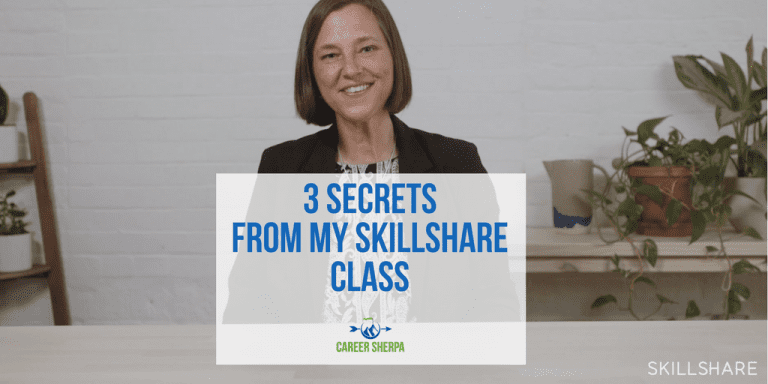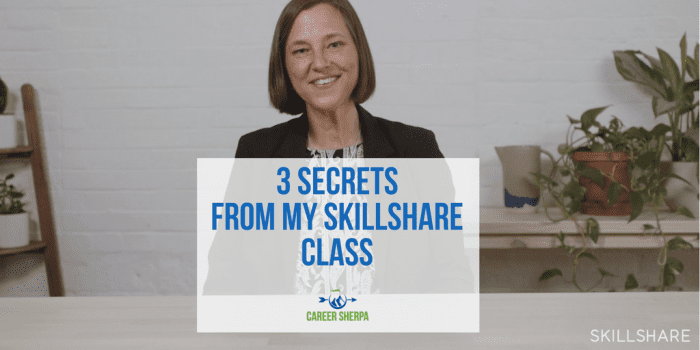 Building your personal brand requires some reflection and I walk you through how to do this (and share examples) in my free Skillshare class!
If you've put off defining your personal brand or you haven't evaluated your personal brand lately, now it a great time to do it!
But first, a confession
It took me a long time to fine-tune my personal brand. I thought I knew what made me special or different. But it turned out, it wasn't all that special or different. As I looked at what other career professionals were saying about themselves and their business, I lifted ideas and kept experimenting. (I'm still experimenting). You see, your brand isn't "once and done" and you shouldn't "set it and forget it." It evolves over time.
I believe the more personal flavor you inject into your brand, the more it will stick with people. Don't be afraid to include your secret or confess something personal. It makes you more real.
The Backstory
One day, out of the blue, I got an email from Zoë Björnson at about.me asking if I wanted to do a class on personal branding. I was surprised, honored and scared all at the same time.
Long ago, about.me featured me as one of the top career experts on about.me. (And I was surprised and honored back then too!) Recruiters and Career Experts: Staff Picks
I knew I had to do the class so I said yes! And after working virtually with Zoë Björnson (about.me) and Becca Cloyd (Skillshare), I was on my way to New York City for a fun-filled day of filming!
My new best friends at @skillshare Thank you all! pic.twitter.com/MbUjPGYbeU

— Hannah Morgan (@careersherpa) May 12, 2017
Along the way, I "met" these other cool people! (Yes, Steve Carter is also from Rochester, NY and we didn't know each other before. Small world!)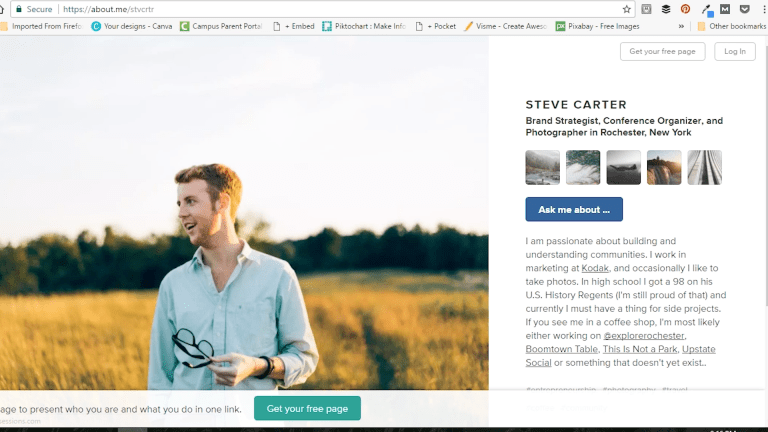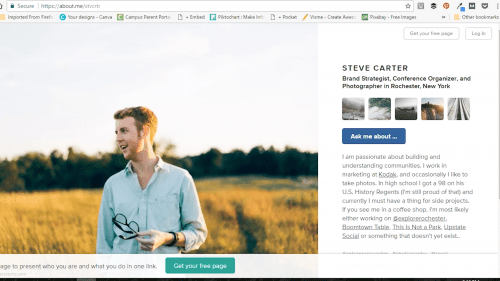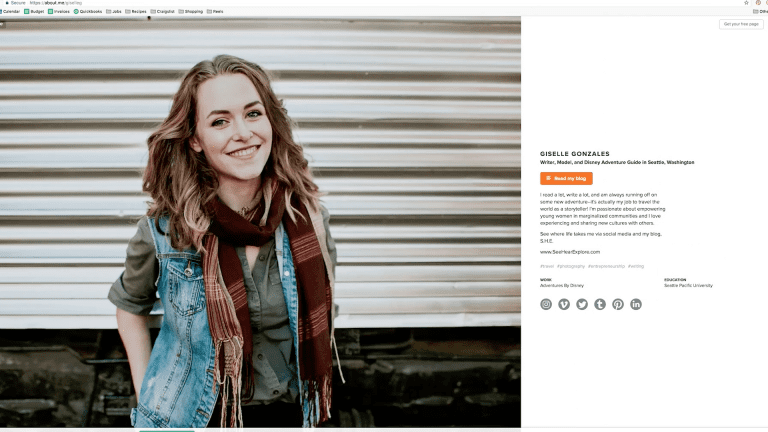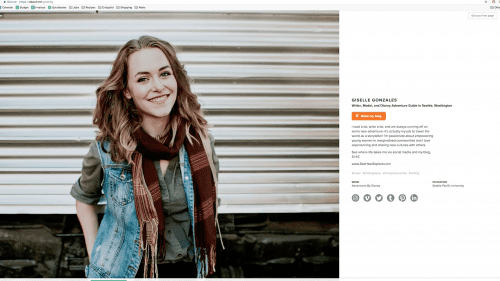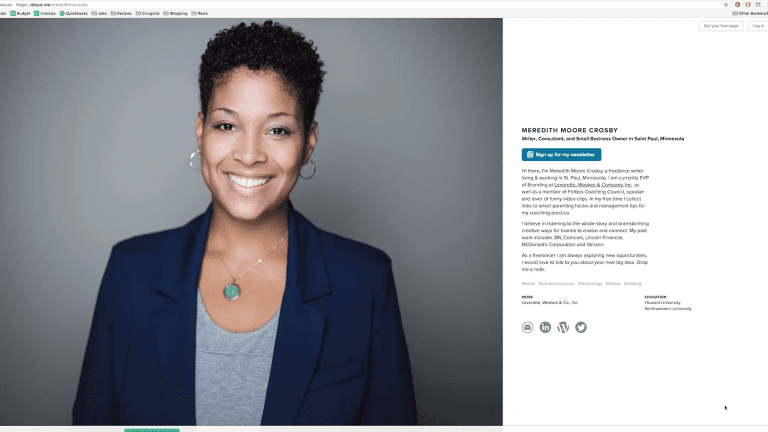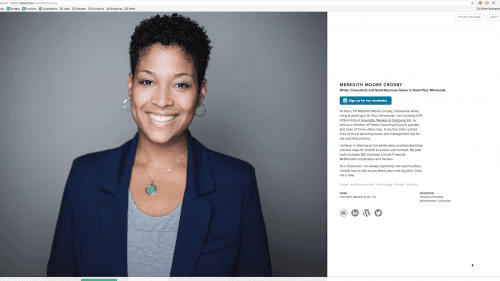 The moral of this story is… I would NEVER have been featured by about.me or invited to do a class (on anything) had I NOT built a reputation for being knowledgeable about job search and personal branding. I built it and they came! This is proof personal branding CAN work.
3 Secrets From My Free Skillshare Class
During the class,  Personal Branding & First Impressions: Writing Your Bio for Social Media , I reveal secrets about personal branding, but let me share several with you now!
Here are the top 3:
Your personal brand is what people say about you when you aren't in the room- that's it! (Ask people you know to describe you)
Your first and last name are part of your personal brand. Use them!
Use your email signature to highlight your personal brand! See what to include here. And about.me has an embeddable link you can use too!
Who Is This Class For?
The short answer is anyone. But here are the types of people I think the class will help:
If you are unemployed, you need an ego boost. Defining your personal brand will give you one. Plus help you stand out.
If you are ready for the next step in your career, you'll benefit from having a well-positioned message.
If you have a side-hustle (or are thinking about a side-hustle) then you absolutely need to refine your personal brand.
If you have your own business, your personal brand is a must!
Actionable Help
The class includes 30 minutes of videos and worksheets! But your work isn't done in a vacuum.  I encourage you to share your work with the class.  Not only will you get my feedback, but feedback from others in the class, too. What better place to test your personal brand message, but as a class project. Upload your written summary or share a screenshot of your about.me page, or both!
So what are you waiting for?
The class is free when you sign up using this link: Personal Branding & First Impressions: Writing Your Bio for Social Media  
Plus, as a special bonus to my readers, you'll get two (2) months of Skillshare Premium access for free. (Check out the amazing classes available on Skillshare.)
I've listed the class on my Upcoming Workshops page and you can read the full class description there.
More Articles On Personal Branding
Even though I've written and spoken about personal branding for a long, long time, it's still difficult to define and even harder for students to put into practice. Here are articles that may help you as you refine and disseminate your personal brand.
Your Summary, Profile, and Pitch 
Free Tools For A Better Online Presence
Demonstrate Your Social Prowess (with about.me)
How To Create A Cohesive Social Branding Kit

Hannah Morgan speaks and writes about job search and career strategies. She founded CareerSherpa.net to educate professionals on how to maneuver through today's job search process. Hannah was nominated as a LinkedIn Top Voice in Job Search and Careers and is a regular contributor to US News & World Report. She has been quoted by media outlets, including Forbes, USA Today, Money Magazine, Huffington Post, as well as many other publications. She is also author of The Infographic Resume and co-author of Social Networking for Business Success.