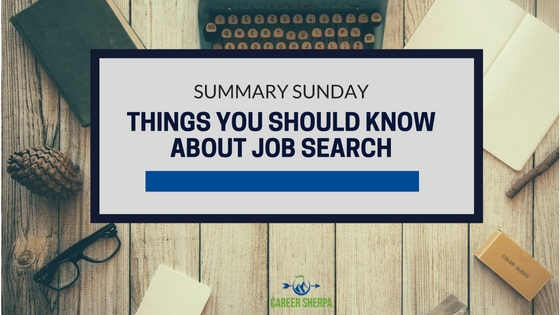 The world we live and work in continues to change. Keeping up with these changes can be overwhelming and time consuming, but that's what I love to do, so relax.
This roundup of posts should shed some light on things you should know about today's job search (and career) trends.
Things You Should Know About Job Search
JOB SEARCH
What LinkedIn Data Reveals About Who Will Help You Get Your Next Job by Vivian Giang | Fast Company
Here are some highlights from the article:
40% of (or two of every five) newly hired people were referred to their new employer by one of the company's employees.
People are more likely to be referred for jobs by their second­ and third­ degree LinkedIn connections
Unsurprisingly, the data concluded that as job-hoppers got closer to their start date, they added more first-degree connections, which is likely from interviews and active networking, says Berger. Still, only 18% had first-degree connections one month before starting their new job, which means that people are getting jobs through their second and third degree connections—people who might know you through someone else, but probably don't have an intimate knowledge of working directly with you.
NETWORKING
Networking. The "Hidden" Job Market by Denise Anne Taylor | CAREERMEDIC
Here are actions you can take to get the inside scoop on upcoming opportunities. No one said it would be easy, but it is definitely do-able!
INTERVIEWING
Massachusetts Makes Asking About Salary History a Thing of the Past by Alison Green | US News & World Report On Careers
Fingers crossed this catches on! FYI, there are some ideas on what to say if you are asked what you previously made!
CAREER
5 Signs It's Time To Ask For A Raise by Jenny Che  | Huffington Post
Don't hold back from asking for a raise. If you do it right, the worse that will happen is nothing.

Hannah Morgan speaks and writes about job search and career strategies. She founded CareerSherpa.net to educate professionals on how to maneuver through today's job search process. Hannah was nominated as a LinkedIn Top Voice in Job Search and Careers and is a regular contributor to US News & World Report. She has been quoted by media outlets, including Forbes, USA Today, Money Magazine, Huffington Post, as well as many other publications. She is also author of The Infographic Resume and co-author of Social Networking for Business Success.