Being persistent in job search does not mean you are a stalker. When and how you followup conveys professionalism and your interest in the role or company! Learn what questions you need to ask and when!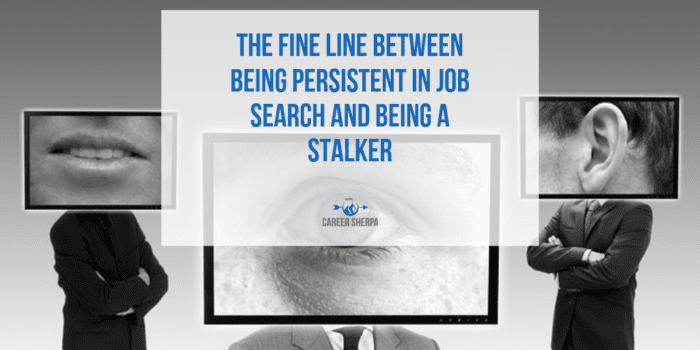 There's this fine line between being persistent in job search and being a stalker. You don't want to come across as either a stalker or too eager. You won't if you follow the advice below.
One of the most frequently asked questions job seekers have after an interview is "When should I follow-up?"
My response is always: "I don't know, what did they say when you asked?"
Here are questions you MUST ask during the job interview:
What is your timeframe for filling this position?
What are the next steps in your interviewing process?
How many other people will be involved in the decision-making process?
Why Ask These Questions?
There are several reasons you need to ask these questions; first, to understand what's going on and their timeframe.  Second, you will need this information in case another interview turns into an offer (which happens quite frequently, by the way). And third, you probably won't get a response, so you'll at least know when you can followup.
Being Persistent In Job Search Means…
You follow up.
Once these questions have been answered you will know when to follow up.  In your Thank You message, in the closing paragraph, state your intended follow-up date. This means that you must follow through on your commitment. That is perceived as being reliable, and more importantly, interested in the company and position.
I have heard so many stories of companies that chose the candidate only because they were persistent and followed up. In some cases, the act of following up became the tie-breaker or tilted the scales in favor of the one who took action.
This is all about taking control of your job search!
Follow Instructions
One of the best ways to ensure you come across as persistent in job search, not as a stalker is to follow instructions! If you are told to not follow up, that means you should not. This seldom happens, sadly. (See why here The Real Reasons the Company Has Gone Silent After the Interview) And it doesn't mean you can't talk to people you know inside the company to find out what's going on. Do a little backdoor investigating.
Listen carefully, take notes and plan when you will followup based on the information provided. If you don't know, then ask!
You could say, "I'd like to follow up with you, what's the best way to stay in touch?"
Follow Up After You Apply
When you haven't had any significant human contact, it's hard to know when to followup. You aren't a stalker, you're being persistent in your job search when you followup appropriately. I offer timeframes and steps in these posts

Hannah Morgan is one of this year's LinkedIn Top Voice in Job Search and Careers and a nationally recognized author and speaker on job search strategies.  She founded CareerSherpa.net to combine her career expertise with her love of writing, speaking and social media. Her mission is to educate professionals on how to maneuver through today's job search process.  Hannah is a regular contributor to US News & World Report. She has been quoted by media outlets, including Forbes, USA Today, Money Magazine, Huffington Post, MarketWatch, LifeHacker, The Muse, Business Insider, SmartBrief, Payscale as well as many other publications. She is also author of The Infographic Resume and co-author of Social Networking for Business Success.