You are more than just words on a page. To successfully capture the attention of your future employer, they have to believe you can do the job and do it well. Your story is more than a list of skills and job duties on a page or even in a LinkedIn profile.
It is a tough market out there and landing a job takes more work on your part than before. But this will help!
Job Action Day 2014 Addresses Storytelling
Quintessential Careers has organized Job Action Day since 2008 to help job seekers get back to work faster. The concepts and issues covered each year reflect many of the changes and adaptations job seekers need to know about. You can find links to the posts written by career professionals (including me!). You can also follow the hashtag #JAD2014 on Twitter and other social networks to see great information about storytelling!.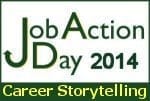 Job Action Day 2014 is all about empowering job seekers with the power of storytelling for career and job search success.
Job Action Day is a day for all job-seekers and workers to take stock of their situations and make plans and/or take action steps to improve their careers.
In a highly competitive job market, job-seekers need every advantage possible. One of the greatest tools to gain an advantage is the use of storytelling — so that it is YOUR story that not only helps an employer remember you and your accomplishments, but also gets you the job.
Job Action Day 2014 Expert Articles:
The links to these great posts can be found on the Job Action Day 2014 page
Storytelling for Career and Job-Search Success Articles

Changing the Inside Story: The Story You Tell Yourself Is More Important than the Story You Tell Employers, by Susan Britton Whitcomb
Four New Ways to Tell Your Career Story, by Hannah Morgan
The Latest and Greatest in Career Storytelling: Perspectives and Resources for Telling Your Story in Job Search and Career, by Katharine Hansen, Ph.D.
Storytelling Tips From Career Experts, compiled by Randall S. Hansen, Ph.D.
Take a Page from Marketing to Give Your Job Search a Boost, by Karen Siwak
Tell Your Career Story to Connect You and Cut Through the Clutter, by Deborah Shane
Tell Your Story: For Job, Promotion, Business Success, by David Couper
3 Steps to Storytelling Success in Your Job Search, by Laura Labovich
Tips for Using Storytelling to Strengthen Your Job-Search, by Randall S. Hansen, Ph.D.
We Are the Stories We Sell Ourselves, by Wendy Terwelp
Your Profile is Your Story, by Nancy J. Miller

 Storytelling for Interviewing Success Articles

Storytelling for Resume Success Articles

 Storytelling for Career Brand Success Articles

Storytelling Sample

Whitney Johnson Storied Biography Sample, by Jacqui Barrett-Poindexter
Career Experts and Bloggers Participating in Job Action Day 2014
Walter Akana, career and life strategist, Success Reimagined
Jacqui Barrett-Poindexter, chief career writer and partner, CareerTrend
Bill Burnett, author of The Peak Interview
David Couper. CEO, David Couper Consulting
Maureen Crawford Hentz, recruiter and talent management guru.
Rick Gillis, principal, The Really Useful Job Company
Meg Guiseppi, CERM, CMRW, CPBS, COIS, CSBA, CBAA, CPRW, CEIC, and CEO ofExecutiveCareerBrand.com
Katharine Hansen, PhD., creative director of Quintessential Careers
Randall S. Hansen, PhD., CEO of Quintessential Careers
Russ Hovendick, President of Client Staffing Solutions, Inc.
Laura Labovich, CEO of Career Strategy Group
Nancy J. Miller, lifework creativity coach at Creative LifeWork Design
Hannah Morgan, owner of Career Sherpa
Rachel Metscher, social media strategist at Metscher's Musings
Deborah Shane, founder of DeborahShaneToolBox.com
Karen Siwak, executive director, Resume Confidential
Wendy Terwelp, president of Opportunity Knocks
Debra Wheatman, president of CareersDoneWrite
Kudos To QuintCareers
I've long been a fan of Quintessential Careers (QuintCareers) for the thorough advice and resources it provides! I hope you bookmark this site and find it helpful!

Hannah Morgan speaks and writes about job search and career strategies. She founded CareerSherpa.net to educate professionals on how to maneuver through today's job search process. Hannah was nominated as a LinkedIn Top Voice in Job Search and Careers and is a regular contributor to US News & World Report. She has been quoted by media outlets, including Forbes, USA Today, Money Magazine, Huffington Post, as well as many other publications. She is also author of The Infographic Resume and co-author of Social Networking for Business Success.