Taking Risks During Job Search does have rewards. You want to stand out and get noticed. Here are 5 ways to do that and the rewards that come from trying risky moves.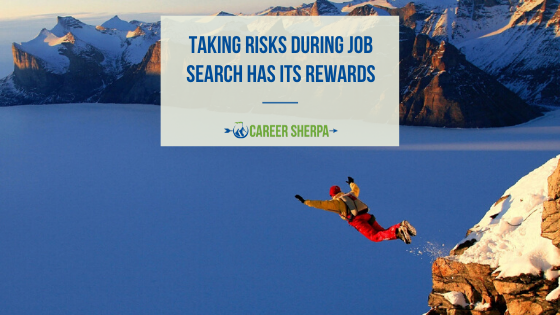 Do you avoid taking risks?
Maybe you need to re-evaluate your position on engaging in actions that seem a bit more dangerous than you are comfortable with. Especially during job search!
Reward 1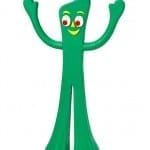 Stepping outside your comfort zone helps build resilience and flexibility. This is one quality employers admire and seek! How often have you been subject to the 'flavor of the month' initiative or asked to drop what you are doing to put out some fire? It happens more today than it used to. If you are an older worker, this is probably something you want to make sure you address so you aren't perceived as someone stuck in a rut or obsessed with the mantra 'this is the way I've always done it.'
Reward 2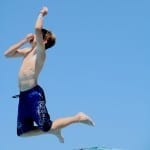 Great success has seldom been achieved by those who haven't taken risks. Think of the great athletes, entrepreneurs, and inventors. Where would they be if they didn't take risks? If you are eager to achieve more (wealth, status, responsibility, etc) than you have today, you are going to have to step out on a limb or two.
Reward 3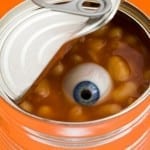 You want to be a stand out applicant but when you politely wait for weeks to be contacted, well, you're not standing out. You are being overlooked. What calculated risks can you take to get noticed (and for the right things)?
Here's Why You May Want To Take Some Risks
Have you submitted you resume to hundreds of jobs and gotten no response?
Maybe you've tried networking and are disappointed in the lack of leads you got.
There is nothing more frustrating than the rejection and indifference experienced during a job search.
The following ideas require taking risks during job search but they may just do the trick, help you stand out and get the attention you want.
These are geared toward job seekers who are ready, willing and able to put in the extra effort to secure a job and who are not afraid to try new strategies to stand out and be memorable. 
1. Show your creativity: Create an infographic resume. 
Infographics are popular marketing tools and offer another way to present your experience. Design skills are not necessarily required. For example, if you already have a LinkedIn profile, you can convert it into an infographic using no-cost online tools such as Re.vu, Canva or even PowerPoint.
If you want to create an infographic using other data, check out Canva, Piktochart or Easel.ly.
An infographic resume is a newer concept and you may want to see examples to generate ideas of what to include before you embark on your own.
Keep in mind that an infographic isn't a substitute for a text resume. Most recruiters prefer to see the traditional format. 
You can, however, use your infographic during networking meetings or as a follow-up after a meeting. Don't forget to embed your infographic resume in your LinkedIn profile's summary section to catch attention.
2. Don't wait for the interview: Shoot a video. 
Do you feel you could prove you're qualified for a job if you could get the interview?
You can use video to explain your qualifications and interest in the job.
Very few job seekers are using this media, which makes it a unique and memorable way to capture the employer's attention.
Your video should explain why you are a good fit for the job and why you want to work for that employer. It doesn't have to be long. In fact, most marketers recommend keeping videos under three minutes.
Companies such as Zappos invite applicants to submit a video along with the application material.
Video may not be for everyone, but if you aren't afraid of getting in front of the camera and have some basic editing experience, then this format may give you an advantage.
And if you are interested in a new way to show your personality, expertise and recommendations without being on camera, check out CareerBrandVideos.
3. Provide proof you can do the job: Build a presentation. 
You can present your qualifications visually through slides. The presentation doesn't replace your resume, so you will want to submit it as supporting documentation, just as you would with an infographic. 
A presentation may give you the added space and flexibility to showcase your samples of work, customer testimonials or other recognition.
When creating your presentation, keep in mind that images are more powerful than words.
Don't cram your slides with bullet points and words, instead use pictures, logos or other visuals to represent concepts.
If you want to experiment with different presentation software, you may enjoy Prezi, or Google's presentation software.
4. Make the most of your informational meeting: Share your marketing plan. 
If your networking isn't as productive as you would like, perhaps sharing a personal marketing plan would generate better results.
Your personal marketing plan should clearly spell out what you want to do, the skills and qualifications you wish to highlight and the demographics of the right company for you.
The real value in your personal marketing plan is in listing the names of companies that fit your criteria. This will help the person you're speaking with understand what you're looking for and they may even know someone who works for one of your target companies.
5. Stay in touch with your network: Publish a newsletter. 
Create a newsletter and use it to stay in touch with the people you met networking.
Your newsletter isn't about you and you won't write about your job search.
It is about what you know or what you've learned. Write about current trends in your field or provide solutions to problems you know your target industry faces. To get ideas for topics to write about, sign up for industry newsletters and read industry articles from SmartBrief. 
Marketing today is about providing solutions, not throwing your advertisements out there.
When you write your thank you note, invite people you networked with to subscribe to your newsletter and include a signup link.
Use a free email marketing software, such as MailChimp, or a low-cost provider like AWeber or Constant Contact, to give your newsletter professionalism and meet email opt-in requirements.
Always Use A Referral
Studies have shown the best way to secure an interview and receive a job offer is to have an employee inside the company refer you.
When this isn't possible, seize every opportunity and show the extra effort to catch the employer's attention by providing evidence that you're the right candidate for their job. Or, at the very least, show that you aren't afraid of hard work and taking risks during job search.

Hannah Morgan speaks and writes about job search and career strategies. She founded CareerSherpa.net to educate professionals on how to maneuver through today's job search process. Hannah was nominated as a LinkedIn Top Voice in Job Search and Careers and is a regular contributor to US News & World Report. She has been quoted by media outlets, including Forbes, USA Today, Money Magazine, Huffington Post, as well as many other publications. She is also author of The Infographic Resume and co-author of Social Networking for Business Success.