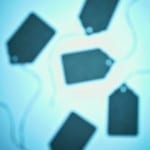 It is funny how we put labels on people and things, isn't it.  OK, maybe not everyone does it and maybe it isn't all that funny, but it is an interesting phenomenon.
When you meet someone new, do you give them a tag or a label, mentally?  For example: "Jill's Mom", "Cashier at Wegmans", "Job seeker", "Prius Driver" "Physicist"?  Maybe you do this and don't realize it.  Why do we do this?  I think it may be to serve as a memory jogger.  Everyone's brain works a bit differently, true?
I wrote a post about categorizing your network to make it easier to reference for you. (Categorizing Your Network for Maximum Impact).  I realize that might not be the way everyone's brain works, however, it d0es provide a context for how you know this person and who they are.
We sometimes get labeled as something we aren't.  For example, people frequently tag me as Human Resources, but I am not really HR.  I get tagged as a coach, but I don't consider myself  a coach.  So what is it that I want to be known for?  Jeez, maybe that's hard to put a tag on. I want to be known for career guidance and management.  But you know what, that doesn't make a lot of sense to most people.  So I will have to dig deeper.
We have so many ways to spread the message about what we want to be known for, inside and outside of our company.  Let's start with LinkedIn.  You determine the words and phrases that appear here.  Make sure you've used the correct combination to send the right message.  When you introduce yourself, again, use the right combination of words to create the image you want to project.
Another example of tagging/labeling occurred for me when I opened a bank account and they asked what kind of business I was.  The choices were archaic, manufacturing, construction, retail and many other buckets that didn't quite fit.  Eventually, I settled on Education…
I don't think there is a way to clearly wrap up this post, other than to help you realize that tags exist and we'll need to pay attention to how that helps or hinders up.
What do you want to be known for?

Hannah Morgan speaks and writes about job search and career strategies. She founded CareerSherpa.net to educate professionals on how to maneuver through today's job search process. Hannah was nominated as a LinkedIn Top Voice in Job Search and Careers and is a regular contributor to US News & World Report. She has been quoted by media outlets, including Forbes, USA Today, Money Magazine, Huffington Post, as well as many other publications. She is also author of The Infographic Resume and co-author of Social Networking for Business Success.