2020 will be here soon and it's a great time to assess workforce trends and remote careers! Don't get caught off guard. Know what to ask for and know what to do to maximize your career potential!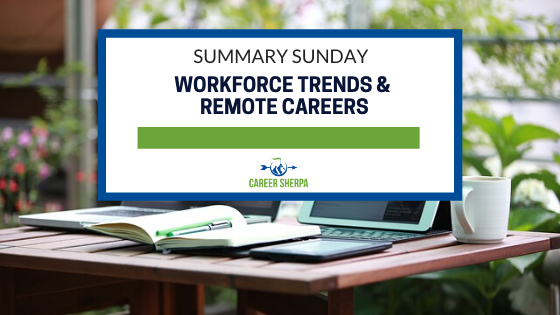 There are good and not-so-good workforce trends that impact your career- remote careers may well be the future.
What do you need to know?
If you plan to stay where you are or look for greener pastures, there are still issues you want to be aware of. Remote work is one. Another is the job growth, both the quantity and quality of new jobs being created. Plus, you should take steps now to future-proof your career because a recession will happen.
When it comes to managing your career, we are often our own worst enemies with negative self-talk and fears holding us back. What if there was a way to overcome them? Many people have converted their fears into superpowers and you can too. You'll also learn a bit about engaging and persuading people through storytelling!
What about your LinkedIn headline…how's that working for you? You'll find formulas and examples to spiff up yours before the end of the year!
Many thanks to the many sources and friends who continue to share and enlighten.
WORKFORCE TRENDS
The Remote Work Report
by Zapier
"Will the office be obsolete by 2030? Knowledge workers think so."
This report surveyed 880 knowledge workers (those who primarily work in a professional setting and use a computer as part of their job) and found that "95 percent of U.S. knowledge workers want to work remotely, and 74 percent would be willing to quit a job to do so."  Learn more about remote careers:
31 percent of U.S. knowledge workers don't currently work remotely because their company doesn't allow it.
57 percent say the option to work remotely is one of the perks they'd most prefer to be offered by an employer.
The Frightening Rise In Low-Quality, Low-Paying Jobs: Is This Really A Strong Job Market?
by Jack Kelly, WeCruitr | Forbes
Job growth is great, except when the jobs are low quality. So how to we measure that? There's a new measurement in town,  U.S. Private Sector Job Quality Index (JQI). "The JQI tracks the weekly income a job generates for an employee." It's time to keep an eye on the quality of new jobs!
CAREER
How to Turn Your Biggest Fear Into Your (Career) Superpower
by Randy Paynter, Care2 | Entrepreneur
No matter what limiting beliefs you have, they can be overcome! Here's proof!
How to Engage and Persuade Your Audience Through the Power of Storytelling [Infographic]
by Mark Walker-Ford | Social Media Today
As a job seeker or as an employee, we all need to persuade people. Storytelling is one of the most powerful ways to get people to buy into your idea. We see stories used in marketing which just proves how common they've become. Use some of these ideas when attempting to engage and persuade.
10 Ways Your Career Can Survive a Recession
by Hannah Morgan | US News & World Report On Careers blog
Begin taking steps now, before you have been impacted by a layoff or recession. These are 10 things you should work on immediately.
LINKEDIN
The 10 Best LinkedIn Headlines For Job Seekers (Examples)
by Biron Clark | Career Sidekick
Job seekers always want examples of good LinkedIn headlines, so here you go! No matter what type of role you are looking for, you'll find a formula and example here!
MENTIONS
Ten #JobWords Blogs by Paul Drury – Week 46/47
by Paul Drury on LinkedIn
This is a round-up of Paul Drury's 10 recent #JobWords posts he regularly shares on his site, Paul Drury. I was thrilled to know he mentions Career Sherpa in his work. Not only that, the expert advice he collects is helpful to job seekers!

Hannah Morgan speaks and writes about job search and career strategies. She founded CareerSherpa.net to educate professionals on how to maneuver through today's job search process. Hannah was nominated as a LinkedIn Top Voice in Job Search and Careers and is a regular contributor to US News & World Report. She has been quoted by media outlets, including Forbes, USA Today, Money Magazine, Huffington Post, as well as many other publications. She is also author of The Infographic Resume and co-author of Social Networking for Business Success.