Whether you're looking for new ideas for your career, job search or solving a problem at work, sometimes we all need an outside or fresh perspective.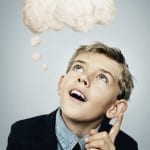 If you are an engineer and you only hang around other engineers from your company, chances are, you'll continue to think like an engineer. This is kind of limiting and may result in the same old "inside the box" thinking. Innovation and problem solving are vital to you, your employer and just about everyone.
Personally, I love reading and learning from folks outside the career space. I love reading anything about marketing, high tech, new media, entrepreneurship, and leadership- to name a few.
So where do you go to get new, innovative thoughts?
#TChat Twitter Highlights: "Where Do You Find Ideas And Insight — And Why?"
If you've never been on on Twitter chat, this is how is how it works. The moderator posts a questions then anyone can share their answers. It's like having a super fast brainstorming session or quick IM chat with hundreds of people. Talk about learning from others!

Talent Culture hosts a weekly chat (Wednesdays at 7pm).
These were some of the questions:
What 1-2 "must read" books would you recommend to a business peer?
What 1-2 blogs are most indispensable to you, professionally?
What 1-2 socially active thought leaders are most influential in your life?
What are your 1-2 "go-to" tools for managing social connections or information?
Here's the link to the summary post on Talent Culture:
Lessons From a Free-Range Learning Community #TChat Recap
Advice Job Seekers DON'T Follow

I am regularly concerned over the fact that so much advice is available to job seekers, and yet…they don't apply it. What's that about? Mark Babbitt wrote a "tell-it-like-it-is" post about the advice that gets ignored!
11 Pieces of Career Advice That Go 95% Ignored by Mark Babbitt on Savvy Intern
Where do you get your ideas for fresh thinking? Please share! 

Hannah Morgan speaks and writes about job search and career strategies. She founded CareerSherpa.net to educate professionals on how to maneuver through today's job search process. Hannah was nominated as a LinkedIn Top Voice in Job Search and Careers and is a regular contributor to US News & World Report. She has been quoted by media outlets, including Forbes, USA Today, Money Magazine, Huffington Post, as well as many other publications. She is also author of The Infographic Resume and co-author of Social Networking for Business Success.