If you are actively job searching, you owe it to yourself to learn what's new and next in job search.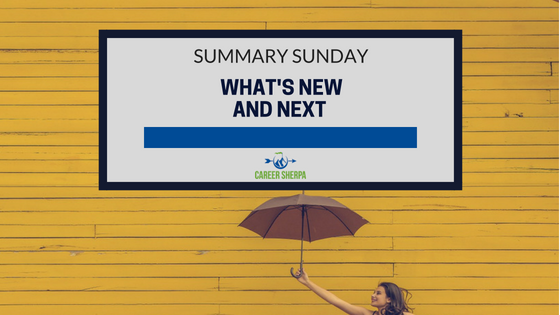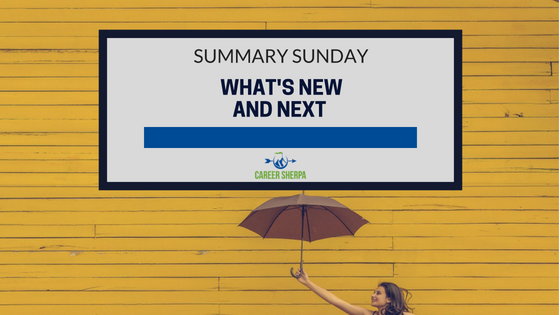 Take your job search and career to the next level by learning what's new and next.
This week's summary shows you have to create a more engaging pitch, assess company culture, develop your Emotional Intelligence and Adaptability Quotient, and even learn about blockchain technology…
But, it doesn't stop there. Learn about some of the hottest skills and trends impacting the workplace today and in the future. Consider this your insider information and use it to get a head start!  Try some of these tips to set yourself apart.
PITCH
How to sell yourself in 30 seconds and leave people wanting more
by  Shana Lebowitz | Business Insider UK
Dorie Clark suggests flipping your pitch to be more engaging by using these 5 tricks!
INTERVIEWING
To Ace Your Job Interview, Get into Character and Rehearse
by Cathy Salit | Harvard Business Review
The job interview is one of the most important performances of your career. Learn how to be better during the interview by stepping into your future role.
When You Start a New Job, Pay Attention to These 5 Aspects of Company Culture
by Allan H. Church and Jay A. Conger
Actually, the best times to assess the company culture are BEFORE and DURING the interview. Learning the lay of the land and company culture is very important when starting a new job too!
HOT SKILLS & TRENDS
Why Every Job Seeker Needs to Get a Blockchain Job
by Jacob Share | JobMob
Blockchain-related job listings increased 631% from November 2015 until December 2017 and 20o% from then until now!  This article caught my eye and I hope you read it too! Consider this your introduction to blockchain!
How To Improve Emotional Intelligence?
by Darius Foroux | Medium
As the title suggests, this is a very action-oriented article on what you can do to up your EQ.
Screw Emotional Intelligence–Here's The Key To The Future Of Work
by Natalie Fratto | Fast Company
Just when you thought you were beginning to understand EQ, there enters a new quality – AQ (Adaptability Quotient). Learn why this is actually becoming THE most important quality to determine your success.
4 Trending Workplace Topics from SIOP 2018
by Mengqiao Liu, Ph.D., and Don Lustenberger | DDI
What were the hot topics addressed at the Society for Industrial-Organizational Psychology (SIOP) Annual Conference? See the latest advances in science and how they are applied in the workplace. No, robots aren't taking your job but these things will impact it.
ALSO PUBLISHED
Acquiring Professional Skills Can Make You a More Attractive Employee
See what skills are in demand and how you can acquire new skills.

Hannah Morgan speaks and writes about job search and career strategies. She founded CareerSherpa.net to educate professionals on how to maneuver through today's job search process. Hannah was nominated as a LinkedIn Top Voice in Job Search and Careers and is a regular contributor to US News & World Report. She has been quoted by media outlets, including Forbes, USA Today, Money Magazine, Huffington Post, as well as many other publications. She is also author of The Infographic Resume and co-author of Social Networking for Business Success.