Social media is so much more than posting photos while dining at a new bistro, celebrating with friends or sharing your kid's big milestone.
Social media has become a source of news and information, a marketing tool and a way to keep in touch.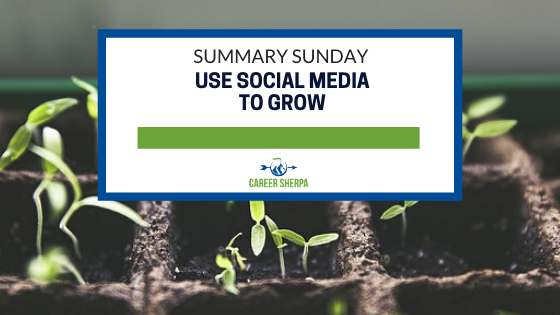 For all these reasons, social media can be a valuable way to grow- not only intellectually, but to grow your network and awareness of you.
You need to be smart and have a plan for how you use it. That's what you'll find in today's summary – a plan for using social media.
Tap into the power of your social capital
A strategy for LinkedIn's Advanced search
Current LinkedIn usage stats
Instagram bio tips
And for those starting a new job, how to onboard yourself.
Enjoy these expert tips and use social media to grow!
JOB SEARCH
The Power of Social Capital in Executive Job Search
by Meg Guiseppi | Executive Career Brand
A definition of social capital is " a measure of the value of resources, both tangible (public spaces, private property) and intangible ("actors", "human capital", people), and the impact that these relationships have…" In short, social capital is the strength and power of relationships. Learn how you can tap into this power while job hunting.
LINKEDIN
Have You Ever Tried This Winning LinkedIn Strategy?
by Wayne Breitbarth | PowerFormula.net
How often do you the advanced search function on LinkedIn? I bet you never thought of using it this way…and you can alter this tip any way you like.
Frequency of LinkedIn use in the United States as of 3rd quarter 2019
by Statista
As you can see, LinkedIn users are not on the platform every day. In order to increase the chances that your network will see your updates, you'll have to post more frequently.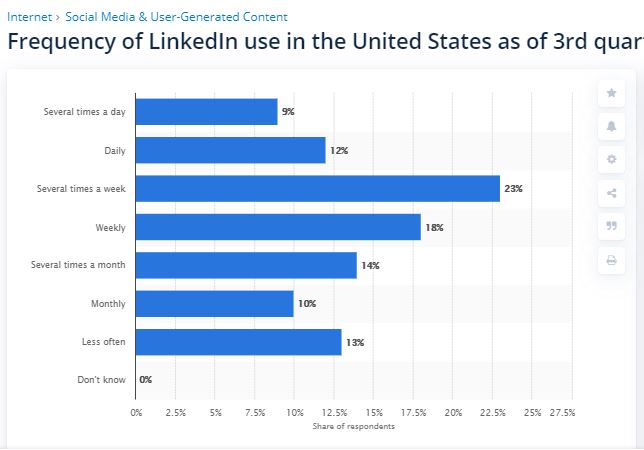 INSTAGRAM
The Science Behind the Best Instagram Bios
by Heather-Mae Pusztai | Buffer
Instagram is the fastest growing social network. People use it for work and pleasure and you can too. If you are looking for tips and inspiration for your Instagram Bio, here are ideas. (No, these aren't written specifically for job seekers, but you can easily adapt them.)
NEW JOB
Career Hack: How To Onboard For Success
by Ellen Dunagan | Traverse Career Solutions
Here are three steps to help you take control of your career starting with your first day on the job.
In Case You Missed It
Use the LinkedIn Publishing Platform to Tell Your Story
Can We Talk About Your Cover Letter?
Best Websites for 2020 Job Search

Hannah Morgan is one of this year's LinkedIn Top Voice in Job Search and Careers and a nationally recognized author and speaker on job search strategies.  She founded CareerSherpa.net to combine her career expertise with her love of writing, speaking and social media. Her mission is to educate professionals on how to maneuver through today's job search process.  Hannah is a regular contributor to US News & World Report. She has been quoted by media outlets, including Forbes, USA Today, Money Magazine, Huffington Post, MarketWatch, LifeHacker, The Muse, Business Insider, SmartBrief, Payscale as well as many other publications. She is also author of The Infographic Resume and co-author of Social Networking for Business Success.