Knowing what to do is step one. Knowing how to do it is the secret. Do you have the job search know-how?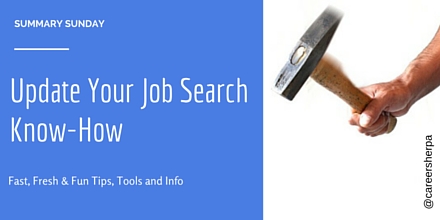 Throughout the week I read and share a lot of articles related to job search, careers, and social media. This week's roundup of top-performing posts is another edition to update how you look for work and manage your career. These articles will update your job search know-how.
If there is one article you MUST read this week about job search it is this one.
Cover Letters Are Dead And Other 2016 Recruiting Trends by Liz Ryan, HumanWorkplace | Forbes
Yes, cover letters are D E A D because they seldom contain worthwhile information. But read on and you'll learn more about what's happening with recruiting. Ryan says:
"Applicant tracking systems are headed the way of the dinosaur."
"[Employers] are cultivating talent communities instead of throwing job ads at the wall like strands of spaghetti."
Job postings will look different says Ryan. "We can talk about the problem to be solved, not the made-up and arbitrary requirements we assigned to our job opening."
"We can crowd-source our talent pipeline" through talent communities made up of friends, family and fans.
"Recruiting is morphing from a fussy sorting function into a pure Sales and Marketing function"
"Hiring managers want to talk to candidates who already know what the company is working on and where it might need help."
INTERVIEWING
Protect Yourself from Exploding Job Offers by Nick Corcodilos | Ask The Headhunter®
SOCIAL MEDIA
Facebook Groups: The Best-Kept Secret for Boosting Your Career by Stacey Gawronski | The Muse
75 Top Twitter Accounts to Follow for Your Career | Mashable
This list first appeared on The Daily Muse and Mashable republished it. There are many great experts on this list and I am flattered to have been included alongside them!
JOB SEARCH
2016 Job Search: What Every Job Seeker Needs To Know by Dawn Rasmussen | Pathfinder Writing and Career Services
#JOBSEARCHWISDOM
In case you haven't seen these, here are some job search snippets I've created and shared on Twitter.

Hannah Morgan speaks and writes about job search and career strategies. She founded CareerSherpa.net to educate professionals on how to maneuver through today's job search process. Hannah was nominated as a LinkedIn Top Voice in Job Search and Careers and is a regular contributor to US News & World Report. She has been quoted by media outlets, including Forbes, USA Today, Money Magazine, Huffington Post, as well as many other publications. She is also author of The Infographic Resume and co-author of Social Networking for Business Success.