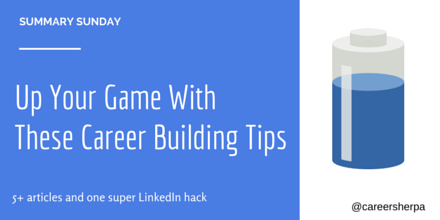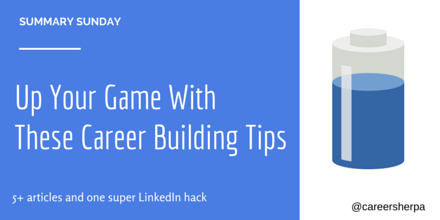 You'll find career building strategies, interview advice and info on how to really use LinkedIn in this weekly installment of Summary Sunday. I'm highlighting the most popular articles I've shared on Twitter.
Career
Words in Your Vocabulary That Are Affecting Your Career by Kritika Hajrai | The CareerMuse Blog (by CareerBuilder)
Whether you are communicating with your manager or interviewing, be sure you eliminate these career-damaging words. They undermine your authority. Here's a sampling but I hope you read the full article. Communication is key to your success. It's not what you know, it's how you talk about it…
LinkedIn
3 Brilliant LinkedIn Summaries That Will Inspire You to Update Yours Right Now by Lily Zhang | The Daily Muse
These are great examples sure to generate some ideas for you to improve or update your LinkedIn summary. Oh, you don't have one- this will help you fix that. The summary section is important for many reasons: key words, search results, ease of reading, positioning your expertise, telling your story, and many more!
Secret Hack
I've warned NEVER to use your mobile device to send an invitation to connect because you can't personalize/customize the message (which you should always do). But there is a secret work-around I first learned about on a Google+ group and is shown on Social Media Examiner's post. The post is mostly written for businesses, but this part is gold!
Mastering LinkedIn, The Personal Branding Epicenter of the Internet by Berry Feldman | KISSmetrics
If you aren't seeing much value in LinkedIn, I guarantee you, reading this will give you an action plan a mile long. It's filled with tips on what you can do to interact with more people and attract people to your profile!
Interviewing & Negotiating
I wrote "Would You Provide Your W-2?" and have been getting ideas and feedback from inside recruiters and third-party recruiters on how to handle this tricky situation.
PayScale's Director of Professional Services, Mykkah Herner says: "If your potential employer is asking for your W-2, I'd suggest taking a couple steps back to look at the bigger picture. Why might they be asking for it? It's likely that they are seeking confirmation of your current pay rate. Many employers will ask you to say what you're currently making or to provide a salary history. This isn't new, and has long been a part of recruiting practices."
But Herner says it may also be a red flag.
What you can do is increase your negotiating skills and learn when and how to discuss salary expectations and salary history. PayScale has a negotiating guide with advice and tips on how to negotiate pay better. Here is one article by Penelope Trunk they recommend reading! The (Surprising) Best Answer to the Question "What's Your Salary Range?"
How To Respond To Employer Requests For Your Salary History by Alison Green | USNews & World Report
Here is what some people said on Twitter:
No @careersherpa I would not share my W2. I would give other data to show my worth. Too invasive in my opinion. #privacy @chrisrussell

— Jim Stroud (@jimstroud) June 13, 2015
@careersherpa If the idea is to show salary, block out everything on the W-2 not related. I don't agree with it, and wouldn't do it. — Tim Weaver (@Tim_Weaver)
@RobSpeciale @careersherpa to answer the question, no. I wouldn't. But I would crush the hiring manager with a strategic plan w/ insights.

— Paul Gebel (@paulgebel) June 12, 2015
@DinaNatale @careersherpa Then it's not a company I'd work for, especially when they show that level of distrust – so early in the process. — Katrina Collier (@WinningImpress) June 12, 2015
And this…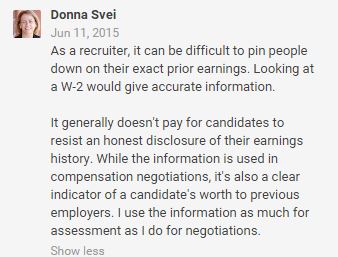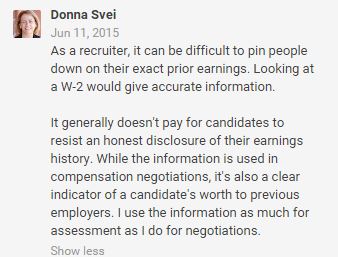 Also, special thanks to @Animal who shared my post in his Facebook group for recruiters…and yes, it did generate some discussion!
@careersherpa UR generating some discussion https://t.co/C1vLhncFQY

— Recruiting Animal (@animal) June 12, 2015
Like This Post?
If you want to keep up with the trends impacting your job search and career, follow my social media accounts or sign up for my articles! Follow @careersherpa
Career Sherpa | Promote Your Page Too

Visit Career Sherpa's profile on Pinterest.

Hannah Morgan speaks and writes about job search and career strategies. She founded CareerSherpa.net to educate professionals on how to maneuver through today's job search process. Hannah was nominated as a LinkedIn Top Voice in Job Search and Careers and is a regular contributor to US News & World Report. She has been quoted by media outlets, including Forbes, USA Today, Money Magazine, Huffington Post, as well as many other publications. She is also author of The Infographic Resume and co-author of Social Networking for Business Success.