Training and hiring are on everyone's minds these days. Most people are either working from home, forced into quarantine or laid off, with a lot of extra time on their hands.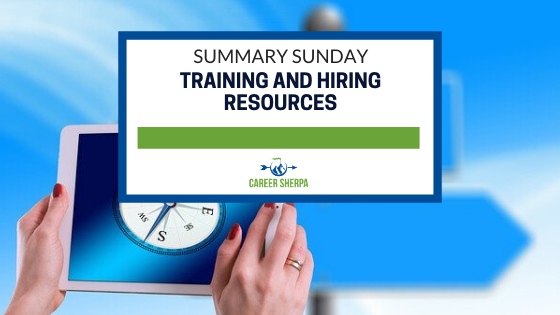 While we are in the beginning stages of this crisis, we are all being forced to learn new technology and new ways of communicating. We're also trying to balance our personal and professional lives in new ways.
This week's summary features:
Resources for training and professional development
Sources of who's hiring right now
Online interviewing tips
Advice for leading remote teams
Plus a perspective of what's happening to the workplace
Feel free to share these training and hiring resources with your network.
Who's Hiring
You may want to have two job searches going simultaneously. The first one is to generate immediate income. The second is for your dream job. Work them both. Of course, networking will generate better leads for your dream job, so continue to build and nurture relationships.
Bonus tip: Search LinkedIn and Twitter for these hashtags to search for announcements about job openings: #hiringnow #nowhiring #hiring
Here's Who's Hiring Right Now
by Andrew Seaman, LinkedIn Editor | GetHired
"Companies from industries spanning from technology to retail are hiring to meet increased demand caused by the coronavirus pandemic. Below is a regularly updated list of companies hiring right now."
Who's Hiring? Resources to Find Work During the Coronavirus Crisis
by Amanda Augustine | TopResume
There are companies hiring right now. Augustine writes "many enterprising and helpful individuals have already started to respond with websites, community-sourced spreadsheets, and apps to help connect those newly out of work with those offering jobs." That's what's compiled here.
Who's Hiring During the Pandemic?
by Career Thought Leaders
This is a forum where sources for current job openings are being shared. In other words, you'll want to keep checking back to see where hiring is happening.
TRAINING
With a little extra time on your hands, use it to learn new skills. There's certainly plenty of free training available right now. Take advantage of that.
Finding a Job during Challenging Economic Times
by LinkedIn Learning
You'll find 13 free courses offered by top job search experts. You'll find over 11 hours of learning about how to create a structured recovery plan, to building and growing your professional network, and improving your interviewing skills.
Pluralsight Free During Entire Month of April: #FREEapril!!!
by Jason Alba | JibberJobber
Pluralsight has over 7,000 courses you can access from your mobile, tablet, Roku, computer…. anywhere! And don't miss Jason's soft skills courses and career management courses!
LinkedIn
LinkedIn Learning Free For 30 Days
Get a month of LinkedIn Learning access for free!
LinkedIn Premium free for 30 days but read the fine print.
Interviewing
7 Tips On How To Succeed In An Online Job Interview
by Robin Ryan | Forbes
Phone and video interviews are still happening. Here are some tips to help you understand what to expect and interview on camera more confidently.
Trends
The Big Reset: Making Sense Of The Coronavirus Crisis
by Josh Bersin | Josh Bersin.com
As an HR and workplace consultant and analyst, Bersin shares his insights (in video and text) on what he sees are the four biggest shifts to come from this crisis. I truly hope you read/watch this!
1. Reset Work: Make the digital workplace thrive.
2. Reset budgets: Simplify, do less with less, make work easier.
3. Reset leadership: A new focus on empathy and understanding.
4. Reset Trust: take it seriously and learn to live by it.
Remote Work
12 Inclusion Nudges to Manage a Remote Team – Feedback From the Teams
by Dorothy Dalton | Dorothy Dalton.com
These unusual times call for new ways of managing your team. There are lots of tips based on feedback from Dalton's community. Things like how to maintain an open-door policy (remotely), understanding team member styles and situations and the importance of setting expectations.
MENTIONS
How to Survive a Layoff
US News & World Report
Navigating A Job Search In Crisis
Virginia Franco Resumes (Ed Han, Andy Foote and me)
In Case You Missed It
Best Practices For Participating In Video Conference Calls (with infographic)

Hannah Morgan speaks and writes about job search and career strategies. She founded CareerSherpa.net to educate professionals on how to maneuver through today's job search process. Hannah was nominated as a LinkedIn Top Voice in Job Search and Careers and is a regular contributor to US News & World Report. She has been quoted by media outlets, including Forbes, USA Today, Money Magazine, Huffington Post, as well as many other publications. She is also author of The Infographic Resume and co-author of Social Networking for Business Success.