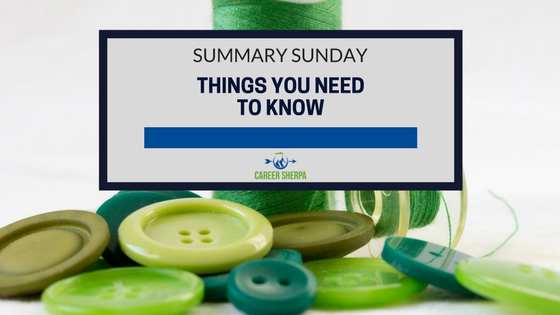 Unfortunately, job search and career management don't come with instruction manuals. Which is too bad. There is so much you don't understand about these things. There are written and unwritten rules of engagement.
Sewing on a button is a long forgotten skill, yet it sure is handy!
This week's roundup includes many things you need to know- how recruiters use LinkedIn, the unwritten rules of the workplace, should you be the one to constantly follow-up with a hiring manager, how to find email addresses and how to wow an interviewer!
I hope these articles help you figure things out!
WORLD OF WORK
New Graduates: These Are The Unspoken Rules Of The Workplace No One Tells You
by Anisa Purbasari Horton | Fast Company
It is unfortunate that more companies don't embed these points into their onboarding. Too many new employees don't know what they don't know! Please share widely to help educate new graduates!
JOB SEARCH
How Headhunters Use LinkedIn to Find Talented Candidates
by Arnie Fertig | US News & World Report On Careers
If you understand how recruiters use LinkedIn, you'll be able to build a better profile and take the right actions on LinkedIn.
Is It Normal to Have to Send a Hiring Manager (Lots of) Reminders?
by Sara McCord | The Muse
This is an interesting example of what a candidate went through during the recruiting process…what lessons can you learn from this?
ONLINE VISIBILITY
Use a Personal Website to Maximize Your Digital Footprint
by  Job of Mine
Only 32% of graduates have an online portfolio, yet more than 60% of millennial hiring managers said having a website or online portfolio is important for candidates (according to a recent study by godaddy).  Go create your online portfolio today!
COOL TOOLS
Looking for a way to uncover email addresses so you can contact someone directly? Try one or more of these via Avid Careerist and Ed Han. (This is from Donna Svei's group on Facebook called AvidCareerist)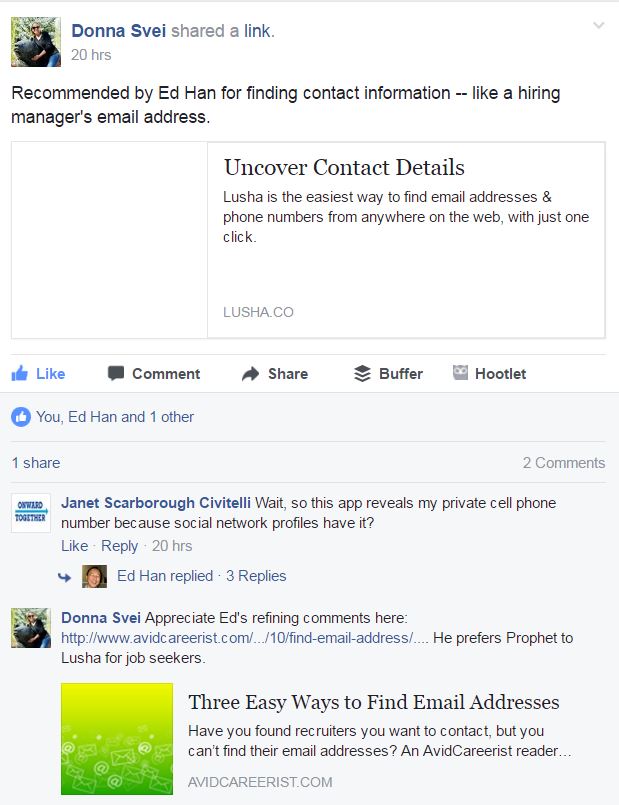 INTERVIEWING
Job Interview First Impressions: 10 Tips to Take You to the Top [Infographic]
by Armstrong Appointments  | YouTern
Brush up on your interviewing know-how with these reminders!

Hannah Morgan is one of this year's LinkedIn Top Voice in Job Search and Careers and a nationally recognized author and speaker on job search strategies.  She founded CareerSherpa.net to combine her career expertise with her love of writing, speaking and social media. Her mission is to educate professionals on how to maneuver through today's job search process.  Hannah is a regular contributor to US News & World Report. She has been quoted by media outlets, including Forbes, USA Today, Money Magazine, Huffington Post, MarketWatch, LifeHacker, The Muse, Business Insider, SmartBrief, Payscale as well as many other publications. She is also author of The Infographic Resume and co-author of Social Networking for Business Success.