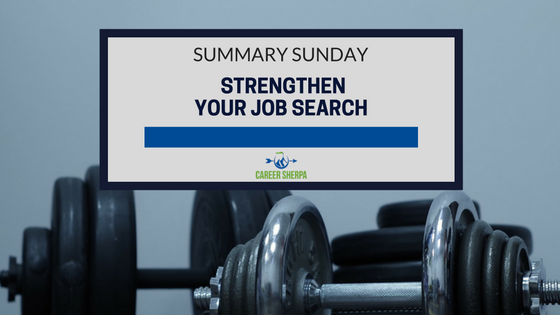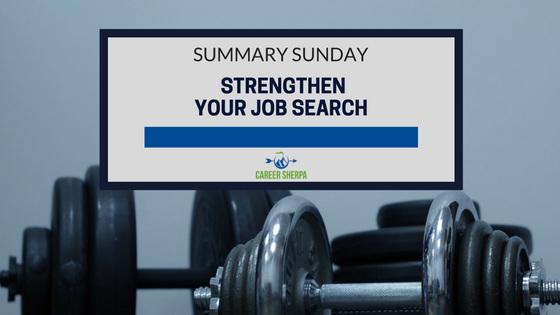 Job search (and your career) is a marathon, which requires you have the mental and physical stamina to endure over a long period of time.
I've always said that job search requires a different set of skills, many of which you haven't needed to use before. But even more important is having the right mental fortitude.
In this week's roundup, I'm sharing articles to help you build skills and mental strength to reach your career goals!
4 Mentalities That Are Killing Your Career
by J.T. O'Donnell | Inc
I love J.T.'s closing paragraph. I think it will help you see the importance of the article and learning how to embrace the changing work environment.
Studies by CAREEREALISM show that 88 percent of professionals feel unsatisfied with their career success. While you may not have a severe case of any of the mentalities above, even possessing one of them to a small extent can hurt your ability to move forward.
JOB SEARCH
How to Explain YOUR JOB at a Family Dinner
by Lee LeFever
If you struggle to answer the question  "what do you do" then please, read this article! I shared the link to Lee's "Explainer Academy" newsletter this week in which he re-told the story of how to explain your job so anyone can understand what you do. It's so important to be able to describe your work so people understand and remember. Businesses face this same issue and that is why he built his company, Common Craft.
8 Ways To Stay Well During A Job Search Dry Spell
by Paul Strebe | Work It Daily (formerly known as CAREEREALISM)
Whether you are actively job seeking or just burnt out by your job, it helps to rejuvenate your mind and body. This post has ideas on ways you can re-energize yourself.
SOCIAL JOB SEARCH
Job Hunting In the Digital Age [Infographic]
by Vera Marie Reed | Career Pivot
I love useful infographics! This one is filled with tips on how to improve your digital job hunting skills- from using social media to how to do a great video interview.
LINKEDIN
5 Insider Tips for Getting Noticed on LinkedIn
by Donna Serdula | LinkedIn Pulse
If you are perplexed by how to get your phone to ring, then this will help. These expert tips will help amp up your understanding and use of LinkedIn.
Have a great week! 

Hannah Morgan speaks and writes about job search and career strategies. She founded CareerSherpa.net to educate professionals on how to maneuver through today's job search process. Hannah was nominated as a LinkedIn Top Voice in Job Search and Careers and is a regular contributor to US News & World Report. She has been quoted by media outlets, including Forbes, USA Today, Money Magazine, Huffington Post, as well as many other publications. She is also author of The Infographic Resume and co-author of Social Networking for Business Success.