My heart goes out to those along the East Coast who are battling to survive without electricity or, the greater extreme, having lost their homes. Sandy has left us scrambling and serves as a reminder that we are not as "all-powerful" as we think.
There have been thousands of photos showing the devastation and even inspiring moments after Sandy. This photo shows the quantity of hurricanes over the past 150 years. You can view it in its larger format in the original post Eye-Catching Map Visualizes 150 Years of Hurricanes on Fast Company.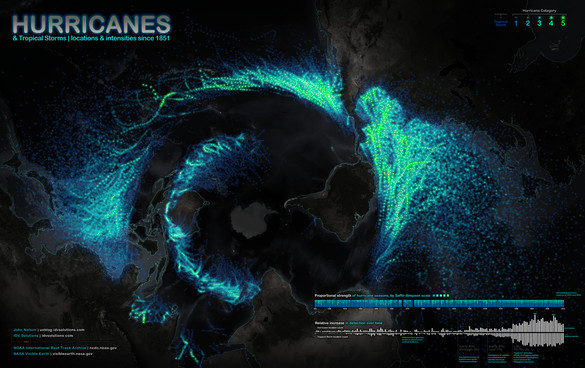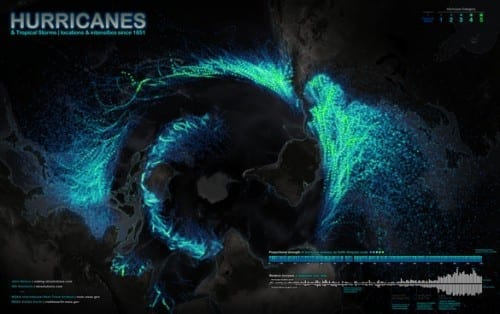 Job Search Trends
The Only Reason to Create a Personal Brand
by Nance Rosen on Personal Branding Blog
When you you look at your personal reputation through the eyes of others it puts a new perspective on the concept of networking. Nance Rosen starts of her post by saying:
The purpose of personal branding is to ATTRACT what you want from others, without the stress of selling, sending out dozens of ignored resumes or begging investors to fund your venture.
 Job Seekers: Like Coca-Cola…Get Creative, Not Complacent
by Lauren Kirkpatrick on YouTern
Find new ways to reach your audience is the message here! If you are feeling discouraged by the lack of response to your resumes, switch it up! Become innovative, just like Coca-Cola does!
Workplace Trends
Why Companies Fear Innovation
by Holly Green on Forbes
Not all companies are ready to innovate nor embrace the concept of shaking it up. For those who seek an employer who values this, read this post to see what your obstacles are and why finding those employers may be like finding a needle in a haystack!
Do You Hire for IQ or Klout Score
by Andrew Razeghi on Fast Company
Super read for everyone- HR, hiring managers and job seekers. Are you familiar with the battle between Thomas Edison and Nikola Tesla? One died homeless and one died wealthy. Why? Read the article! This touches upon EQ (Emotional IQ) and the power of relationships. I hope it gets you thinking. Here are some of the questions raised in the post and my feeling is that these will be important considerations as we move from a knowledge economy TO a social economy (according to Razeghi)!
How do you currently evaluate and place prospective employees?
Do you consider the social influence of new talent in your recruiting process?
Where appropriate, how do you encourage and foster social networking across your organization?
How do you encourage and foster external collaboration outside of your company and across sectors of industry?
What are you doing to help your leaders understand their role in transitioning from a knowledge economy to a social economy?
 Do you want to keep up with the news I share? Follow me on Twitter @careersherpa or follow me on RebelMouse. This allows you to view all my shares on Twitter without being on Twitter (plus, there is no cost involved!).

Hannah Morgan speaks and writes about job search and career strategies. She founded CareerSherpa.net to educate professionals on how to maneuver through today's job search process. Hannah was nominated as a LinkedIn Top Voice in Job Search and Careers and is a regular contributor to US News & World Report. She has been quoted by media outlets, including Forbes, USA Today, Money Magazine, Huffington Post, as well as many other publications. She is also author of The Infographic Resume and co-author of Social Networking for Business Success.