It's not unusual for workers to have their heads in the sand (focusing on your job, your company and your industry). But you owe it to your career to stay at the top of your game. You never know when you'll need to search for a new job.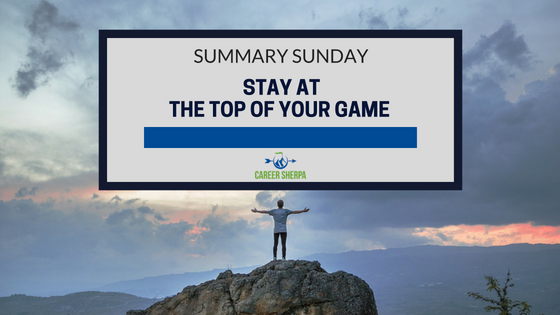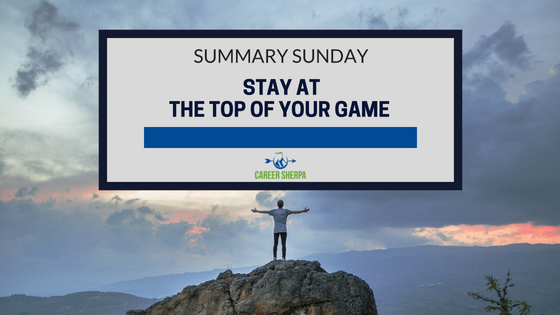 It's time to take notice of all the changes that have been going on in job search and careers. Now is the perfect time to start taking a proactive approach to managing your career and job search! You want to stay at the top of your game, don't you?
This week's summary will do just that! It includes articles about mastering your pitch, preparing for a job interview, and tips to help brush up your communication skills. But it doesn't stop there. Embrace networking and social media to help you meet new people. And finally, embrace life-long-learning to keep your skills fresh and learn about new trends!
INTERVIEWING
This Is How You Prepare to Nail the Interview for Your Dream Job
by John Boitnott | Entrepreneur
These are 4 things you need to pay attention to when interviewing for a new job. When you understand what the hiring company really wants, you'll do a much better job interviewing.
15 Common Job Interview Questions and How to Best Answer Them
by Meg Guiseppi | Executive Career Brand
There are some questions you just have to prepare for! Brush up on your answers to these 15.
 A Simple Formula for Answering "Tell Me About Yourself"
by Kathryn Minshew | The Muse
Most people aren't sure how to answer this question. Follow this super simple formula and master your pitch!
CAREER
These 50 Private Companies Are Transforming The Economy And Changing The Industry, 2018
by Dr. Amarendra Bhushan Dhiraj | CEO World
Reading about changes and innovations from companies (even those in different industries), helps you stay current. Will any of these impact your job in the future? Only time will tell.
More Individuals Are Choosing Freelancing in Semi-Retirement
by Sharlyn Lauby | The Unretirement Project
If you are closing in on your late 50's, you may be dreaming of what retirement could look like. Or, you may not feel ready to retire at all. This article is a great read about alternatives to what we used to call retirement.
JOB SEARCH
4 Things Every Job Seeker Worries About (And What To Do About Them)
by Don Raskin | FastCompany
Yes, we have fears- but don't let those get in your way! Here's how to dismiss that voice in your head.
Social Media Job Search: The Job Hunting Equalizer [Infographic]
on YouTern
Yet more information about how employers use social media to source and vet candidates. If you haven't embraced it by now…it's time.
NETWORKING
Adam Grant on How Your Network Grows Best
by David Burkus | David Burkus.com
Watch this interview and learn how master networkers do it!
MENTIONS
6 Ways Career Coaches are Adding Value with Jobscan
by Jon Shields | Jobscan.co
Every once in a while, a product/service comes along that I have to support! Jobscan has been that product/service recently! Even if you aren't a career coach, this article sheds light on how you can benefit from using Jobscan!

Hannah Morgan speaks and writes about job search and career strategies. She founded CareerSherpa.net to educate professionals on how to maneuver through today's job search process. Hannah was nominated as a LinkedIn Top Voice in Job Search and Careers and is a regular contributor to US News & World Report. She has been quoted by media outlets, including Forbes, USA Today, Money Magazine, Huffington Post, as well as many other publications. She is also author of The Infographic Resume and co-author of Social Networking for Business Success.