I've always said you shouldn't pay attention to the doom and gloom state of the job market reports. It can be discouraging and plants negative thoughts in your already vulnerable head.
The realist is me, however, understands that there is a lot of competition for jobs. Rather than bemoan this fact, I would prefer you take control and action! Stand Out…and for the right reasons! That's what today's collection is all about!
Every Sunday I rally up my favorite posts and share them here. Most of these I've found on Twitter because I follow and read content being shared by people I consider knowledgeable. In other words, I trust that the information they share to be important. They've earned this respect because they have consistently shared quality articles and opinions based on logic and data. These knowledgeable people are kind, other-focused, and we've interacted/exchanged comments via Twitter, email or sometimes phone.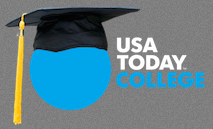 Social media, creativity set students apart in job search from USA Today College
What makes this post so wonderful, in my opinion, is that it provides a min-case study of one college student to went above and beyond to stand out! More importantly, it proves to me that anything is possible when you put your heart and mind into it! Here are some "quotable quotes from this article:
Instead of sending human resources a traditional black-and-white résumé and hoping for the best, Hussain, 22, wrote and designed an e-book — 7 Reasons Why HubSpot Should Hire Anum Hussain — that landed her an interview and, eventually, the internship.

Ellen Hanson, a human resources manager at Chicago's Walker Sands Communications, has received 300 résumés to date for a public relations internship opening at the firm. Hanson said that she prefers when applicants tweet at the company, rather than write a cover letter.
Read the full post to understand WHY Anum Hussain sent an eBook and why it worked for her! And why tweeting with companies is another way of standing out!
If you are looking for more information on how to get started with Twitter, check out these posts:  Be A Tweeter and Twitter In 3 Easy Steps

How Recruiters Really Read Your Resume: 7 Steps in 7 Seconds from YouTern
This post was written by Harry Urschel (@HarryUrschel) I've been following Harry for a really long time and always enjoy his straight forward posts!!!!
If you truly understood the process and thinking of those people who receive and review resumes, maybe you'd be better at catching their attention. (Of course, my first preference is for you to network prior to a job being available, my second preference is for you to get referred by an employee, but when you must send a resume, you gotta know this stuff!)
Do small companies process resumes differently than large companies? What are they evaluating? And what are 5 things you can do to get noticed!

What Not to Say in a Thank You Letter After an Interview by Miriam Salpeter of Keppie Careers
Miriam's post on US News & World Report simply lays out the reason NOT to include these 5 phrases in your Thank You letter!
I bet you've used at least one of them, go have a read!
An Alternative for you
Now, if you want to see what I share on Twitter, but you don't want a Twitter account, you can see a summary on RebelMouse. This is it and NOW you can get a summary emailed to you. Pretty nifty!
All you have to to is open this in your browser then add your email address over on the far right near "Get Alerts"

Hannah Morgan speaks and writes about job search and career strategies. She founded CareerSherpa.net to educate professionals on how to maneuver through today's job search process. Hannah was nominated as a LinkedIn Top Voice in Job Search and Careers and is a regular contributor to US News & World Report. She has been quoted by media outlets, including Forbes, USA Today, Money Magazine, Huffington Post, as well as many other publications. She is also author of The Infographic Resume and co-author of Social Networking for Business Success.