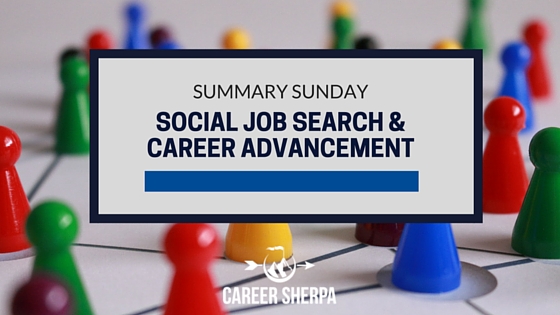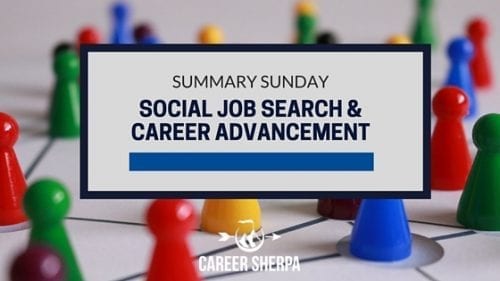 Job search has changed a bit over the last few years. Keep up to date with trends in social media and information to help advance your career.
Social job search means using social media during your job search. And yes, you can search without being on social media, but I don't recommend it. So if you feel like it's difficult to keep up with all the changes to social media platforms, not to worry, I've got you covered.
Every week I share articles across social media to help keep you current with what's going on. Since you're busy, I round up the best articles and share them in a Sunday Summary.
There are recent changes to Facebook you should know about and opinions about LinkedIn you need to know!
Social Job Search and Career Advancement
LINKEDIN
The World's Most Connected People Have Disappeared From LinkedIn by Candice Galek | Inc.
This isn't the first time I've heard this. LinkedIn seems to be losing some of its audience for numerous reasons:
Features and functions have been taken away
Lack of responsiveness and/or explanation to requests for help
Overly expensive recruiting subscription costs
Too many fake profiles
Moral of this story: Never put all your personal branding eggs in one basket!
FACEBOOK
Facebook Just Made A Pretty Awkward Change To Your Profile by Damon Beres | Huffington Post
Have you seen Facebook profiles that look like this now? Here's what you need to know!
JOB SEARCH (From the recruiter's perspective)
How Job Recruiters Screen You On LinkedIn by Quentin Fottrell | MarketWatch
Gain insight on how recruiters evaluate your LinkedIn profile, keywords, recommendations and more!
JOB SEARCH
Try These 5 Activities Before Giving Up On Your Job Search by Bob McIntosh | Things Career Related
Have you become discouraged with your job search (or know someone who has). Wise and on-target advice doled out here!
Keep Rolling: How to Stay Motivated During Job Search by Hannah Morgan | Job-Hunt.org
I write on Job-Hunt.org (confession)! It is an excellent resource and should be your first stop if you are beginning a job search (or you're having difficulty with your job search)!
CAREER
I Thought My Career Was Over Until I Did These 5 Things by John White | Inc.
Excellent article for those who are considering changing jobs!
The Career Limitations Of Emotional Intelligence by Rich Belles | Fast Company
Learn more about emotional intelligence! You'll need it. And yes, Emotional Intelligence is important…but perhaps to varying degrees depending on the occupation.
Highly emotionally intelligent people—who rank high on responsiveness, empathy, listening, and self-awareness—excel at interpersonal interaction, but they still might struggle with groups that are too big to manage through personal face-time.

Hannah Morgan speaks and writes about job search and career strategies. She founded CareerSherpa.net to educate professionals on how to maneuver through today's job search process. Hannah was nominated as a LinkedIn Top Voice in Job Search and Careers and is a regular contributor to US News & World Report. She has been quoted by media outlets, including Forbes, USA Today, Money Magazine, Huffington Post, as well as many other publications. She is also author of The Infographic Resume and co-author of Social Networking for Business Success.