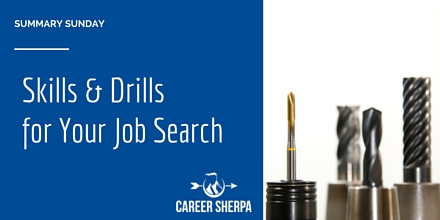 There reaches a point in time when you are going to need to up your job search skill level if you really want to land a job. There's just too much noise and competition. So this week's collection of top posts includes tips to help you do just that!
Learn how to up your job search by answering tough interview questions, highlighting the important skills employers are looking for,  writing a new kind of cover letter and as a bonus, what the earning potential is for different college degrees. I hope this information helps give you the competitive edge you need to succeed!
JOB SEARCH
4 Hard Job Search Truths You're Just Going to Have to Accept by Sara McCord | The Muse
INTERVIEWING
The 3 Hardest Job Interview Questions for Young Pros by SimplyHired | YouTern
2 Reasons Blogging Is The "New" Cover Letter by J.T. O'Donnell on LinkedIn
CAREER
Lifetime Earnings of College Degrees | PayScale
SKILLS IN DEMAND
Employers are looking for evidence of leadership skills from new graduates. Learn why and how you can demonstrate your leadership on your resume.
This is the single most important skill new grads need to get hired by Daniel Bortz | Monster
Why Do Entry-Level Jobs Require Leadership Skills? by Ronnie Ann | Career Nook
This is a great response as to why employers are looking for leadership skills.

Hannah Morgan speaks and writes about job search and career strategies. She founded CareerSherpa.net to educate professionals on how to maneuver through today's job search process. Hannah was nominated as a LinkedIn Top Voice in Job Search and Careers and is a regular contributor to US News & World Report. She has been quoted by media outlets, including Forbes, USA Today, Money Magazine, Huffington Post, as well as many other publications. She is also author of The Infographic Resume and co-author of Social Networking for Business Success.