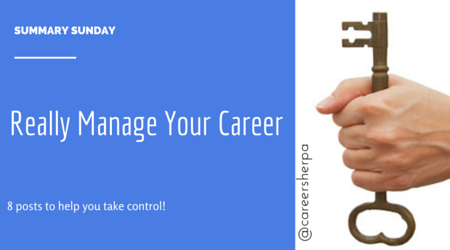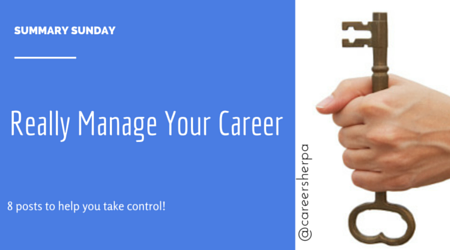 This week's summary of most popular articles are about starting a new job, being like-able, marketing yourself visually and more!
The Truth
It's easy to let your career drift along or feel like you're just along for the ride. Let's be honest, it takes time, effort and thought to manage your career and with everything else you have going on, when will you be able to put in this extra effort?!
The Fix
Just carve out 20-30 minutes a week to get industry and career updates! Put that time on your calendar, sit back with your tablet, phone or laptop and go! An easy way to do that is to subscribe to get my articles when they are published.
Or, if you prefer, just check out these 8 articles.
Job Search
Job Searching? 19 Creative Ways to Build Your Target Company List by Lisa Rangel, Chameleon Resumes
Creating a target list is THE best way to job hunt! Lisa's post provides lots of ways to help you get better at sourcing job leads (not job postings!)
It's 2015: Do You Know The New Job Search Basics by Mark S. Babbitt on YouTern's The Savvy Intern
Geared towards college student and upcoming graduates, this post is a MUST-READ! It is helpful for anyone new to job search!
Visual Marketing
I'm pretty passionate about visual marketing. (I wrote a book about it) Here are two helpful posts on the topic.
5 Ways to Market Yourself Visually by Randy Krum on Huffington Post
FYI, Randy Krum is Founder and President of InfoNewt and Author of Cool Infographics. He also gave my book a plug in his article!
How To Write an Infographic Resume That Doesn't Repel Hiring Managers on Fast Company
This article has information on when and how to use one. It features the opinions of HR professionals, who are anti-infographic. But do pay attention to what they say. It isn't that an infographic resume is a bad idea, it is how you use it to attract attention!
Interviewing
6 Ways To Be More Likable During The Interview by Arnie Fertig on US News & World Report's On Careers
You can't dismiss the likability factor and it's the little things that make a BIG difference!
PayScale's Salary Negotiation Guide
Most of you aren't comfortable negotiating a job offer (according to PayScale research summarized here), so PayScale created this valuable resource to help you! It also provides tips for asking for a raise!
On The Job
12 Most Timely Questions To Ask When You Have a New Job by Kelly Belmonte on 12Most
Starting a new job is stressful, but asking these questions will help you come up to speed faster!
Irritating Behaviors That Will Ruin Your Career by Jeff Haden on Business Insider
Are you wasting people's time, only paying attention to some people, asking for too much? Sometimes I think we aren't aware of our irritating behaviors, so this is a great read!

Hannah Morgan speaks and writes about job search and career strategies. She founded CareerSherpa.net to educate professionals on how to maneuver through today's job search process. Hannah was nominated as a LinkedIn Top Voice in Job Search and Careers and is a regular contributor to US News & World Report. She has been quoted by media outlets, including Forbes, USA Today, Money Magazine, Huffington Post, as well as many other publications. She is also author of The Infographic Resume and co-author of Social Networking for Business Success.