Now that the tables have flipped and the odds are no longer in your favor, you'll want to understand the realities of job searching today.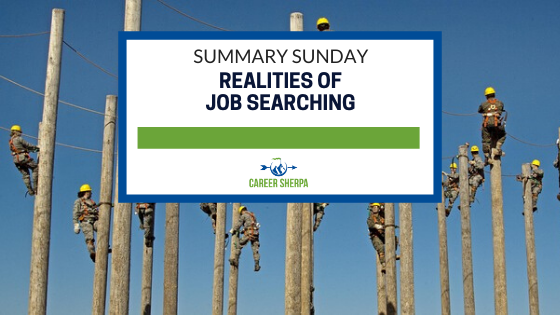 The real secret to landing a job interview and ultimately a job offer is to build relationships and draw attention to your expertise.
Companies are still hiring. Don't give up.
And don't be fooled. Searching for a job is hard work and takes a lot of effort. You will have to do more than apply to dozens of jobs online.
In this week's summary, you'll gain an understanding of the realities of job searching, including:
Why recruiters go silent and what you can do about it
The ways the job search has changed due to the Coronavirus and how you can adapt
How to show your expertise on LinkedIn
Why you need to spend more time reviewing the job posting before you apply
And tips for networking virtually
JOB SEARCH
Ghosted By A Recruiter? There's A Good Chance It Wasn't Your Fault
by J.T. O'Donnell, Work It Daily | #JTTALKS Newsletter on LinkedIn
Have you ever wondered why a recruiter hasn't called you back after a phone screen or job interview? Here are 4 reasons and what you can do after you've been ghosted.
How the Coronavirus Pandemic is Affecting Job Searching
by Catherine Guiles | SmartBrief
Find out about changes in networking and recruiting, communicating, interviewing and onboarding so you know how to handle these situations during your job search. Plus expert tips on how to navigate the new realities of job searching.
LINKEDIN
How to Demonstrate Your Expertise and Build Your Brand on LinkedIn
by Kiran Prasad | The Official LinkedIn Blog
You'll find four helpful tips on how to showcase your expertise and use LinkedIn better. PS: This includes information about the Featured section recently rolled out.
NETWORKING
Barb Pool – Hire Imaging
APPLYING FOR JOBS
A study by TheLadders found that job seekers only spent 49.2 – 76.7 seconds reviewing a posting. That's not long enough. Check out the comments on LinkedIn and you may learn more about the recruiting process.
DID YOU MISS THESE?
Social Media P.I.E. with Brenda Meller of Meller Marketing
Watch our conversation about making the most of networking virtually. This really was a fun conversation and look for the Wilson moment (our nod to the tv show, Home Improvement).
Stop Wondering When You Should Follow Up
Before You Apply, Spend More Time and Analyze The Job Posting
2020 Job Seeker Nation: Before & During COVID-19

Hannah Morgan speaks and writes about job search and career strategies. She founded CareerSherpa.net to educate professionals on how to maneuver through today's job search process. Hannah was nominated as a LinkedIn Top Voice in Job Search and Careers and is a regular contributor to US News & World Report. She has been quoted by media outlets, including Forbes, USA Today, Money Magazine, Huffington Post, as well as many other publications. She is also author of The Infographic Resume and co-author of Social Networking for Business Success.