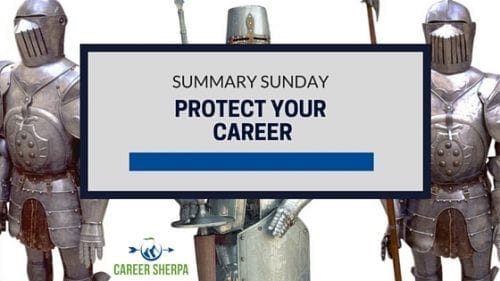 The workplace is changing. These changes will impact how you search for a job and how you manage your career! Protect your career and take a look at these five articles from this week. 
Protect Your Career
Don't dig your head in the sand. Stay alert and be on the look-out for trends that impact your career like the training you should be seeking, how to negotiate a job offer, interviewing blunders, proof that networking works, but maybe not the way you think it does and my favorite post about why social media isn't just for marketing!
INTERVIEWING
'Whoever Mentions A Number First, Loses': Is It Still Good Advice? by Liz Ryan, Human Workplace | Forbes
Negotiating your job offer is an important skill. Do you know the rules?
How To Overcome These Awkward Job Interview Moments | JobMob
9 real-life interview blunders you don't want to make!
JOB SEARCH
What LinkedIn Data Reveals About Who Will Help You Get Your Next Job by Vivian Giang  | FastCompany
Why "weak connections" are more valuable than people who know you well and the mistakes we make in networking.
SOCIAL MEDIA
How Departments Who Aren't Marketing Can Use Social Media by Aja Frost | Buffer
Social media is being used by many different departments, will your's be next?
CAREERS
5 Jobs That Will Be The Hardest To Fill In 2025 by Gwen Moran | FastCompany
There is a labor shortage looming over the next decade, and jobs in these sectors will be the most difficult to fill according to the April 2016 report from The Conference Board. Some of these may surprise you! These could be great career choices for new graduates or those looking to make a career change.

Hannah Morgan is one of this year's LinkedIn Top Voice in Job Search and Careers and a nationally recognized author and speaker on job search strategies.  She founded CareerSherpa.net to combine her career expertise with her love of writing, speaking and social media. Her mission is to educate professionals on how to maneuver through today's job search process.  Hannah is a regular contributor to US News & World Report. She has been quoted by media outlets, including Forbes, USA Today, Money Magazine, Huffington Post, MarketWatch, LifeHacker, The Muse, Business Insider, SmartBrief, Payscale as well as many other publications. She is also author of The Infographic Resume and co-author of Social Networking for Business Success.