Do you think posting your resume online will land you a job? Think again.
You are going to want (or need) to use proactive job search tactics to secure your next job.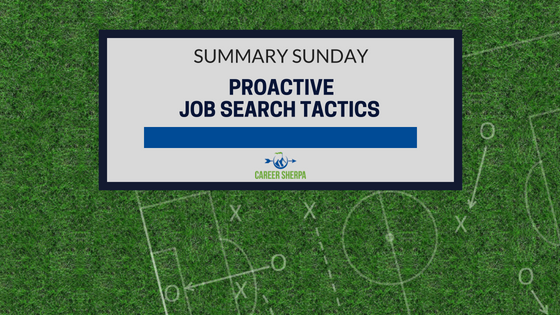 This week's top articles include help for crafting emails to ask for informational interviews, how to use social media in your job search, questions you can ask during a job interview and how to develop the newest in-demand quality – agility!
If you find an article you like, please, feel free to share it with your friends. Also be sure to connect with the authors of these articles! They are some of my favorites!
CAREER
Move Over IQ and EQ: AQ is Here!
by Barb Poole | Hire Imaging
Your skills and intelligence (IQ) are not enough to land you a job today. Neither are your social skills and self-awareness (EQ). There's a new ability in demand to be successful in your career today…AQ which stands for Agility Quotient! Learn why developing your agility will help your career.
SOCIAL MEDIA
7 Ways To Use Social Media Search To Land Your Next Job [INFOGRAPHIC]
by Lucy Benton on YouTern
Pew Research has found that almost half of job seekers believe that personal and professional contacts were their most important resource when looking for a job. So this infographic spells out what you need to know to present yourself and attract employers.
Best Times to Post on Social Media: 2018 Industry Research
by Alex York | Sprout Social
Ever wonder when the best time to post an update is? Based on research, this article identifies the best times to post on Facebook, LinkedIn, Instagram and Twitter. It's a great companion to the article above!
NETWORKING
Email Informational Interview Requests (with Samples)
by Susan P. Joyce | Job-Hunt.org
Requesting a meeting to network with someone can be tricky. You want to make sure it's worded well in order to get a response. This article, with examples, helps you craft a better request!
INTERVIEWING
10 Questions You Never Knew You Could Ask In A Job Interview
Liz Ryan | Forbes
There are three reasons you need to ask questions during an interview. 1. The questions you ask show you are focused and know what you are looking for.   2. Asking questions signals to the interviewer that you are a "straight shooter" and will speak up. 3. You need to gather information to help you decide if the opportunity is the right one. These 10 questions, asked at the right time, will help you be a savvier interviewer.
LINKEDIN
7 LinkedIn Features to Make Your Job Search Easier
by Hannah Morgan | US News & World Report On Careers
There are loads of features within LinkedIn you may be missing so in this article I point out the ones you should definitely know about to help with your job search.