Knowledge is power! And this summary is dedicated to up-leveling your knowledge and give power to the job seeker.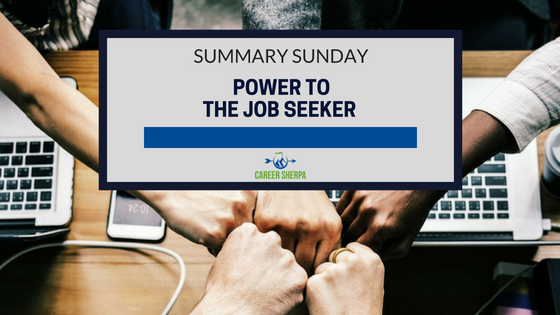 There is so much job seekers need to know about the job search process, tools and resources, and how recruiters think and work. Many people new to job search don't realize what's available. Empowering job seekers, that's my mission!
This week's collection contains information to give power to the job seeker! You'll find help to get networking conversations going, how to optimize your LinkedIn profile and LinkedIn features you may not know about, how to clean up your social media presence and more!
I share about 50-100 articles a week on Twitter, Facebook and LinkedIn, but you may have missed some so I highlight the most important ones in this summary.
If you like any, please reshare!
NETWORKING
10 Conversation Starters To Use For Networking Success
Posted by Andreea Muntean | John Leonard
If you aren't comfortable attending a networking event, then these 10 conversation starters will help!
JOB SEARCH
You Have to "Turn Over A Lot of Rocks" To Find That Next Job
by Jim Peacock, Peak Careers | LinkedIn
Securing a new job requires time and effort (and turning over a lot of rocks)! This article contains seven really important job search actions!
6 Ways to Evaluate Company Culture
by Hannah Morgan | US News & World Report On Careers
Company culture has become really important to job seekers and employees. You want to make sure your next move is a good one. There are new resources and questions you can ask to help you assess the culture of a company.
ONLINE REPUTATION
How to "Clean Up" Your Social Media Presence Before a Job Search
By Lauren McAdams | TheLadders
Do you know what a potential employer will see if they search for your name online? It's sort of like knowing what kind of a recommendation a past supervisor will give you. You don't want to leave either to chance. Follow the instructions in this post to clean up what's out there before an employer finds it.
RECRUITING NEWS
REPORT: How Radical Transparency Is Transforming Job Search and Talent Attraction
by Paul Wolfe | Indeed Blog
This report is based on responses from 500+ job seekers. It seems that recruiters and companies like Indeed are finally starting to take action on the needs and wants of candidates. See what you can expect from employers and from Indeed that will make it easier for candidates to learn about companies before the job interview.
LINKEDIN
10 LinkedIn Hacks or Things You Didn't Know
by Melonie Dodaro | Social Media Today
Keeping up with changes to LinkedIn can be overwhelming. But this is a great article which overviews some of the features of LinkedIn you really should know about!
LinkedIn Magic: How to Get to the Top of Search Results
by Wayne Breitbarth, Power Formula | YouTern
There are things you can and SHOULD do to improve where your profile shows up in search results within LinkedIn. The more you understand how to improve your profile, the more action you'll see on LinkedIn.
MENTIONS
20 Career Experts to Follow On Twitter
by Practically Perfect PA
Twitter is a great way to get information to help with anything, including career and job search advice. I was thrilled to see Career Sherpa made the list of 20 folks to follow!

Hannah Morgan speaks and writes about job search and career strategies. She founded CareerSherpa.net to educate professionals on how to maneuver through today's job search process. Hannah was nominated as a LinkedIn Top Voice in Job Search and Careers and is a regular contributor to US News & World Report. She has been quoted by media outlets, including Forbes, USA Today, Money Magazine, Huffington Post, as well as many other publications. She is also author of The Infographic Resume and co-author of Social Networking for Business Success.