For perspectives on job search, it helps to look at how companies are recruiting and what's changed since the start of the pandemic.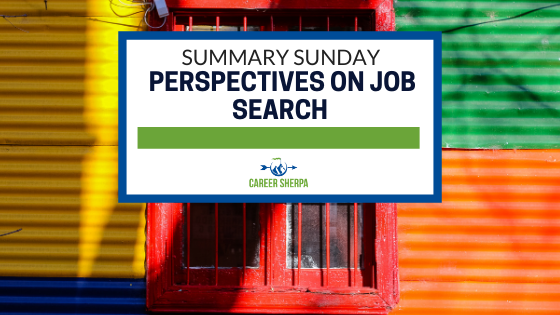 In case you haven't noticed, companies are changing how they hire new employees.
Everything is virtual and online which means you'll want to pay more attention to your online image/digital footprint. A virtual environment also means that recruiters can't rely on in-person meetings to assess candidates.
This week's summary taps into perspectives on job search from experts and delivers insight and actionable steps you can take to improve your efforts.
Get noticed by online recruiters
Write better cover letters and thank you messages
Learn what industries are hiring
Consider taking notes during a job interview (or not)
Pick up some new Zoom tips
Older workers are less stressed than younger workers
What might the future of hiring look like
Follow this list of 80+ people on LinkedIn
Give and get feedback to boost your self-confidence
It's important to note that there are different perspectives from different views (research, experts, recruiters, HR and more). None are wrong, but not all may be right for you. Test, experiment and assess your results.
Job Search
How To Get Noticed By An Online Recruiter | Olivia Kelly TheLadders
Pre-Pandemic Versus Now: TopResume Survey Reveals What Recruiters Really Care About | TopResume
an overwhelming majority (68 percent) agree that the interview thank-you has become more significant, one-fifth (20 percent) are neutral on the topic, and a mere 12 percent disagree.
Perspectives On The Current Job Market With Andrew Seamon | Career Pivot
This is a recession like nothing we have ever seen. For some nothing has changed. For others, it has been devastating.
Interviewing
Should Candidates Take and Read Notes In Interviews… Or Not? | Dorothy Dalton 3Plus International
There was a definite consensus around how you should take notes and there is a right and wrong way to do it. David Kiss writes: "I always take notes, but have learnt to do it without breaking eye contact. I've found this skill highly useful on multiple occasions (not only in interviews…)"
Tools & Tech
How To Use Zoom Like a Pro: 15 Video Chat Tips and Tricks To Try Now | Alison DeNisco Rayome CNET
Remote Work
Opinion: Older Workers Are Working From Home More Successfully Than Their Younger Colleagues | Kerry Hannon MarketWatch
And while only 11% of Gen Z and 17% of millennials say that COVID-19 hasn't negatively affected their mental health. More than double the number of boomers (28%), said it hasn't adversely touched them.
Recruiting Trends
Why Requiring a Résumé is Ruining Your Chance at Finding a Good Hire During the Pandemic | Dina Bayasanova Fast Company
For example, you can suggest sending in a one-minute animated video, writing a paragraph about themselves, or giving a short answer demonstrating their problem-solving capabilities. These alternatives all take the place of an ordinary cover letter.
LINKEDIN
The Ultimate List of 80 + LinkedIn Voices Job Seekers Should Follow | Things Career Related
Well-Being
You Need a Personal Highlight Reel | Dan Cable Harvard Business Review
[The Positive Method] involves reaching out to people who mean the most to you of times, sharing anecdotes of when they made an impact, and asking them to share memories of you being the best version of yourself. You end up with a personal highlight reel: a set of memories of you at your very best.
DID YOU SEE THIS
Don't Start A Job Search By Updating Your Resume

Hannah Morgan speaks and writes about job search and career strategies. She founded CareerSherpa.net to educate professionals on how to maneuver through today's job search process. Hannah was nominated as a LinkedIn Top Voice in Job Search and Careers and is a regular contributor to US News & World Report. She has been quoted by media outlets, including Forbes, USA Today, Money Magazine, Huffington Post, as well as many other publications. She is also author of The Infographic Resume and co-author of Social Networking for Business Success.