While looking for a new job during the COVID-19 pandemic, you'll need to be ready to overcome unique job search challenges.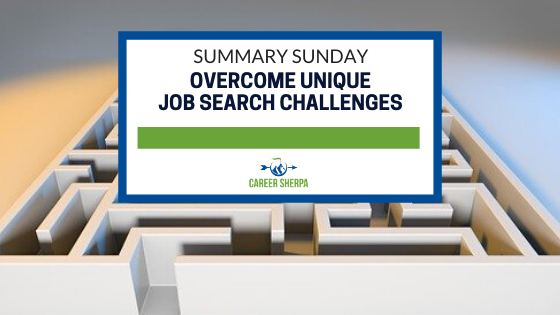 This week's summary addresses the many unique job search challenges presented by COVID-19.
You'll find articles on:
What you can do when job searching and mistakes to avoid.
How to enhance your personal brand through video
Updating your LinkedIn profile and settings
Skills to develop and articles on well-being
Thanks to my community of smart, talented people from many different professions. Remember, if you enjoy any of these articles, follow the author/publication to get more.
COVID-19 JOB SEARCH
Job Searching In The Age Of Social Distancing
by Laura Labovich | Forbes Coaches Council
Even though you can't meet in person to network or interview, job search is still possible. Follow these 6 important tips to make the most of your virtual job search. You'll find actionable ideas to implement today. Do not skip the first step! And I love this mantra shared by Laura "soul search before you start your job search."
7 Basic Mistakes That'll Slow Down Any Job Search—and How to Fix Them All Today
by Lea McLeod, M.A. | The Muse
If you are spending tons of hours online applying for jobs and not hearing anything back, stop. Read and process these 7 important tips and fix your job search. Because the definition of insanity is doing the same thing over and over and expecting different results.
How To Use Video For Job Search and Personal Branding
by Meg Guiseppi | Executive Career Brand
This comprehensive article walks you through the many reasons to use video and HOW TO use video especially on LinkedIn. You'll find video topic ideas, what to put in videos and most importantly, you don't need to be on camera for the majority of these tips to work! And it was a pleasure to be quoted in Meg's article.
Words of Advice To Job Seekers From Recruiters
by Kristina Hutto @HRecruit
Here's the question asked by a recruiter on Twitter:
Recruiters/HR/Hiring Managers: I'm going to have a call with some job seekers next week and they want to talk about what to expect for their job search during this pandemic… what's something you want them to know? Is hiring slowing down? Are you overwhelmed with applicants? Etc
Here are the responses.
LINKEDIN
Stop Ignoring Your LinkedIn Profile. Best Ways To Update It Now
by Robin Ryan, Robin Ryan Careers | Forbes
It's never too late to build out your LinkedIn profile. Follow these steps to get more connections on LinkedIn plus checkout Robin's 8 articles about LinkedIn.
Did You Miss These New Simple LinkedIn Job Search Settings?
by Wayne Breitbarth | Power Formula
LinkedIn has a lot of settings you may not be aware of, especially if you are a job seeker. There are 3 simple things you can do right now to get more visibility on LinkedIn and find jobs.
CAREER
8 Job Skills To Succeed In A Post-Coronavirus World
by Bernard Marr | Forbes
With one eye in the present and one eye on the future, what are the skills you'll want to invest in? As you skim this article, audit your level of mastery and how current your skills are in these areas. I think we all need a little up-leveling.
WELL-BEING
What Happens To Your Body When You Are Unemployed
by Monica Torres | Fast Company
Here's what to expect while being unemployed- a range of physical and mental changes may make you feel you are on a roller-coaster. Research and studies back up the very real ways "your mind and body can be sending you signals that job loss is impacting you more than you consciously know." Be sure to read to the end for tips to help you overcome the unique job search challenges presented by COVID-19.
11 Ways to Escape a Victim Mentality
By Frank Sonnenberg | Frank Sonnenberg Online
Frank asks: "How often do you say, "Other people have it easier," "Why does this only happen to me?" or "I can't do anything right." Your outlook can work for you or against you. Are you suffering from a victim mentality?" If you've ever felt the world was against you, see what you can do to change this narrative running through your head- especially during this pandemic.
In Case You Missed It
COVID-19 Influenced Resources: Job Posting & Candidate Lists
Job Search During the Coronavirus – What You Can Do Right Now
Best Practices For Participating In Video Calls

Hannah Morgan speaks and writes about job search and career strategies. She founded CareerSherpa.net to educate professionals on how to maneuver through today's job search process. Hannah was nominated as a LinkedIn Top Voice in Job Search and Careers and is a regular contributor to US News & World Report. She has been quoted by media outlets, including Forbes, USA Today, Money Magazine, Huffington Post, as well as many other publications. She is also author of The Infographic Resume and co-author of Social Networking for Business Success.