Words can't really describe how I'm feeling. What a week it's been.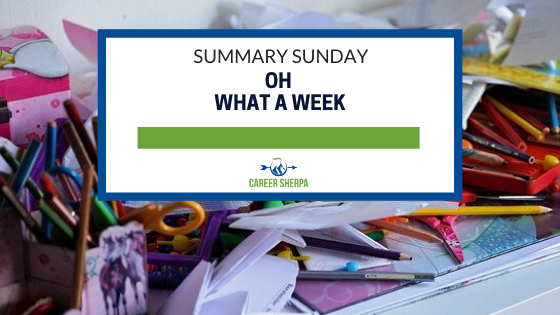 These words have infiltrated our headlines and vocabulary this week. Coronavirus, social distancing, COVID-19, quarantine, work from home (WFH), remote, home office, homeschooling, distributed teams, Zoom, virtual.
We went from having one of the strongest job markets where job seekers were in demand to extreme uncertainty. (There are companies who are still hiring and some jobs are even growing in demand.)
This week's summary highlights the most popular and important articles and information. But even more importantly, I hope you take care of yourself mentally and physically this weekend!
From career experts to follow on LinkedIn to the pros and cons of a career ladder versus career lattice, you'll find advice and tips to keep you up-to-date. Not to mention, important information about job searching now and in the upcoming weeks. (Don't stop looking because many companies are still hiring.) There are also articles about working remotely to help you adjust.
JOB SEARCH
Top Job Search Experts to Follow on LinkedIn for 2020
by Jobscan.co
Here are 10+ job search experts you'll want to follow on LinkedIn plus their tips. (I'm thrilled to make the honorable-mention list at the bottom.)
Instead of inviting them to connect, you can follow all these folks on LinkedIn (just click on the blue "follow" button on their LinkedIn profile.) You will get their updates in your LinkedIn newsfeed.
WORKING REMOTELY
13 Conference Call Etiquette Tips
by Rachel Pelta | FlexJobs
A little humor and really great reminders/tips for those who haven't had a lot of experience working from home.
CORONAVIRUS RELATED
COVID-19: Job Market Insights & Job Search Strategies From Experts
by Austin Belcak |CultivatedCulture
Regularly updated, this is an invaluable resource to help you navigate job search and redirect as necessary. I'm happy to have my tips included in here along with many other experts.
These 5 Tech Companies Are Providing Free Remote Working Tools During the Coronavirus Outbreak
by Jason Aten | Inc.
It's good to see businesses helping out during these unusual circumstances. If you are looking for new tools to help you work remotely, check these out.
Here's Who's Hiring Right Now
Katie Carroll, LinkedIn Editor | LinkedIn
This is a list updated regularly about companies who are hiring across the United States – because companies are still hiring this week and beyond.
NEW JOB
Twelve Ways to Start a New Job Well
by Hank Boyer | Boyer Management
There are people starting new jobs right now. For those in this situation, check out what you should pay attention to during the first few days and weeks in a new job.
CAREER
Career Ladder or Career Lattice?
by Sharlyn Lauby, HR Bartender | Colonial Life
Do you think you need to climb a career ladder or will a lattice serve you better? See the pros and cons of each and at least be open to rethinking how you set your career goals.
MENTION
Episode #135 – How To Use Online Networking In Your Career
Marc Miller | CareerPivot
RELEVANT ARTICLES
How To Get The Most From A Webinar – Career Sherpa
Networking Virtually…tips for the new normal

Hannah Morgan speaks and writes about job search and career strategies. She founded CareerSherpa.net to educate professionals on how to maneuver through today's job search process. Hannah was nominated as a LinkedIn Top Voice in Job Search and Careers and is a regular contributor to US News & World Report. She has been quoted by media outlets, including Forbes, USA Today, Money Magazine, Huffington Post, as well as many other publications. She is also author of The Infographic Resume and co-author of Social Networking for Business Success.