As December winds down, you might be thinking it's time to prep for your job search.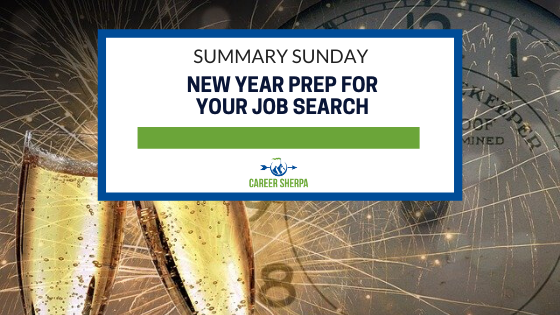 This week's summary contains articles to help you launch or reignite your job search in the new year.
You'll find a roundup of 25 top job search articles, how to answer an important job interview question, why you need to pay attention to your personal brand, LinkedIn settings you should know about if you are employed and looking, and information on age discrimination.
In order to prep for job search, you'll want to make sure you've got all your tools ready to go. You also want to get a handle on how the recruiting process tends to work and what parts you can influence.
That's why I compile this summary written by experts each week.
JOB SEARCH
Top Job Search Articles for 2019
by Jacob Share | JobMob
This is a compilation of top articles by job search experts. You'll want to read all 25 of them. They cover everything from resumes to cover letters to interviewing. I am honored one of mine is included here too!
How To Get A Great New Job In 2020
by Jack Kelly, Wecruit.io | Forbes
Pay attention to the first step recommended. Even if you don't think it applies, it probably does. I strongly disagree with the recommendation of hitting the job boards to apply for jobs, however, the other steps are on track.
INTERVIEWING
Job Interview Question: Why Should We Hire YOU? (Plus Sample Answers!)
by Laura DeCarlo | Job-Hunt.org
Be ready to "show your success, self-confidence, and preparation" by having a strong answer to this question.
PERSONAL BRANDING
4 Reasons Why Social Proof Is Essential to Building Your Brand
by Maleeka T. Hollaway | Entrepreneur
What is social proof and why do you need it?
"Social proof is the elements of conversation that verify your brand. From customer and client testimonials to media interviews and even contributed content, your social proof is built with every interaction you make"
You may not be an entrepreneur but all these tips apply!
LINKEDIN
Managing Your LinkedIn Settings for a Stealth Job Search
by Ed Han | Job-Hunt.org
If you are employed and looking for a new job, you'll want to know about these LinkedIn settings.
OLDER WORKERS
Forced Out, Older Workers Are Fighting Back
by Carole Fleck | AARP
Here are statistics and four case studies of people who believe age discrimination was the cause of their dismissal. While we only hear one side of the story, the article includes some legal resources in place to help older workers.

Hannah Morgan speaks and writes about job search and career strategies. She founded CareerSherpa.net to educate professionals on how to maneuver through today's job search process. Hannah was nominated as a LinkedIn Top Voice in Job Search and Careers and is a regular contributor to US News & World Report. She has been quoted by media outlets, including Forbes, USA Today, Money Magazine, Huffington Post, as well as many other publications. She is also author of The Infographic Resume and co-author of Social Networking for Business Success.