New job seekers need better information! You need tips and resources that are current, accurate and applicable to your situation! Landing a new job is so much more than just throwing your resume online.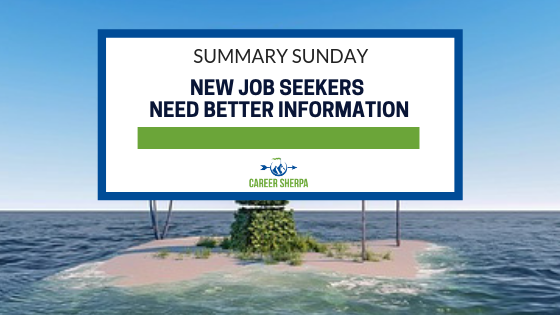 Do you ever feel you're all alone with no one to turn to for help? Most job seekers do.
You probably end up scouring the internet for answers to your questions. But not all the answers you find will be the best information. It's frustrating and/or discouraging. That's why I started blogging and it's why I share articles in Summary Sunday.
New job seekers need to know how to embed the right keywords in their resumes and they need access to solid job search resources. There's a lot of garbage on the internet. That's what this week's summary delivers. You'll also find tips to help your career.
JOB SEARCH
23 Fantastic Companies Hiring Right Now
by The Muse
If you are a new graduate or looking for a new job, here is a featured list of companies to check out – all have jobs available. And go back to look at last week's list of featured companies. Who knows what you will find.
RESUMES
Top 500 Resume Keywords to Boost Your Resume
by Jon Shields | Jobscan.co
Recruiters mostly look for hard skills. This post provides the logic to help you submit a better resume. Keep in mind, you are writing a resume using the language/keywords that matches what the employer is looking for, not necessarily the language your last employer used.
NEWSLETTERS YOU NEED
SmartBrief On Your Career
by SmartBrief
If you like this Summary Sunday, you'll love SmartBrief's On Your Career. It contains top articles related to job search and career issues. SmartBrief also provides industry summaries to help keep you up to date. Scroll to the bottom and subscribe.
Job-Hunt Intelligence
by Job-Hunt.org
This weekly compilation of job search related articles comes from those published on Job-Hunt.org.  See what your missing! And to subscribe, go to the bottom of the page!
CAREER
How Do You Communicate Effectively in the Workplace? Use Visuals
by Lauren Gantner | Xplane
This article provides 5 data-backed reasons to use visuals to communicate better. These are also the reasons I believe using an infographic resume while networking gets you better results.
Three Questions to Ask Yourself When You Feel Overwhelmed By Career Choices
By Sarah Todd | Quartz
Don't ask yourself this question…"what do I want to do?". Instead, ask yourself these three questions because you'll get much better results!
Take Charge of Your Own Career Growth
by Career Sherpa | US News & World Report On Careers
Don't rely on your boss to help you grow your career! You own it. You'll find ways to drive your career with or without your bosses assistance. FYI: Career growth is the top reason people look for a new employment opportunity.

Hannah Morgan speaks and writes about job search and career strategies. She founded CareerSherpa.net to educate professionals on how to maneuver through today's job search process. Hannah was nominated as a LinkedIn Top Voice in Job Search and Careers and is a regular contributor to US News & World Report. She has been quoted by media outlets, including Forbes, USA Today, Money Magazine, Huffington Post, as well as many other publications. She is also author of The Infographic Resume and co-author of Social Networking for Business Success.