Here's what you need to understand about job searching in 2019 and why networking and talent pipelines are so important to your job search and ultimately securing a new job!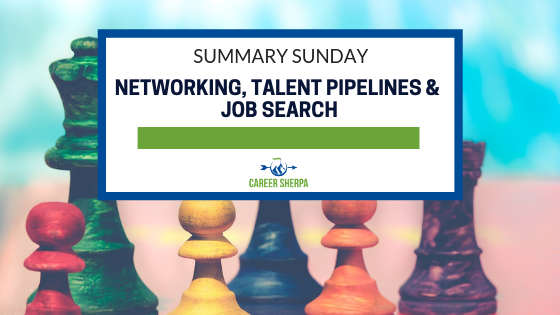 In this week's roundup, you'll find help in crafting emails asking for an introduction that will actually get a response, insights on how talent pipelines work, helpful job search advice, how to use advanced LinkedIn search, interesting data about Artificial Intelligence and HR predictions.
There a lot in here across different topics! Sit back with your cup of coffee and enjoy!
NETWORKING
The Art Of The Email Introduction: 10 Rules For Emailing Busy People
by Bruce Upbin | Forbes
If you only read one article this week, it should be this one! This is one of the best articles I've seen written on writing an email introduction! It was written in 2013, but was circulating on social media this week!
CAREER
Post-Vacation Anxiety Is a Real Thing—Here's How to Prevent It
by Alyse Kalish | The Muse
You are already back from your vacation, but read this anyway. It will help you prepare for your next one. Yes, taking a vacation does reduce your stress, make you feel more motivated, and improves your work quality and productivity. However, if you don't do some planning and unplug while you're out of the office, you're likely to feel more stressed when you return.
JOB SEARCH
Talent Pipeline Case Study — Nestlé Purina Reaches an Amazing 43 Percent of Hires
by Dr. John Sullivan | ERE
I'm sharing this to help you understand a major shift in how employers are finding candidates and filling jobs. This directly impacts what you need to do to get hired! (Hint: Create a list of companies you want to work for!)
Dr. Sullivan explains what talent pipleline recruiting is:
If you're not familiar with the concept, a talent pipeline recruiting strategy provides a tremendous competitive advantage because it allows your firm to fill positions almost immediately with higher-quality talent then you would normally get by using the typical just-in-time sourcing. This pipeline approach is called a "pre-need strategy" because the candidate sourcing starts before you have an immediate opening. And that means that rather than "chasing talent" under time pressure, you can take your time finding top candidates. 
How to Make Employee Referral Programs Work for You
by Susan P. Joyce | Job-Hunt.org
Another game-changer in the world of recruiting is the employee referral program. In this post you'll learn about how some of the different ERPs work and the rules of how to apply. It's important to understand this stuff!
15 Ways To Attack Your Job Search In The New Year
by Bob McIntosh on LinkedIn
Follow this helpful checklist to keep your job search going in the new year! You've got this!
LINKEDIN
How to Leverage LinkedIn for a Successful New Year
by Wayne Breitbarth, PowerFormula | YouTern
Do you know how to use the "advanced search" function on LinkedIn? Well, you will be amazed at the information you can find when you use it! Plus, there are very specific actions you can take to improve your LinkedIn experience!
INTERESTING READS
2019 AI Predictions: Six AI Priorities You Can't Afford To Ignore
by PwC
Artificial Intelligence (AI) is penetrating every aspect of every job. So even if you haven't been exposed to it yet…expect to see it soon! PwC writes:
To get a read on where organizations currently stand, we surveyed more than 1,000 US business executives at companies that are already investigating or implementing AI. A full 20 percent said their organizations plan to implement AI enterprise-wide in 2019. If these ambitious plans pan out, many leading US companies will become AI-enhanced — not just in pockets of the organization, but throughout their operations.
The Human Touch: 10 Predictions for HR in 2019
by David Green on LinkedIn
Each prediction is backed up with data to help you see why it makes the list. These predictions will impact your career and your job search so I thought it was important to give you a heads up.

Hannah Morgan speaks and writes about job search and career strategies. She founded CareerSherpa.net to educate professionals on how to maneuver through today's job search process. Hannah was nominated as a LinkedIn Top Voice in Job Search and Careers and is a regular contributor to US News & World Report. She has been quoted by media outlets, including Forbes, USA Today, Money Magazine, Huffington Post, as well as many other publications. She is also author of The Infographic Resume and co-author of Social Networking for Business Success.