Making adjustments during times of change is necessary, but challenging. Here are articles to help you adjust and perhaps thrive in the coming weeks or perhaps months.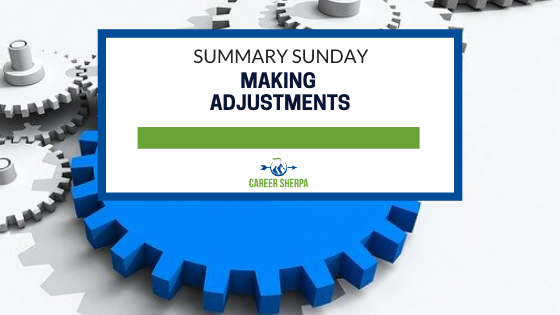 We all know that life is going to be different over the next few weeks and months.
You will be forced to work remotely, learn online, deal with uncertainty and perhaps even face personal financial challenges.
Many of us have survived challenges before and we will do it again. Here's my secret…
Believe in what will come next. This will not last forever.
This week's summary contains articles to help you cope, survive and prepare for what's next!
WORKING REMOTELY
New to Working Remotely? These Resources Can Help
by LinkedIn
LinkedIn has compiled FREE online resources to help everyone become better, more productive while working remotely. There are 16 courses offered at no cost through LinkedIn Learning plus other resources.
PS: Perhaps this is the time to sign up for your free one month trial of LinkedIn Learning/Lynda.
10 Effects Coronavirus Has Already Had on Job Seekers
by Jacob Share | JobMob
From video interviews to postponing interviews to hiring bursts…here are examples of 10 ways the coronavirus has effected the job search.
How to Work from Home During the Coronavirus Outbreak: What Your Boss Wants
by Rachel Pelta | FlexJobs
Many companies are asking employees to work from home. So here are some tips to help you get ready.
Going Remote, Overnight: A practical guide to help your team work from home
by Kurtis Morrison | Bunch
A simple set of questions to help you and your team get ready to work from home. Thanks to Donna Svei for sharing this on LinkedIn.
VIDEO & PHONE INTERVIEWS
A Top Recruiter's 9 Secrets for Phone Interview Success
by Jeff Lipschultz | Job-Hunt.org
Phone interviews are an important step in screening candidates. Not everyone who applies will be screened, so getting the call is a good sign. Here's what you need to know and do to ensure your phone interview gets you to the next step in the hiring process.
8 Proven Video Interview Tips to Help You Succeed
by Rachel Jay | FlexJobs
You are likely to encounter more video interviews. Making adjustments and preparing for video interviews will be necessary for the future so follow this advice.
RECRUITERS' PERSPECTIVE
5 Interview Prep Tips to Help Ensure Your Good Candidates Aren't Being Excluded for Bad Reasons
by Lou Adler | LinkedIn Talent Blog
This advice is written to help job seekers get hired (from a recruiter's perspective). In other words, this is what recruiters want job seekers to do during the interview. Lou Adler trains companies on how to recruit the best talent. This is invaluable information for anyone wanting to get into the head of a recruiter.
Recruiters Are Lazy
by Michael Goldberg | ERE
Here are 4 reasons recruiters are perceived as lazy, written by one of their own. In reading this, I hope you gain a greater understanding of what is going on behind the scenes when you apply for jobs. Knowledge is power. Based on this information, making adjustments will be required.
JOB SEARCH
Don't Take That New Job Unless the Company's Culture Passes These 5 Tests
by Peter Cohan | Inc.
These are 5 things to investigate before you accept a new job. Through research and asking smart questions during the interview, be on the lookout for signs of a potentially toxic work environment.
Kick Ageism to the Curb…Your Career Isn't Over!
by Daisy Wright | The Wright Career – Career Musings
Older workers should be making adjustments to the little (and big) things they do that show their age. These things can become barriers to getting hired. In this article, you will find a two-page document that highlights crowdsourced tips and advice to help older job seekers.
MENTIONS
What You Might Not Know: LinkedIn In Under 5 Minutes A Day
by JK Executive Search
I was invited to talk with Jill Knittel of JK Executive Search about how to get more out of LinkedIn. The full podcast is here.
IN CASE YOU MISSED IT
Everything You Should Know About Your List of References For A Job
Who do you ask to be a reference and what should your list look like? Never fear. It's all covered here.

Hannah Morgan speaks and writes about job search and career strategies. She founded CareerSherpa.net to educate professionals on how to maneuver through today's job search process. Hannah was nominated as a LinkedIn Top Voice in Job Search and Careers and is a regular contributor to US News & World Report. She has been quoted by media outlets, including Forbes, USA Today, Money Magazine, Huffington Post, as well as many other publications. She is also author of The Infographic Resume and co-author of Social Networking for Business Success.