When looking for a new job in 2020, you'll want to learn some new tricks.
There's still so much to know about when it comes to looking for a new job. New technologies influence the process. The number of people applying for jobs influences the process. How you present your qualifications influences how you are perceived.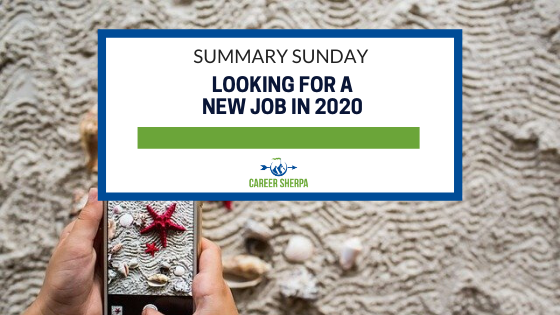 This week's summary features articles I've shared this week and that engaged my community. I hope they resonate with you too!
You'll find:
ATS insights
Job hunting tips for Baby Boomers
Career Change step by step instructions
Hot skills for 2020 and how to develop them
And marketing tips that can be adapted by job seekers
If you find an article you like, please share it, give the author a shoutout and/or subscribe to their newsletter.
ATS
Curated Career Conversations: Applicant Tracking Systems with Dr. Cheryl Minnick
by Sarah Johnston, Briefcase Coach | LinkedIn Newsletter
When you apply for a job online, your resume goes into a black hole known as an Applicant Tracking System (ATS). This article is a written Q&A to help you craft a resume optimized for the ATS. It's a must-read!
Baby Boomers & Job Search
2020 Job Search And Career Predictions For Baby Boomers
by Robin Ryan | Forbes
What do older job seekers need to be aware of as they head into 2020 and the next stage of their careers? You'll find seven predictions/trends that will impact Baby Boomers in the workforce. (And thank you to Robin for including my thoughts!)
When an Interviewer Thinks You're Overqualified
by Phyllis Mufson | Next Avenue
Do you understand the concerns recruiters have when they see a resume that looks overqualified? Read and learn what they are. The next step is to neutralize employer concerns. See how to do that.
Career Change
A Step-by-Step Guide to Reinventing Your Career in 2020
by Kate Ashford | The Muse
Follow these six steps if you are serious about making a career change, either a major industry shift or just a new role. And note, that the first step is not dusting off your resume!
Career Development
How to Upskill for 2020
by Hanna Greeman | 3Plus International
Take a look at The World Economic Forum's list of top skills for 2020 and look for ways to enhance your own skills. Staying up-to-date with skills will help keep you competitive in the job market.
Marketing Trends
Job search is really marketing. What you are trying to do is bring awareness of your talent to the market, right? This is why I frequently share articles about trends in marketing because job seekers can get ideas by following in the footsteps of great marketing strategies.
I hope these two articles inspire you to do some self-marketing, jump on social media, write a blog post, create a video, or try some other ideas to highlight your knowledge and expertise (but not shout out that you are #ONO [open to new opportunities] or looking for a new job.) That's not what's most important to hiring managers.
31 Content Marketing Statistics That Actually Matter to Your Business in 2020
by Neal Schaffer
7 Ways to Create Content without a Blog
by CopyPress
In Case You Missed It
Check out my list of websites and resources to help you get a new job in 2020.

Hannah Morgan speaks and writes about job search and career strategies. She founded CareerSherpa.net to educate professionals on how to maneuver through today's job search process. Hannah was nominated as a LinkedIn Top Voice in Job Search and Careers and is a regular contributor to US News & World Report. She has been quoted by media outlets, including Forbes, USA Today, Money Magazine, Huffington Post, as well as many other publications. She is also author of The Infographic Resume and co-author of Social Networking for Business Success.