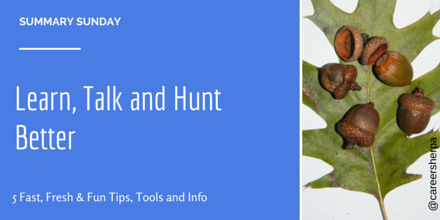 I love pulling articles for Summary Sunday. This week, you'll see a collection of the best tweets and social shares about learning, talking and overall, improving your hunt for the next job! Here is fun, fresh and fast information I'm dishing out this week! 
Summer Is A Great Time For Learning New Things
Freshen up those skills with some of these courses!
You can also check out these free training resources Mashable shared!
Story-Telling Rocks
We remember stories. This is a two-for-one post. You'll learn about 7 types of stories that work well AND you're exposed to TED Talks! Woohoo!
A-Musing Templates
The Daily Muse is a great resource for career and job search! Here are some templates that solve common job search woes!
Plus templates for: follow-up email, interview thank you, ask for a referral, ask for an introduction and 27 email templates for your work. WOW!
Creative  Resume Samples
Why not try incorporating one of these in to your job search? It can't be used with ATS (applicant tracking systems), but would be a great supplement!
Do's and Don'ts From The 23 Most Creative Resume Designs We've Seen | Enhancv
Like This Post?
If you want to keep up with the trends impacting your job search and career, sign up to get my regular blog posts…
Never miss the job search news you can use. Sign up now!
And you should follow my social media accounts! Follow @careersherpa
Career Sherpa | Promote Your Page Too