Landing a new job faster will take a better strategy and more effort!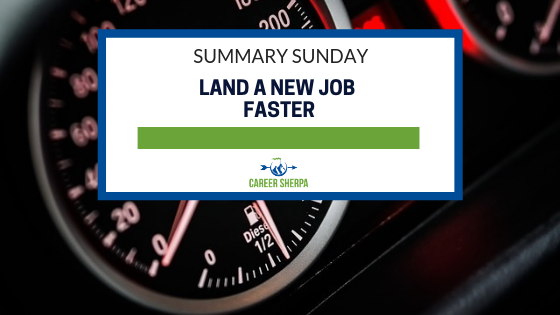 This week's summary includes articles to help you overcome barriers so you can secure a new job faster. So whether you have gaps on your resume or don't know what to do after being laid off, these should help! Plus see over 70 ideas for better email subject lines when emailing your resume and why you can't disregard social media!
JOB SEARCH
No. 1 Reason Your Job Search Could Take Months (Maybe More Than a Year)
by J.T. O'Donnell | Forbes
Spoiler! The number of jobs companies post is up AND so is the number of people looking! This means you'll need to "own your actions" as O'Donnell says and "map out the specific habits you'll need to succeed."
You Need to Explain That Gap in Your Resume
by Nick Douglas | Lifehacker
Based on research from ResumeGo, "If you leave a long gap between jobs in your resume, employers are less than half as likely to call you to talk further. While a one or two-year gap only slightly decreases your chance of getting a call, a three-year gap cuts your chances in half." See what you can do to improve your chances of getting looked at!
Awesome Email Subject Lines Job Seekers Are Using For Results
by Jacob Share | JobMob
Do you ever wonder what to put in the subject line when you send your resume via email? Never wonder again. Check out the 70+ suggestions from recruiters.
SOCIAL MEDIA
Guide to Social Media and Job Search
by Susan P. Joyce | Job-Hunt.org
Stats and resources to help you tap into the power of social media for your job search. Because, yes, recruiters are using social media to share opportunities AND to search and vet candidates.
LAY OFF
Heal Your Layoff Wounds With A Higher Paying Job
by Robin Ryan | Forbes
Yes, companies are laying off people. Apply the information in this article to your situation and know that "[c]urrent research shows that the average person who moves on to a new position is earning anywhere from 15 to 30% more than they were previously making."
CAREER
How to Start Your Workday Morning the Right Way [Infographic]
by BusinessInsider | YouTern
Incorporate a few of these sixteen tips into your morning routine, and intentionally create a much more positive outcome for each and every workday!

Hannah Morgan speaks and writes about job search and career strategies. She founded CareerSherpa.net to educate professionals on how to maneuver through today's job search process. Hannah was nominated as a LinkedIn Top Voice in Job Search and Careers and is a regular contributor to US News & World Report. She has been quoted by media outlets, including Forbes, USA Today, Money Magazine, Huffington Post, as well as many other publications. She is also author of The Infographic Resume and co-author of Social Networking for Business Success.