There are lots of things you may not know about job search.
Live and learn, right? Well, I don't think you want to learn by trial and error because you may miss out on the one opportunity you really want.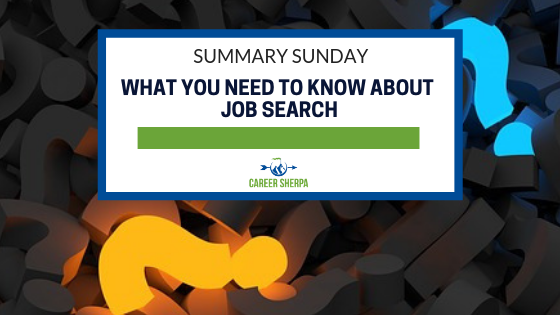 Each week I sum up the best articles I find and reshare them here. I do the time-consuming work so you don't have to.
You'll find help for job interviews, applying for jobs, getting past the ATS, social media horror stories and networking and conversation tips.
INTERVIEWING
3 Questions Top Candidates Ask In A Job Interview 
by Adunola Adeshola | Forbes
Technically, you should have many questions you plan to ask during the job interview, but these three are always great to include. You'll also learn why you want to ask these questions.
How to Negotiate Salary: 37 Tips You Need to Know
The Muse
Did you know: only 37% of people always negotiate salaries and 18% never do. -Salary.com
But most employers expect you to negotiate. So put aside your fears and get comfortable with the idea of asking for more…whatever.
JOB SEARCH
Should I reapply for a job if I didn't even get an interview?
by Nick Corcodolis, Ask The Headhunter | PBS NewsHour
So you really want to work for a company and your first application got rejected. Here's what you can do!
NETWORKING
The Hidden Networking Gap Between Men and Women
by Lisa Rabasca Roepe | Fast Company
Fast Company writes, "According to new study [by the Journal of Human Relations], women often hesitate to ask for help because they don't want to "exploit" their network and they're too modest."
Sound familiar? This article includes six tips to help women network better.
A shoutout to Hung Lee and his Recruiting Brainfood newsletter for this article.
ATS
Two ATS Myths That Are Hurting Your Resume Results
by Marie Zimenoff, CEO, Career Thought Leaders Consortium
The more you understand how ATS work, the better you will be at getting through the screening.
This is a great companion to this article I wrote on LinkedIn – 17 Things You Need To Know About ATS (and how to get past it)
SOCIAL MEDIA
8 Times Candidates Didn't Get Hired Because of Something They Put on Social Media
by Stav Ziv | The Muse
I don't want to scare you away from using social media to network and promote your personal brand but, you do need to see these stories.  The moral of these stories – clean up your social media.
CAREER
The Dying Art of Conversation: My Interview with Author and Speaker Celeste Headlee
by Farnam Street
Celeste Headlee may not be a name you are familiar with, but trust me, you will want to read her tips to help improve your conversational skills and meaningfully connect with others. (This is also a podcast in case you are interested in listening.)
FYI, Celeste is an opera singer, has a TED talk and has written a book on having conversations.
IN CASE YOU MISSED IT
How to Brand Yourself on Instagram for Career Success | US News & World Report On Careers

Hannah Morgan speaks and writes about job search and career strategies. She founded CareerSherpa.net to educate professionals on how to maneuver through today's job search process. Hannah was nominated as a LinkedIn Top Voice in Job Search and Careers and is a regular contributor to US News & World Report. She has been quoted by media outlets, including Forbes, USA Today, Money Magazine, Huffington Post, as well as many other publications. She is also author of The Infographic Resume and co-author of Social Networking for Business Success.