Job search changes, just like everything else. Are you staying up-to-date on job search trends?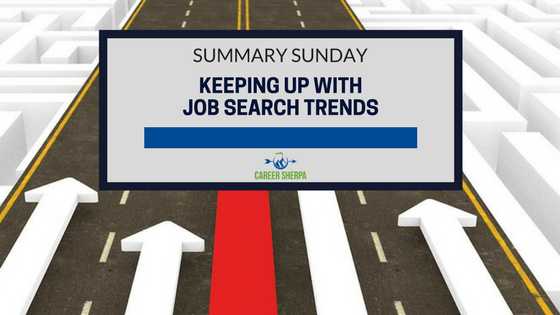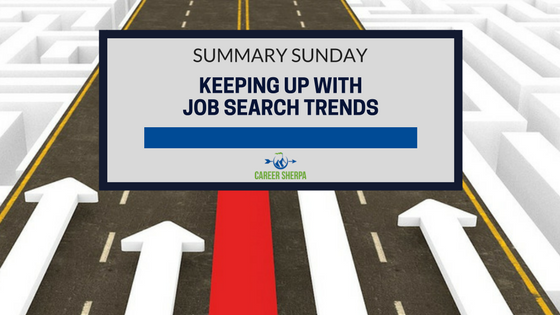 If you are using old, outdated job search strategies, this could hurt your chances of landing an interview or a job.
This is why, every week, I share a summary of the most popular articles I'm sharing on social media. There's so much information out there, it's hard to know what's good and what's not so good.
COVER LETTERS
As Technology Changes: Is a Traditional Cover Letter Still Necessary?
by Jobscan | YouTern
I want you to read this article, so I won't spoil it for you. The answer may surprise you.
Cover Letter Trends: Introducing the E-Note
by Wendy Enelow | SHRM
Enelow writes:  Here "are five of today's trends in job-search communications. After you've read these trends, take the time to understand how you can incorporate the recommended strategies and actions to transform your HR job search letters from the past into modern communications."
JOB SEARCH
To Be Hired: Be Found Where Recruiters Look
by Susan Joyce | Work Coach Cafe
You need to make sure you're easy for recruiters to find. And this requires you do more than posting your resume to online job sites.  While this was written in 2015, it is more important today than it was then. When you understand how recruiters search for candidates, you'll be better at positioning your qualifications!
Change Your Story, Change Your Life
by Dr. Maria Phalime
If you read only one article, I hope it is this one! How you tell your story (verbally and in writing) is so important and determines how you are perceived!
Dr. Phalime says: "You have a choice about how to interpret the facts of your life."
You shouldn't just blurt out or summarize the facts. You MUST convert them into the right story!
JOB INTERVIEWS
3 Must Ask Questions Candidates Must Ask at Every Job Interview
by Simply Hired | YouTern
There are lots of questions you should ask during your job interview, but always make sure you ask these three!
PERSONAL BRANDING
Personal Branding for Job Hunting: A #Bufferchat Recap
by Buffer
Twitter chats are oh so much fun! You can learn a lot AND meet great people! So when I saw Buffer was hosting a Twitter chat about personal branding, I was excited!
This is a summary of key points made by people during the chat. I hope you find some new people to follow and learn from.
And by the way, I was thrilled to see one of my tweets highlighted in this summary, but that's not why you should read it!
CAREER
6 Emotional-Intelligence Job Skills Everyone Will Need in the Next Few Years
by Lolly Daskal | Inc.
Emotional intelligence is what enables you to hold on to your job. So, it is well-worth your time to learn as much as you can about the skills that will help you survive and thrive in your career!
FUNNY OF THE WEEK
So this happened this week- Anthony Scaraucci started following me on Twitter.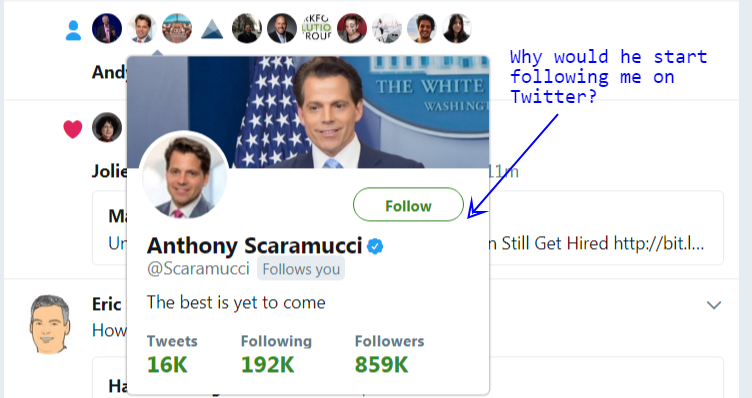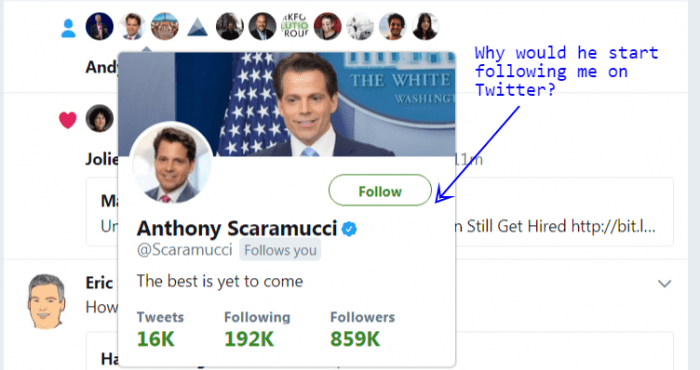 And these are some of the responses I got!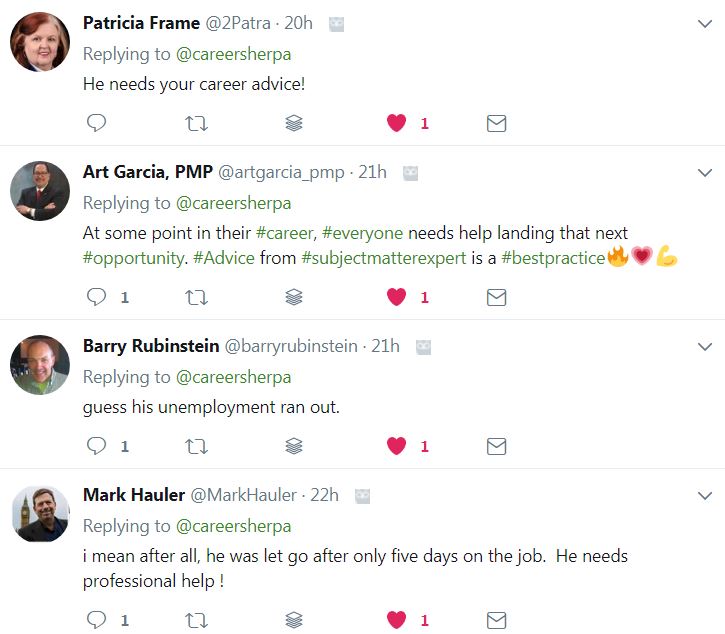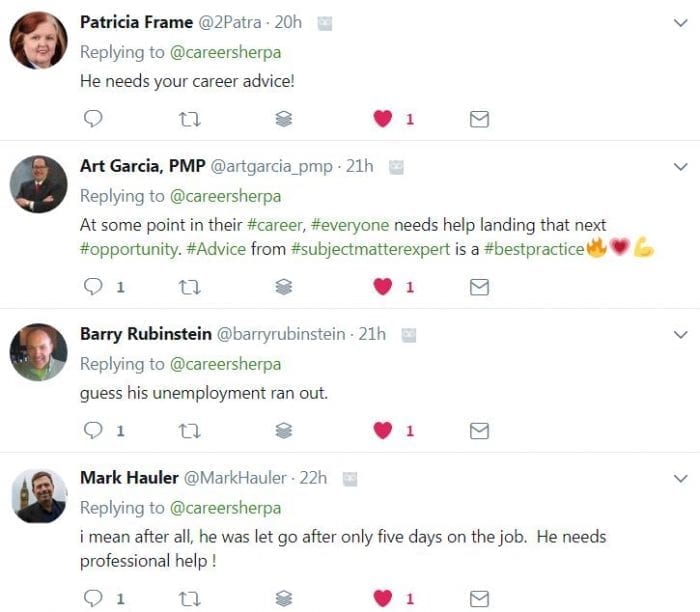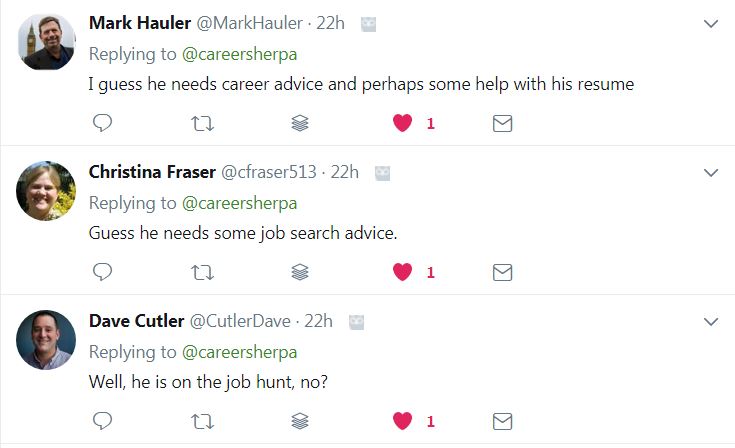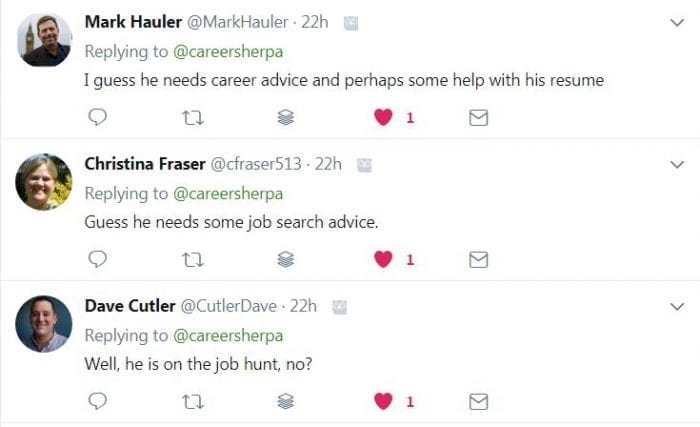 Hannah Morgan speaks and writes about job search and career strategies. She founded CareerSherpa.net to educate professionals on how to maneuver through today's job search process. Hannah was nominated as a LinkedIn Top Voice in Job Search and Careers and is a regular contributor to US News & World Report. She has been quoted by media outlets, including Forbes, USA Today, Money Magazine, Huffington Post, as well as many other publications. She is also author of The Infographic Resume and co-author of Social Networking for Business Success.