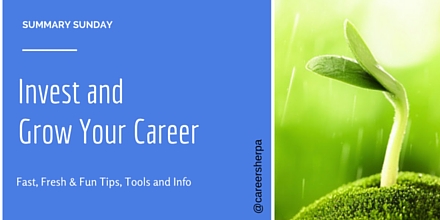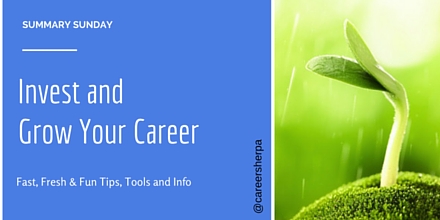 Reading and sharing the great work of career and job search professionals is one thing I love to do. Some call this "curating content." It's one way I show/prove/illustrate my interest in my field. I do it to help you too!
These posts aren't just about your career or job search, they are about improving you! I hope, in sharing these, you'll be able to take at least one action to move yourself forward in 2016.
CAREER
How to Be Exceptionally Likable: 11 Things the Most Charming People Always Do by Jeff Haden | Inc.
IMO, being likable is one of the most important ways to set yourself apart! And it is absolutely something you have control over. Jeff Haden's recommendations should at least get you thinking! I highly recommend you follow his work on LinkedIn too. (He's an Influencer, so you can "follow" him and see his articles)
LINKEDIN
The 25 Skills That Can Get You Hired in 2016 by Sohan Murthy | LinkedIn Official Blog
Whether you are actively job seeking or passively open to new opportunities, make sure your LinkedIn profile is awesome. And also think about acquiring or highlighting these 25 skills. Please be sure to read the article to see why these skills are important and how you can develop them! (Hint, Lynda.com)
TWITTER
Lists are the best kept secret to making order out of chaos on Twitter. This list will help you find some of the best job search and career advice! BTW: we are all young careerists at heart, so don't let the source's name dissuade you! [Disclaimer: I'm on this list.]
50 Twitter Accounts You MUST Follow in 2016 | YouTern's Savvy Intern Blog
VISUAL RESUMES
3 Great PowerPoint Resumes | Career Cloud
As you may know, I'm a huge fan of visual marketing materials for job seekers. Check these out and become inspired to create your own!
JOB BOARDS +
Finding the Right Candidates Just Got Easier | Glassdoor
Frustrated by the same old job postings without a lot of information? Tired of searching and researching for company info and insider perspectives on working for the company? Well, Glassdoor may have a better mouse-trap. Though this article is written for recruiters and HR, it did very well on Twitter this week, and I wanted to share it. I want you to understand what hiring professionals are thinking! You need to imagine yourself in their shoes, understand HOW they source and what their problems are.
If you enjoyed this, please share it with someone who would benefit.
Sign up below so you'll never miss a post!

Hannah Morgan speaks and writes about job search and career strategies. She founded CareerSherpa.net to educate professionals on how to maneuver through today's job search process. Hannah was nominated as a LinkedIn Top Voice in Job Search and Careers and is a regular contributor to US News & World Report. She has been quoted by media outlets, including Forbes, USA Today, Money Magazine, Huffington Post, as well as many other publications. She is also author of The Infographic Resume and co-author of Social Networking for Business Success.